Black and Welsh: The assumptions and questions people face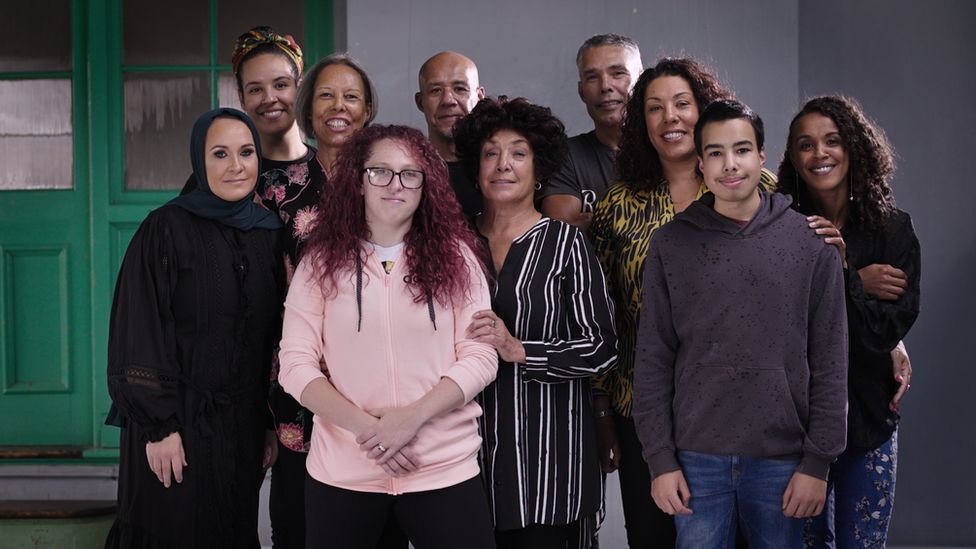 "When I get offended is when somebody says 'you can't be from Wales - you're not from Wales'.
"Just because you're black and you live in Wales - it doesn't make you any less Welsh."
Sheldon Mills grew up in a working class family in Ely, Cardiff, and despite the doubts of a teacher is now an executive director of the Financial Conduct Authority.
He is one of one of a handful of people who have shared their experience of growing up black in Wales for documentary Black and Welsh.
Recalling an experience at school, he told the documentary: "I said [to my teacher]: 'Sir, I'm going to be a lawyer and I'm going to go to King's College London'.
"And he said: 'You will never go to King's College London, Sheldon.'
"And I said: 'Yes I will'. And I did."
He said this story serves as an example of how "people underestimate what a black boy, now man, can actually do".
"And that's why it saddens me, not just for me, for all black boys," he said.
The documentary has been made by Liana Stewart, who describes herself as being from a "really diverse and super close family" in Butetown, Cardiff.
Her father is from Jamaica and her mother is mixed race - "Welsh, Chinese, Barbadian and English to be exact," she said.
She said she grow up in the 1990s when there were very few black role models on television and she wanted to "create a space where we can be seen and heard".
Sheldon is not the only person featured in the documentary who said his appearance caused people to question his Welshness.
"It always gets followed by 'but where are you really from?'" said poet Ali Goolyad.
"Oh, do you mean where's my black from?" retorted student Maya Oyibo-Goss.
Actor Alexandria Riley said: "For me, 'where are you from?' translates into 'you're not from here'."
"I'm more forgiving and patient with older people," said Gaynor Legall - who was the first black woman city councillor in Wales.
'Don't show your colour up'
Like Liana, Gaynor was born and grew up in Butetown, Cardiff.
"My mother when I was a child… when we were leaving the house she'd always say 'behave yourself and don't show your colour up'," she told the documentary.
"My uncle, who was my surrogate father, gave me so much confidence and talked politics with me when I was quite young.
"He'd always say 'blacker the berries, sweeter the fruit'.
"He made me feel that being black was good."
Gaynor was always proud of her hair: "My afro was a symbol of me coming out.
"This is who I was. This is what I believed in. I didn't care what other people thought. I was going to be black and proud and say it out loud," she said.
Starting out in her acting career, Alexandria from Newport felt others often tried to avoid working with her hair and skin.
She said: "I remember the first few jobs that I went to - it was panic on the meet and greet.
"They'd see my hair or my skin tone and I found I was being asked to bring my own products in, bring my own make-up in, do my hair before I got there and I was like 'wow, wait what… ok...'"
She said she soon realised no one else was being asked to do their own hair and make-up.
"Everyone else is rocking out of bed and having everything there for them," she said.
But for Alexandria, playing Natalie Tucker, the ex-wife of a white man in BBC Wales comedy The Tuckers, was a turning point.
"There was no mention of race - nothing.
"It was just 'these guys were married, this is their child and happy days, this is Wales'.
"And I thought it was a really great champion moment.
"I thought it was brilliant, really refreshing because I never thought I'd get to play any character like that ever."
Natalie Jones moved from Birmingham to Pwllheli, Gwynedd, as a child.
She told the documentary: "The weirdest thing for me in school was not just being the only black child but almost the only non-white child. I stood out like a sore thumb."
"I'd be stared at, I'd be asked weird questions about what I ate and why my hair was the way it was...
"I remember somebody asking me once if I was from Africa or India."
She said the questions, "which weren't necessarily hostile", eventually eroded her self-confidence and she became withdrawn.
"There were some comments I'd tell my mum and she'd say 'well they've probably never spoken to a black person before, they've probably only seen black people on telly'."
Bilingual musician Edyth Crawford, who grew up in Aberaeron, Ceredigion, said being mixed race in rural Wales was a challenge.
"We were always anxious walking around Aberaeron or anywhere with our family because people would think that we're tourists," she said.
"Why wouldn't people assume that I live here and that I'm part of this community?"
Another Welsh speaker, Jaci Cullimore, from Bethesda, Gwynedd, has also had people assume she is not from the area and does not speak Welsh.
"I've had people have conversations about me in Welsh in front of me. They've been ashamed and embarrassed when I butt in in Welsh."
She said she realised she had been given a nickname locally: "They call me Jaci Du, which means black Jaci, which I find very offensive and it signifies difference."
Film-maker Liana Stewart said these stories had led to the "most important film I've ever made".
"I'm hoping people will hear our truth and recognise we're just as Welsh as the next person.
"It just so happens that we're black."
Black and Welsh is on BBC One Wales on Monday 26 October at 2030