Wales lockdown: Pubs and restaurants shut as Wales lockdown begins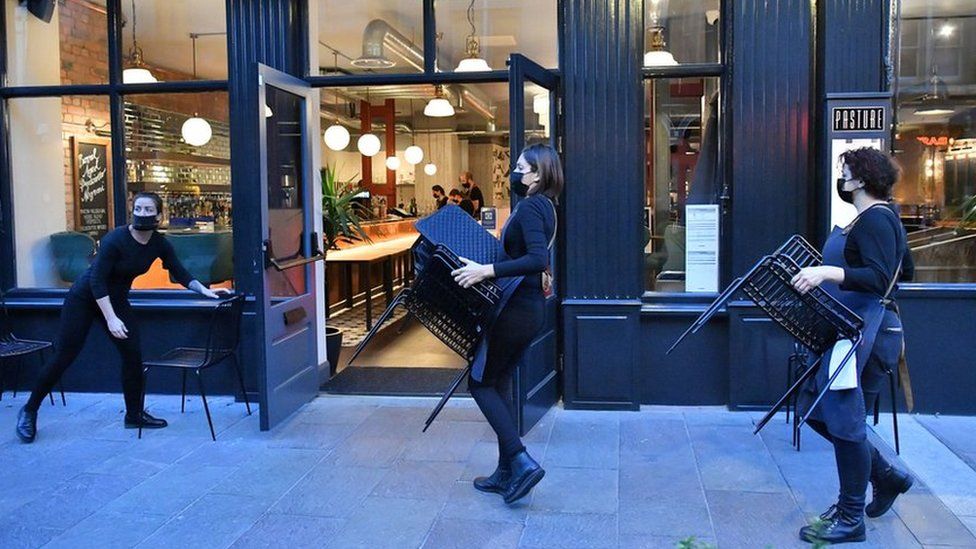 Wales has entered a national 17-day lockdown in an effort to slow the rise of Covid cases and hospital admissions.
People can leave home for limited reasons including to buy food and medication, provide care, exercise or to work if they cannot do so from home.
All but essential businesses have closed with economists warning the measures may cost the Welsh economy more than £500m.
The Welsh Government said any delay would have caused greater harm.
But opposition parties have called for clarity on what happens at the end of the period.
The number of patients in hospital in Wales with coronavirus is now the highest since June, according to NHS Wales figures published on Friday.
There were 894 people in Welsh hospitals with the virus, up 26% week-on-week, while 43 of them are in critical care, a rise of 72%.
This is about two-thirds of the number at the peak.
'We've just got to ride the wave'
Jeremy Lovesey and Sharon Hale had just picked up a Chinese takeaway in Newbridge, Caerphilly county, when lockdown began.
"We're doing what we always do on a Friday night - just chill," he said. "But as far as I'm concerned - forget it, no-one is going to take any notice of it.
He said the last lockdown cost him £3,000 in wages and put a strain on their relationship.
Ms Hale said: "At the moment, I've had breast cancer, so I'm not working at the moment, so with this Covid they won't let me back.
"Why a fortnight? What's that going to achieve? I don't think in a fortnight it's going to achieve anything."
Julian Lassman was waiting to go into the kebab shop. He works in the aviation industry and said he would lose £150 a week.
"I have got a young family - my son is only two, my wife works for the NHS. Basically I have lost a big chunk of my wage.
"We've just got to ride the wave. The government have done the best they can but they shouldn't have had a full lockdown from March to September because they knew it would get worse. "
In Newbridge, businesses were shut apart from the local takeaways which were busy at around 19:00.
What are the rules for the Wales-wide lockdown?
Under the new rules people cannot mix with others they do not live with.
People can no longer meet others indoors, or socialise outdoors, such as in parks or people's gardens.
People who live alone are allowed to meet one other household. This has to be the same one every time and there are no rules specifying they have to be within any set distance of your home.
There is no limit to how many times people can leave the house to exercise or how far they can run, cycle, walk or jog as local lockdown boundaries have now ended.
But exercising with others, such as running and cycling clubs, will not be allowed, and exercise should start from home.
Travel into or out of Wales to go on holiday or to visit a second home is illegal under the rules, and people are being told only to travel for "essential reasons".
Grandparents and other relatives can still care for children, but only if no other methods of childcare are available.
Indoor visits to care homes may be allowed but only in "exceptional circumstances", such as for end-of-life visits.
Earlier on Friday children left school ahead of their half-term break. Primary and special schools will reopen as normal on 2 November after the half-term break - there is no extra time off.
In secondary schools only pupils in Years 7 and 8 will go back to class during the lockdown.
The national rules bring an end to the local restrictions imposed on 15 counties, as well as Bangor and Llanelli, in recent weeks.
People can be fined £60 for a first coronavirus restrictions offence, up to a maximum fixed penalty notice of £1,920.
A drive-in movie theatre in Chester is no exception to these rules - after the toilets were found to be across the border with Wales.
What has been the political reaction?
Plaid Cymru leader Adam Price said it would be a "difficult and challenging fortnight" but "without taking action now our NHS will soon be overwhelmed and thousands of lives lost".
Welsh Conservative Senedd leader Paul Davies accused ministers of having "no exit strategy".
"The Welsh Government needs to give us hope and clarity of what it will actually achieve and what life will look like post national lockdown," he said.
Find out how the pandemic has affected your area and how it compares with the national average: