Covid: Ten more Cwm Taf Morgannwg hospital infection deaths
Another 10 deaths linked to Covid-19 outbreaks in Cwm Taf Morgannwg health board hospitals have been reported.
There have been now been 57 deaths and 284 cases.
Five more deaths at Royal Glamorgan, Llantrisant, four at Princess of Wales, Bridgend and one at Prince Charles hospital, Merthyr have been reported.
It comes as official figures show Rhondda Cynon Taf (RCT) is the second highest in England and Wales next to Liverpool for hospital deaths.
There were 37 deaths registered involving Covid-19 in Wales in the week ending 9 October, according to the Office for National Statistics (ONS).
There were 23 deaths registered in Cwm Taf Morgannwg.
There have now been 43 deaths from Covid-19 infections caught in hospital at the Royal Glamorgan, eight at the Princess of Wales and six at Prince Charles.
There are also 44 cases at Ysbyty Cwm Rhondda and Maesteg hospitals, but no deaths reported.
Meanwhile, Swansea Bay health board has confirmed another 31 Covid cases in outbreaks in its hospitals.
It said 39 patients and 28 members of staff have now tested positive at Morriston Hospital, with infection in cardiac services, but now with "similar but unconnected" outbreaks on a small number of other wards.
And a "small number" of patients are being treated in isolation after testing positive for Covid-19 at Bronglais Hospital, Aberystwyth.
Head of nursing Dawn Jones said: "We would like to reassure patients and the family members of any patients at Bronglais Hospital that we have contained the small number of cases and are caring for all patients appropriately."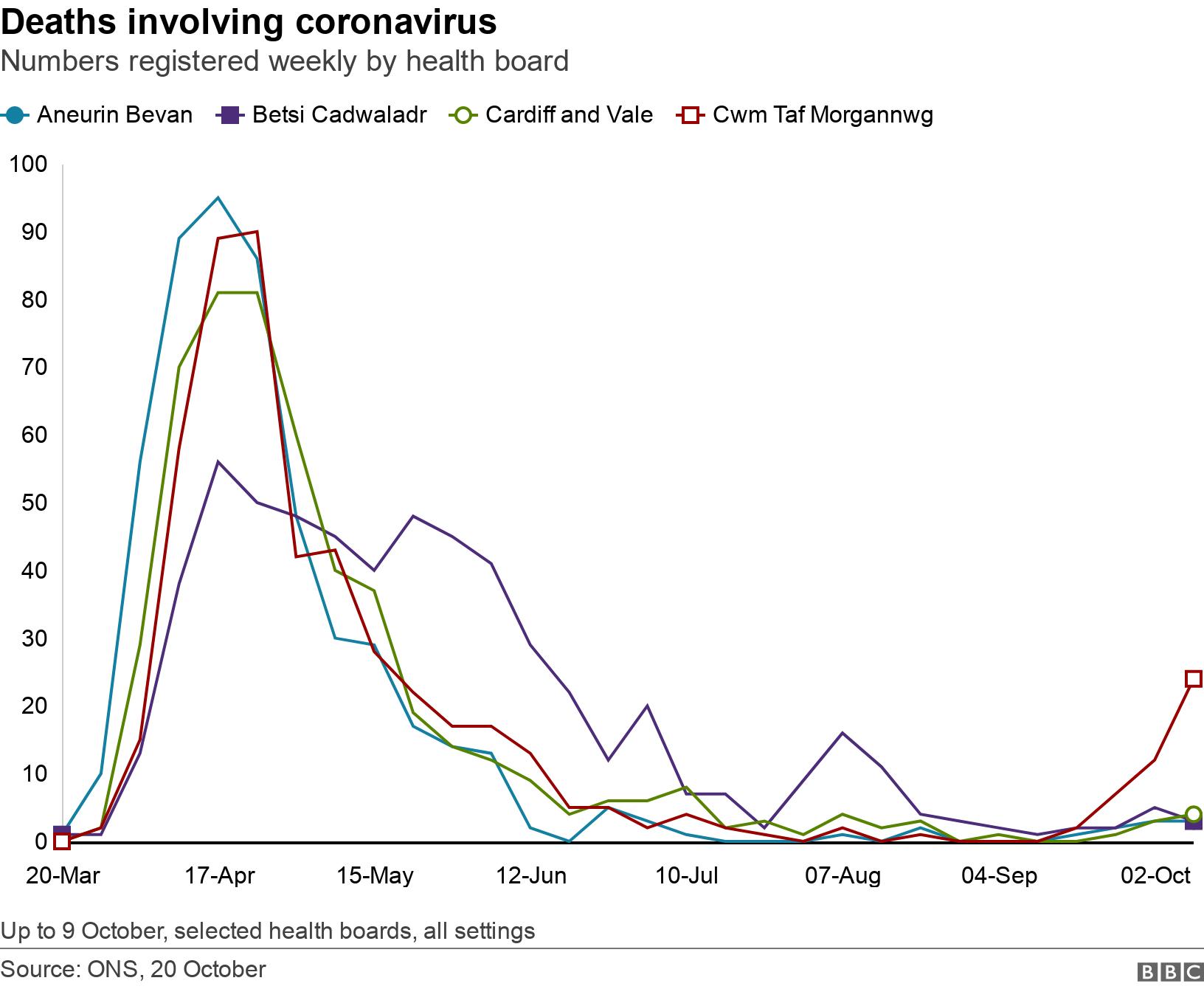 The latest ONS figures report 17 hospital deaths in Rhondda Cynon Taf (RCT) and five in Merthyr Tydfil.
The number of hospital deaths in RCT was second only to Liverpool (21 deaths) across the whole of England and Wales.
It means there have now been a total of 344 deaths in RCT in the pandemic - and it has moved into the 10 worst-hit areas across England and Wales with 143.2 deaths per 100,000 people.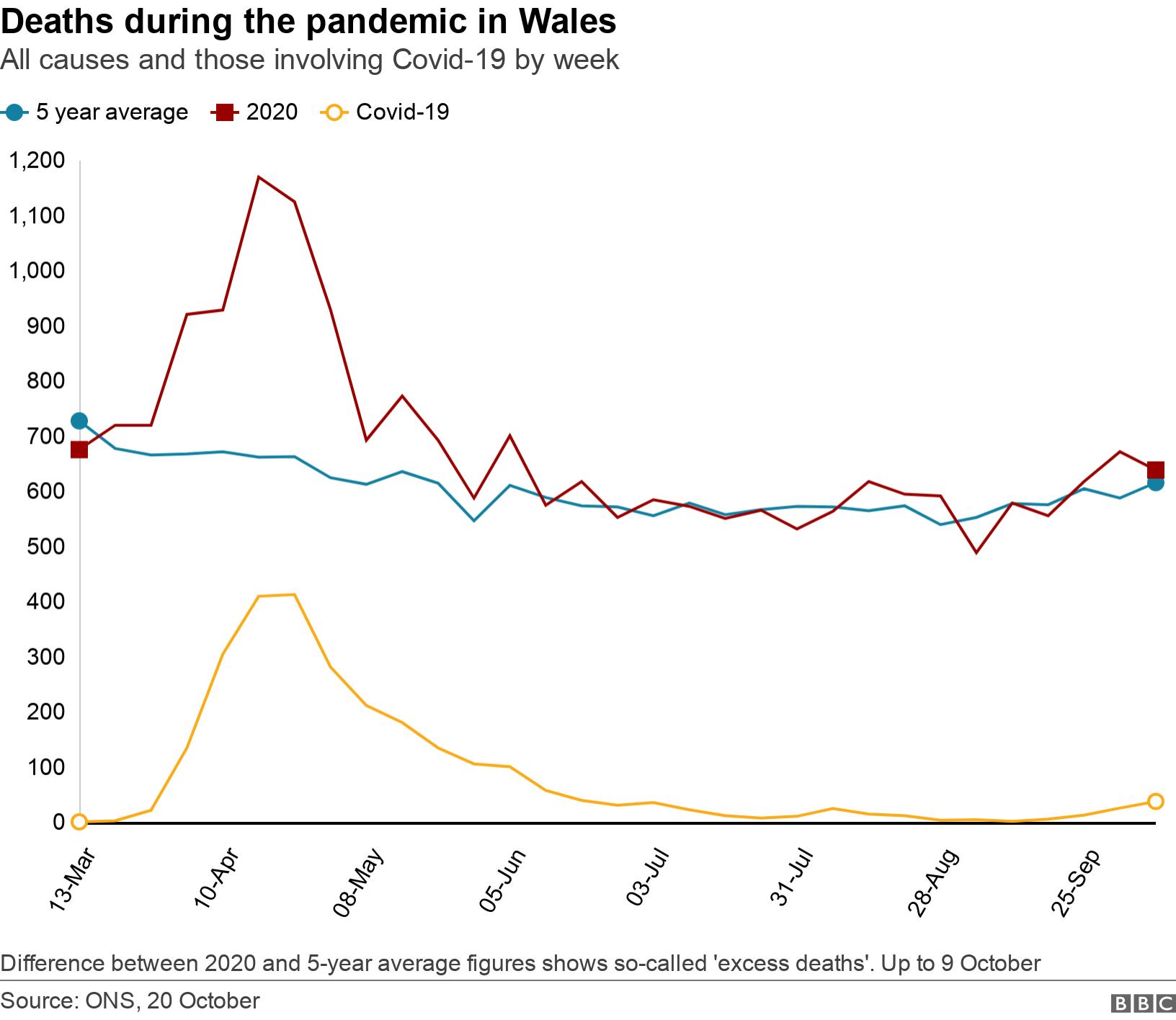 Looking at so-called excess deaths, there were 23 more than the five-year average in Wales in the latest week.
This looks at how many deaths there have been, when compared to what we might normally expect to see in previous years.
There have been 28,423 deaths from all causes registered this year up to 9 October - 8.2% more than the five-year average.
Of these, 2,650 deaths (9.3%) mentioned Covid-19.
If deaths up to 9 October but registered up to 17 October are included, there have been a total of 2,671 deaths.
Out of the English regions, the North West had the largest number of deaths involving Covid-19 (153 deaths).
England had 401 deaths registered, Scotland had 25 deaths involving Covid and Northern Ireland had 11 deaths.
They also include both suspected and confirmed cases of Covid and deaths which occur at home, care homes, hospices, as well as hospital.
How are Covid cases affecting critical care in hospitals at the moment?
Respirational medical care techniques and the use of new treatments, such as steroids, is helping bring down the numbers of seriously ill Covid patients needing critical care admissions.
Latest figures however still show increasing numbers of Covid-19 patients going into critical care in Wales.
South Wales-based intensive care consultant Dr Jack Parry-Jones said although only about 10% of patients in critical care he came across at the moment had Covid-19, it was still affecting how care was delivered to other patients, like those receiving trauma, cardiac or cancer treatment.
"As opposed to the first wave, the patients I'm seeing are coming in more slowly but the concern is that it will start escalating rapidly as the number of cases in the community increases," said Dr Parry-Jones, a board member of the Faculty of Intensive Care Medicine.
"We have too few critical care beds and staff, and that makes us vulnerable when patients have to be cared for outside the units."