Covid: Emergency cases to return to Royal Glamorgan Hospital
A health board battling Covid outbreaks is starting to allow 999 emergencies back to the worst hit of its three affected hospitals.
Cwm Taf Morgannwg reported 47 deaths from infections caught in hospitals, including 38 at the Royal Glamorgan near Llantrisant.
The health board's boss said it faced "incredibly challenging circumstances".
Plaid Cymru and the Conservatives have called for an urgent inquiry into the deaths.
Restrictions were brought in at the start of the outbreak two weeks ago, including diverting 999 cases to alternative hospitals.
However Cwm Taf said it would now be carefully lifting the restriction. Local patients dialling for an ambulance will now be taken to the emergency unit at Royal Glamorgan, while patients who turn up will also be admitted after assessment.
The changes follow the opening of the Ysbyty'r Seren field hospital in Bridgend.
This will see some patients being transferred out of the Royal Glamorgan and Cwm Taf's two other main hospitals - Prince Charles in Merthyr and the Princess of Wales in Bridgend - to relieve the pressure on them.
All three have separate outbreaks of Covid-19, with 205 cases linked to infections caught inside the hospital.
Cwm Taf Morgannwg medical director Nick Lyons said: "Patient safety always has been of utmost importance in making these changes, and safety will continue to remain at the centre of our planning, as we lift restrictions at the Royal Glamorgan."
Earlier, Dr Lyons told BBC Radio Wales Breakfast that this had "stretched the staff further because we're delivering care across more sites."
Of the deaths, 38 were at the Royal Glamorgan, five at Prince Charles and four at the Princess of Wales .
Dr Lyons said: "To say [the situation is] out of control would be overstating it, but we keep a very close eye as you can imagine on those figures on a day-by-day basis."
What the opposition parties are calling for
Plaid Cymru wants an inquiry into the deaths, with health spokesman Rhun ap Iorwerth saying: "The Welsh Government needs to respond rapidly to the situation unfolding in the Cwm Taf Morgannwg Health Board, there's no time to waste, and action must be taken.
"Staff at hospitals need to be protected and kept safe, and we need an urgent inquiry to establish what went wrong, and how not to repeat these mistakes elsewhere."
Andrew RT Davies, health spokesman for the Welsh Conservatives, said "serious questions must be answered" and called for an "immediate investigation"."Frontline staff are doing an incredible job in challenging circumstances but they must be supported by competent protocols and management at both health board and ministerial level," he said.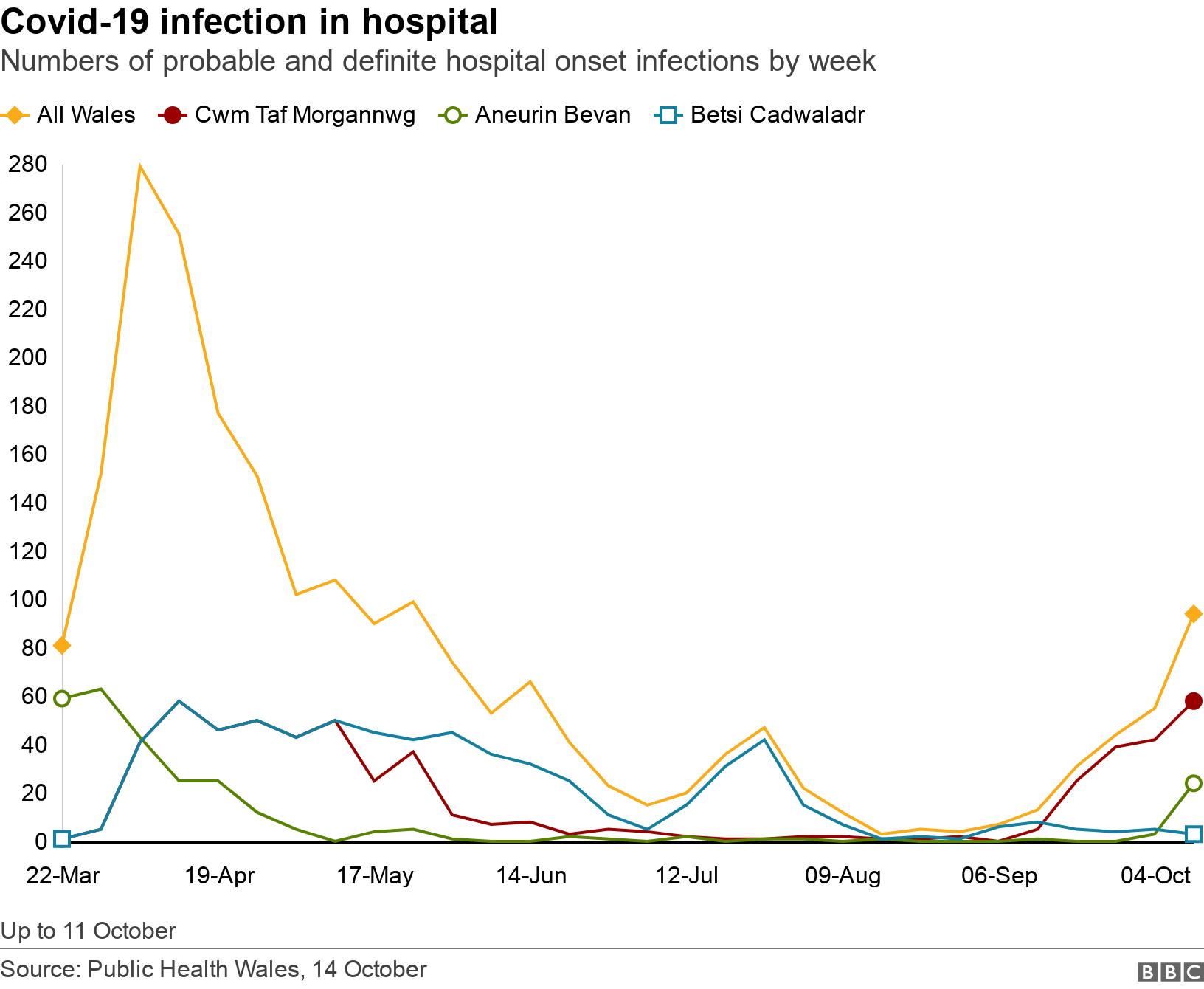 Where else are Covid-19 hospital infections happening?
The problem is not confined to Cwm Taf Morgannwg and there was a spike in cases at the Betsi Cadwaladr health board over the summer.
NHS Wales chief executive Andrew Goodall earlier this week spoke of the challenges of dealing with Covid, saying it was a virus that "surprises us with its ability, particularly in closed settings, in its ability to transmit across to other parts of hospital and healthcare settings".
At Betsi Cadwaladr, there are currently 25 cases at Glan Clwyd and community hospitals at Llandudno and Colwyn Bay, mostly stretching back two weeks.
Dr Kate Clark, deputy medical director, added: "Although cases at Ysbyty Gwynedd [in Bangor]remain low, we are seeing an increase in the number of patients being admitted with Covid-19 into Wrexham Maelor Hospital."
In Swansea Bay, the health board said hospital onset infections had affected 18 patients and 16 staff, who had tested positive, mostly in the cardiac services department at Morriston hospital.
At Hywel Dda, the stroke rehabilitation ward and older adult mental health wards at Prince Philip Hospital in Llanelli have been closed due to 15 Covid-19 cases.
At Aneurin Bevan, the number of cases has risen to 40 patients and four staff members at Newport's Royal Gwent hospital.
'Difficult to predict'
At Cwm Taf Morgannwg, Dr Lyons said the health board's intensive care units "thankfully" were not as busy now as they were in April but added: "The numbers are quite challenging...
"I'm confident that we have the beds that we need and the intensive care capacity that we need to treat all our patients with Covid, whilst at the same time being able to continue the most urgent surgery and deal with patients coming to our emergency departments...
"But as we gaze over the horizon into the coming weeks and months that becomes more difficult to predict."