Covid: Newport and Merthyr Tydfil 'under close watch'
Two more areas have been put under "close watch" as coronavirus cases in Wales rise.
Infection rates have risen from 20 per 100,000 people to 35 per 100,000 in the past week, First Minister Mark Drakeford said.
He also said the "developing situation" in Newport and Merthyr Tydfil was being kept under "close watch".
Currently, restrictions are in place for people living in Caerphilly county and Rhondda Cynon Taf (RCT).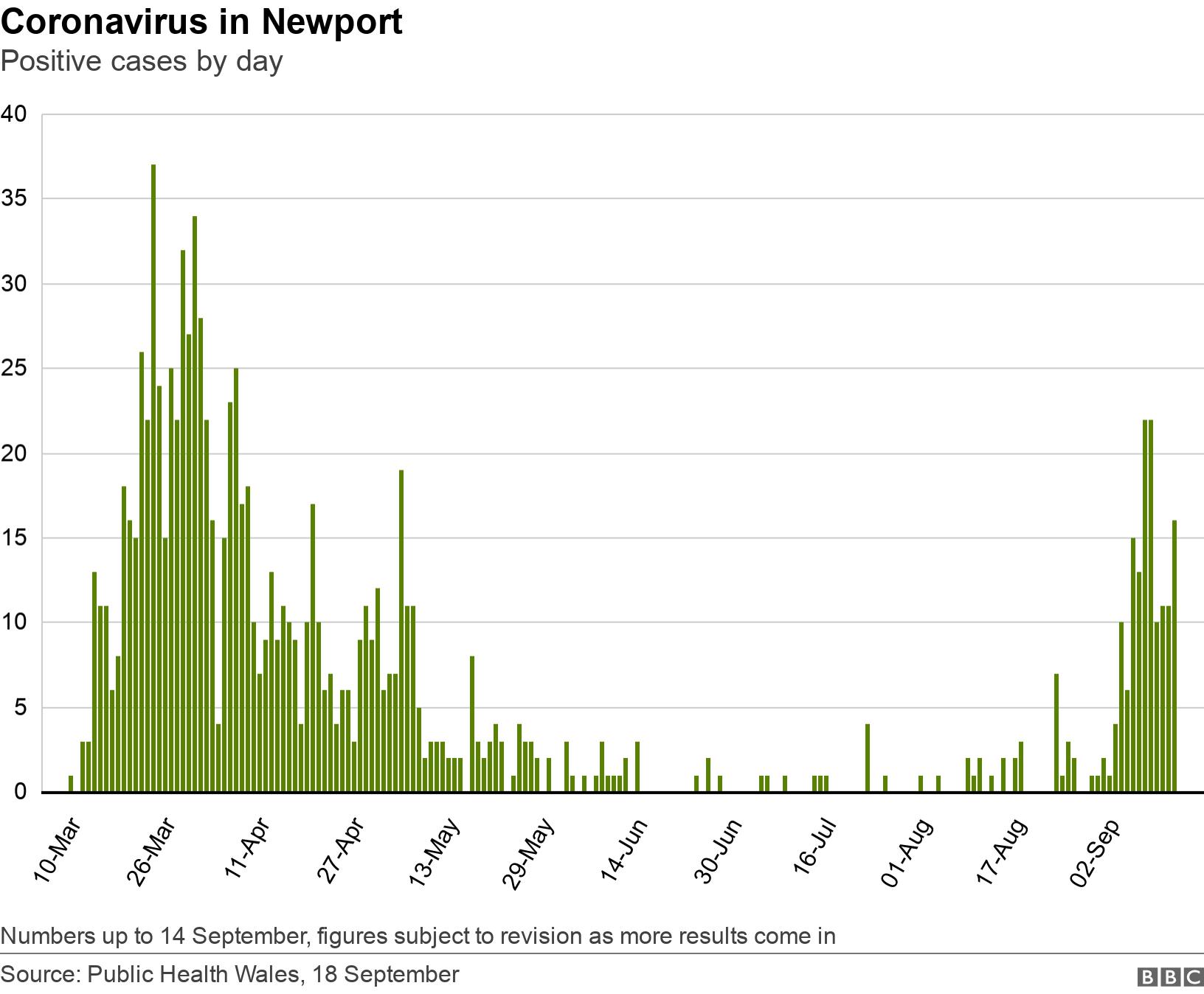 Latest figures from Public Health Wales show RCT (83.7 cases per 100,000) has now overtaken Caerphilly (73.5) as having the highest case rate in the last week.
Both Newport and Merthyr Tydfil were among areas of concern for health officials.
In terms of the UK, Caerphilly has been estimated as being sixth hardest-hit area, when comparable data was analysed by the BBC for the last week. RCT was 13th, Newport was 35th and Merthyr Tydfil was 36th.
What's happening in Bridgend?
Dr Kelechi Nnoaham, of Cwm Taf Morgannwg health board, said there had also been "a sharp increase of cases" in Bridgend county borough.
"This is a real cause for concern and this developing situation is being monitored very closely," he added.
Care home visits in the county - both indoors and outdoors - are being put on hold temporarily in response to the growing spread of covid in the area, Bridgend council said.
Virtual and online visits will be encouraged, and allowances will be made in circumstances where residents are nearing the end of their lives and with appropriate Personal Protective Equipment (PPE) requirements in place.
Could there be a Wales-wide lockdown?
The R rate is also between 0.7 and 1.2, with Mr Drakeford saying government officials were "confident it is above one".
That figure is critical as it means each infected person infects at least one other, meaning cases will rise rather than fall over time.
However, asked about the prospect of a Wales-wide lockdown like the one being considered in England, Mr Drakeford said the picture was varied with cases "going down and not up" in some areas.
Mr Drakeford also pledged more tests would be available next week that will be processed by the Welsh NHS.
Some tests are currently processed by the Welsh NHS, and others by so-called "lighthouse labs" run on a UK-wide basis.
But problems have been reported over the past week with difficulties in accessing tests and delays in getting results from lighthouse labs.
Mr Drakeford said it "simply did not make sense" that the UK booking system had led to people from England being directed to a testing centre in Abercynon, which was intended for people living in locked-down Rhondda Cynon Taf.
'Vacancy at the heart of the United Kingdom'
The first minister also revealed he had only had one brief conversation with Prime Minister Boris Johnson since May.
"This is simply unacceptable to anyone who believes that we ought to be facing the coronavirus crisis together," he said, calling for more regular meetings.
Mr Drakeford said there was a "vacancy at the heart of the United Kingdom", adding: "It needs urgently to be filled, so we can talk to each other, share information, pool ideas and demonstrate a determination that the whole of the country can face these challenges together at this most difficult time."
A UK government spokesman responded by saying: "We have confronted this virus as one United Kingdom, working with the devolved administrations and local partners to get through the pandemic."
He said there had been hundreds of calls and meetings, adding: "This will continue to be a key part of the planning and communication of the overall response."
Why have the Doncaster Races been a talking point?
Mr Drakeford also said claims health minister Vaughan Gething gave incorrect information linking Covid-19 cases to a trip to Doncaster races were "a complete red herring".
Mr Gething mentioned the trip, made by a group of 15 people from Abercynon earlier this month, when he announced the lockdown in Rhondda Cynon Taf on Wednesday.
During a televised press conference, he said examples of clusters of coronavirus cases in RCT including one associated "with a club outing to the Doncaster races, which stopped off at a series of pubs on the way".
The racecourse has since confirmed the group did not attend any events there, and did not have tickets, although it has also emerged the group did visit the town of Doncaster.
Mr Drakeford said: "Many, many people come to the rugby in Cardiff without having a ticket for the rugby or having any intention of going to the match. The fact that people didn't go to the races is really a complete red herring in this argument.
"What is undoubtedly the case is that a group of people went to Doncaster and many of them came back infected with coronavirus, and in the local contact tracing effort that has had to be taken into account in explaining and accounting for the rise in the numbers of coronavirus in the RCT area.
"Surely that is the issue, not whether people actually went to the races or not."
First full day of RCT lockdown measures
Strict new rules came into force on Thursday evening for RCT residents after a spike in Covid-19 cases there, making it the second local authority area in Wales to go under lockdown following Caerphilly last week.
Its 240,000 residents are not be able to enter or leave the county without a reasonable excuse.
Health officials say hospital admissions will increase further if people ignore the latest restrictions.
"It's a very rapidly changing picture," said Dr Kelechi Nnoaham, director of public health at Cwm Taf Morgannwg University Health Board, which covers Rhondda Cynon Taf (RCT), Merthyr Tydfil and Bridgend.
"At this time last week, we really didn't have any significant cases in the hospital, but that's changed."
He said they were now dealing with a "handful" of cases.
"So it's exactly what we expected. It's probably going to increase in the hospital now if we do not to take additional measures, but we are doing so at this point."
Health officials said the initial wave of infections appears to have been in younger people.
"But it's only a matter of time before it seeps into the older population, who are more likely to be vulnerable, who are more likely to become ill if they do get it, and therefore end up in hospital," added Dr Nnoaham.
Public Health Wales warned on Thursday that "there may be more deaths in the coming days" with both RCT and Caerphilly county in local lockdowns.
Figures released on Thursday revealed more than half of all Covid-19 hospital admissions in Wales were in the Aneurin Bevan health board area, which covers Caerphilly and Newport, and Cwm Taf Morgannwg.
Mr Gething said there had been a "rapid" rise in cases in RCT, with 82.1 infections per 100,000 people over the past seven days.
The latest equivalent figure across Wales was 21.4 per 100,000.
Wednesday's rate of positive tests for the past week in RCT was 5.1% - the highest in Wales. Mr Gething previously warned a positive rate of 4% across Wales would trigger a national lockdown.
The Wales average is 2.4%.