Coronavirus fears over Zante tourists' Maesteg social distancing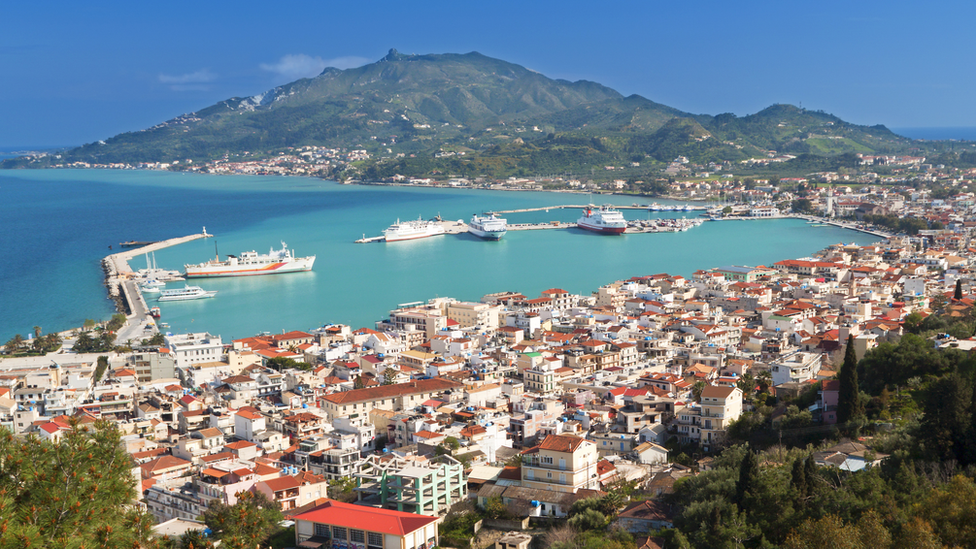 Premises are being contacted over claims holidaymakers - who have suspected coronavirus symptoms - came home from Zante and mixed with others.
A local councillor claimed someone had returned from Zakynthos and had been socialising before testing positive.
Bridgend council said it was liaising with "establishments where it is alleged these individuals were out".
The authority's leader, Huw David, said: "We need to be very clear with people - they are risking other people's health and other people's lives, if they're asymptomatic and going out and mixing in the local community.
"They could be putting their family members and friends at risk. We are urging them to be careful and think about other members of the community."
Health Minister Vaughan Gething said tracing could not reach everyone because of people providing false information.
It comes after criticism that some passengers returning to Cardiff from Zante were not informed for a week that they had to self-isolate.
A Bridgend council spokesman said: "We have been made aware of social media stories circulating of individuals in the Maesteg area who have returned from Zante and who are potentially showing Covid-19 symptoms.
"Anyone who may believe they have come into contact with individuals who have returned from Zante must be alert to the signs of symptoms of Covid-19."
Public Health Wales said its investigations into cases of coronavirus in Wales "have indicated that a lack of social distancing, in particular by a minority of the 20-30 year age group, has resulted in the spread of the virus to other groups of people".
"We would make a direct appeal to young people to remember that even if they feel that they would not be badly affected by Covid-19 were they to test positive, should they pass it on to older or more vulnerable family members, friends or colleagues it could be extremely serious, and even fatal," a statement said.
What do people in Maesteg say?
Maesteg East councillor Keith Edwards said he had been told one holidaymaker had returned "but before waiting for the result, he socialised in and around the town, then was notified he was positive".
"Some pubs have had companies in to clean - staff being tested," he added.
Kelly John, who owns a beauty salon in the town, has decided to close temporarily after one of her clients was with a man who tested positive after returning from Zante.
She said: "Yesterday, I had my afternoon client here and she received a message while having her nails done basically saying a boy she was with on the weekend had tested positive for coronavirus but he did land from Zante on Thursday. I had to close instantly then.
"Only a month ago I opened, so I'm back to square one again now.
"I've just had my coronavirus test done and they've told me I have to wait 72 hours for the results so I'll have to remain closed until then."
Maesteg Harelquins cancelled Tuesday's session as a result of the concerns that people who had tested positive may have mixed with players over the weekend.
In light of local news that there are potentially 6/7 people from the Maesteg area who have apparently tested positive of COVID-19 today and were out drinking in town on Saturday & Sunday and potentially mixing with some of our players we have cancelled tonight's session.

— Maesteg Harlequins ⚫️🔴 (@MaestegQuinsRFC) September 1, 2020
And Maesteg Celtic rugby club tweeted to say it was bringing in a cleaning company due to the "current situation" and following advice from the council.
Ogmore MP Chris Elmore and Member of the Senedd Huw Irranca-Davies issued a joint statement saying they were pleased the council was "contacting various local establishments where it is alleged that individuals were out over the weekend and are also providing clear advice and support".
They will also be offered two Covid-19 tests - one in 48 hours and another in eight days.
Testing passengers at Cardiff Airport is now being considered.
What do holidaymakers say?
Some passengers on board a Zante to Cardiff flight last week have complained they were not told to self-isolate straight away.
Lee Evans said "someone needs to be held to account" after an email telling him and his family to self-isolate came almost a week after the flight.
Another passenger, Victoria Webb, said she only became aware of the outbreak when her mother sent her a link to the BBC News story as she travelled home to London from Cardiff.
Mr Gething said the contact tracing system was reaching more than 90% of people.
"The reason we're never going to have 100% contact tracing over the whole service is because some people don't want to be contacted and have given deliberately misleading information to the service," he said.
"The contact tracing service does rely on people being responsible and giving honest information.
"If they don't, then those people are risking their health and the health of those around them and in their community.
"There is a back-stop and anyone we don't speak to on the phone within a couple of days is written to. But people need to do the right thing if we're going to avoid another big wave as we saw in the spring."
Welsh Conservative Senedd member Andrew RT Davies called for the health minister to "get his act together" and introduce testing for arriving passengers at Cardiff Airport.
The airport's chief executive, Spencer Birns, has asked the UK government for clarity on testing and backed calls for a "robust testing system... to help give airline passengers confidence to travel again".
Mr Gething said he was expecting a report from the UK government's Joint Biosecurity Centre on Greece later on Wednesday and he had sought a meeting with other UK ministers to discuss possible quarantine rules.
He added: "Anyone who is going abroad needs to accept they are taking a risk, and the rules could change whilst they're abroad or whilst they're in the air."
However the Welsh Government's approach of targeting specific outbreak areas, rather than blanket bans on entire countries, has been praised.
Travel expert Simon Calder said the policy could set the benchmark for the rest of the UK.
"The Welsh health minister has done exactly what the travel industry has been calling for and that's to have targeted measures aimed at specific hot spots rather than whole countries being written off over-night," he said.
"It's extraordinarily confusing for travellers because we have the bizarre situation where everything is fragmented between the four home nations.
"The UK government has been trying to hold things together but the move by Wales last night took everyone by surprise and could become the model of what we see in the future."
Lucy Griffiths, of Cardiff, had just arrived in Zante with her children when the announcement was made.
"We discovered that [the rules had changed] when we landed and turned our phones on, and discovered that everyone had sent us messages," she said.
"Covid is everywhere, so I could contract it going to the supermarket at home. I don't see the difference being in another country.
"Sadly I was made redundant during the lockdown, so I haven't actually got a job to go home to, but my children are going to miss more of school than we had originally planned."
Ellis and Jennifer Roberts, from Anglesey, are due to fly back to Liverpool on Thursday but said they felt safe on holiday.
"Laganas is the area they are most concerned about, that's where all the young people go. But we're staying in a small village, Alykes, and it's possibly safer than on Anglesey," said Mrs Roberts.
"We don't regret going on holiday. We cancelled going to Skiathos last month and found things were getting better so decided to come. I'll have to ask the boss if I can work from home for another two weeks."