Wales weather: Lightning strikes house and homes flooded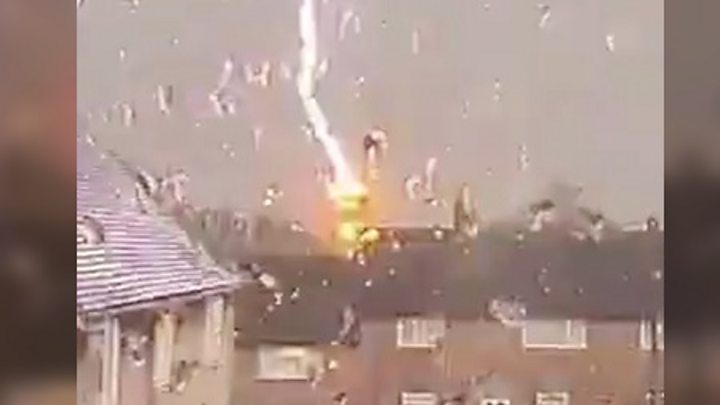 Lightning has struck a house in Wrexham, blowing out power sockets and setting fire to a curtain.
North Wales Fire and Rescue Service was called to Sunnyview in Gwersyllt at 19:45 BST on Wednesday after neighbours spotted smoke following a strike.
It is thought a bolt struck an outdoor aerial and entered the house wiring, damaging switches and sockets.
Donna Curley, whose house was hit, said she had never been so scared.
She wrote: "All okay thankfully. Blew out electric box so currently in next door neighbours until it's fixed."
Elsewhere in Wales, fire crews dealt with flooding incidents.
On Wednesday an extreme weather warning was issued by the Met Office, which expired at 22:59 BST, although a yellow warning covering Wales remains in place until Monday.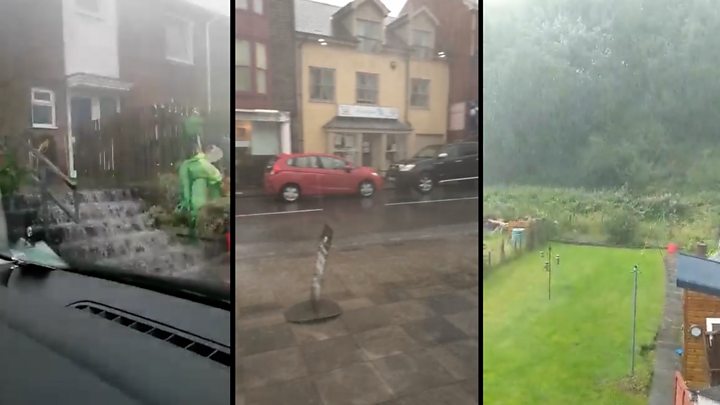 The Mid and West Wales fire service said it was asked to attend some other isolated incidents across mid Wales.
Fire crews were also called to some minor flooding incidents around Wrexham and Llangollen in Denbighshire.
Homes were flooded in Rhayader, Powys.
The first 999 call was received from the town at 18:24 BST and then further calls came in over the following hour.
Rhayader town councillor Rhys Thomas, who is also a retained firefighter, was out responding to flooding caused by the downpour.
He said drains could not cope with the volume of rain, adding: "I've never seen rain like it.
"The amount of rain we had in such a short space of time nothing would have been able to cope. We had raised manholes - we had manholes actually sat in the middle of the road which we had to put back it was that bad."
The Lost Arc Cafe was closed Thursday as owner Glenda Carter cleaned water from inside.
"It was absolutely torrential, it was phenomenal.
"We had a gazebo up and it was filling the top of the gazebo and the kids were having a great time for a while pushing the water off and it was like being under a waterfall.
"But then, the water was running down here and we had two brushes and a bucket and we might as well not have."