A-levels: Unfair results claim after grades lowered
A-level results day in Wales has been overshadowed by claims that results for some pupils are "utterly unfair and unfathomable".
Top grades have risen despite a chaotic summer when exams were cancelled.
But more than 42% of final grades were lowered from those estimated by teachers, after the exams watchdog called them "too generous".
Up to 4,500 may now be given improved grades, which exam board officials have promised to do as soon as possible.
There has still been strong criticism by teaching unions and some head teachers, who claim pupils were being "short changed" and the calculations had placed an over-emphasis on last year's AS-levels.
One further education organisation has called for a review of the process.
But Education Minister Kirsty Williams said she was confident the system was fair and "very robust".
"In any year under normal circumstances, sometimes the grades of a student... do not meet the expectations of maybe the teacher, or maybe the student and that's not different this year," she said.
"Clearly, I wish we had not been in a position to make last-minute changes but [students] can be absolutely confident that the exams that they have achieved today are as good as exams that were taken last year."
WJEC chief executive, Ian Morgan, said he thought the system had been "fair and balanced."
"We probably looked at a dozen different models and it was felt, from a WJEC perspective, and signed off by Qualifications Wales, that the approach we took was the fairest in the circumstances," he said.
Mr Morgan said there would "inevitably" be appeals.
"It's about ensuring that we are fair and consistent in that appeals process," he said.
He said his organisation had done "the best that we possibly can in the circumstances."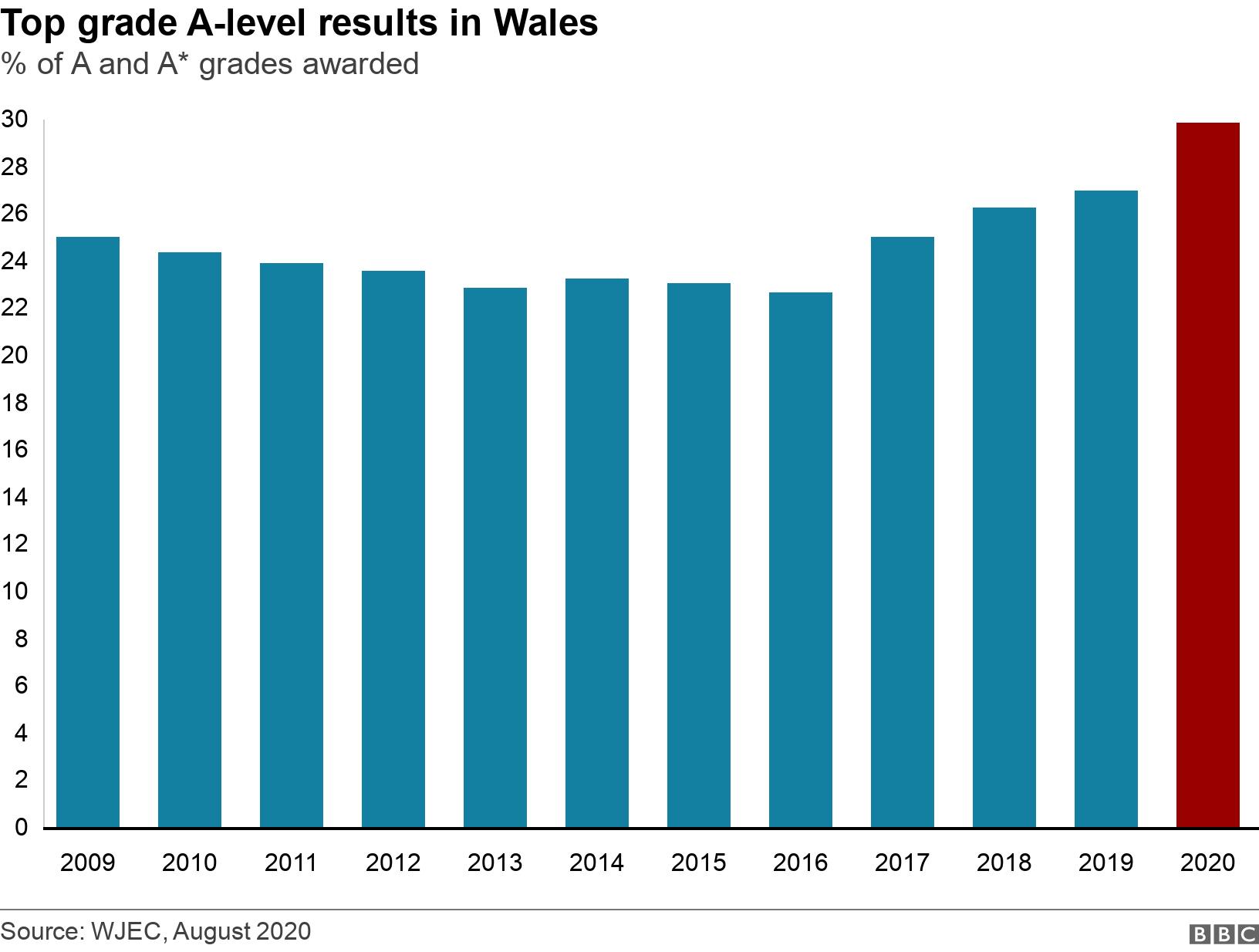 What do the results show?
A record proportion of A and A* grades - 29.9%, up 2.9 percentage points from 2019. But this is less than the 40.4% estimated after the initial teacher assessments
42.2% of final A-level grades are lower than the predicted grades based on assessment, 53.7% are the same and 4.1% are higher
The proportion achieving A* is 10.8% - adjusted downwards from the original estimate of 15.4%
More pupils on free school meals saw their A-levels downgraded - 48.1%, compared to 45.3% for pupils not eligible
98.6% achieved passes A*-E, up 1% on 2019
The gap between boys and girls is slightly wider than last year - with A* to C grades for 76.5% of boys and 82.3% of girls
22.2% achieved an A* or A for AS-levels, up 1.9 percentage points from last year.
What has been the problem?
The qualifications watchdog found that the estimated grades by teachers had been too generous in Wales.
But Qualifications Wales found if it had gone along with the estimates for this summer then more than 40% would have been A and A* grades.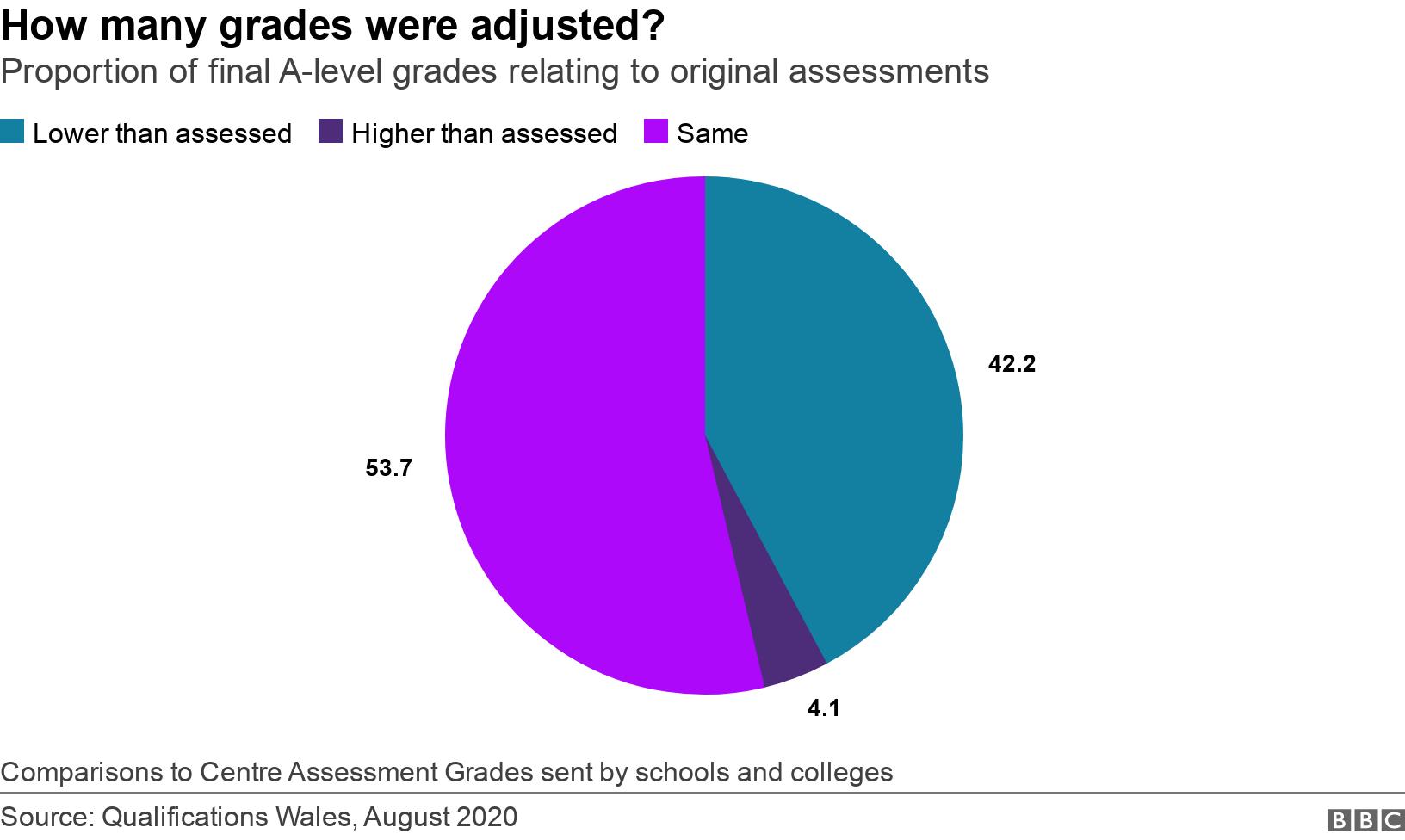 Following the revision, the majority of students (53.7%) have been given their original assessment grade while the remainder (42.2%) get a lower grade. A small proportion get a higher grade.
Altogether, 37% were downgraded by a single grade and 5% were dropped two grades.
But once ministers in England and Scotland had stepped in to overrule the usual exam moderation practices it was inevitable that Wales would have to follow suit.
Students who get their grades today are being told if their results are lower than their earlier AS-level grades, they will be issued with revised ones by the WJEC as soon as possible.
Education expert Gareth Evans, from the University of Wales Trinity Saint David, said some students would still wonder if they might have performed better than expected.
"While it will doubtless be of some comfort to those who performed well at the halfway stage of their A-levels, it will be of scant consolation to those pinning their hopes on boosting scores at the end of the course," he said.
"Issues with the artificial moderation of grades allocated by teachers remains. The right of pupils to challenge their grades as appropriate is absolutely essential."
What has been the reaction?
Eithne Hughes, director of the ASCL Cymru union said: "We have received many calls from school leaders expressing their frustration, confusion, and disappointment at the results awarded to their students.
"They report that grades have been pulled down in a way that they feel to be utterly unfair and unfathomable, and they are extremely concerned about the detrimental impact on the young people concerned."  
Neil Foden, a north Wales-based member of the national executive of the National Education Union, said that from his contact with schools, more than 90% of headteachers were unhappy with the grades.
"There is real concern in schools about the number of learners whose results have been downgraded from the teacher estimates," he said.
Dilwyn Roberts-Young, of Welsh teaching union Ucac, said: "There remains serious concern that there are many discrepancies at individual and centre level, in spite of the education minister's pledge last night.
"The last-minute changes and the results of individuals are inevitably going to create anxiety and we hope we will not see this repeated next week."
Colegau Cymru - an education charity representing further education providers - has called for an urgent review of the awarding process.
It said there had been "considerable inequalities" in the results of individual learners.
Director of development Kelly Edwards said: "We must ensure that the grades awarded are fair and accurate so that learners can progress on their chosen path."
Qualifications Wales chief executive Philip Blaker said this year's process had not disadvantaged particular groups of pupils and the grades were "meaningful and robust".
"We have analysed attainment gaps this year relative to previous years - looking at aspects such as gender, age and eligibility for free school meals", he said.
"Our analysis shows no statistically significant differences this year relative to other years."
The results show Wales has proportionately more pupils with top grades and grades A* to C than in England, but fewer than in Northern Ireland.
There had also been a 3.3% rise in the proportion of A* to C grades in Wales, higher than elsewhere.
And the performance at both A* to C and A*-A grades in Wales is higher than in all regions of England, apart from the south east, which is only slightly higher.
'Quite a lot of people I know have got lower than they were predicted'
Sophie Price, 18, from Bassaleg, Newport, is aiming to start a fashion buying course in London but was told online that she did not have the right grades.
"I was freaking out, I didn't know what to do," she said. 
"There's not a lot of guidance on what to do - you're just left there. You can't really ring them, you have to email them and then you're waiting for an email back. 
"Quite a lot of people I know have got lower than they were predicted.  Lots of people have been predicted Cs and got Us."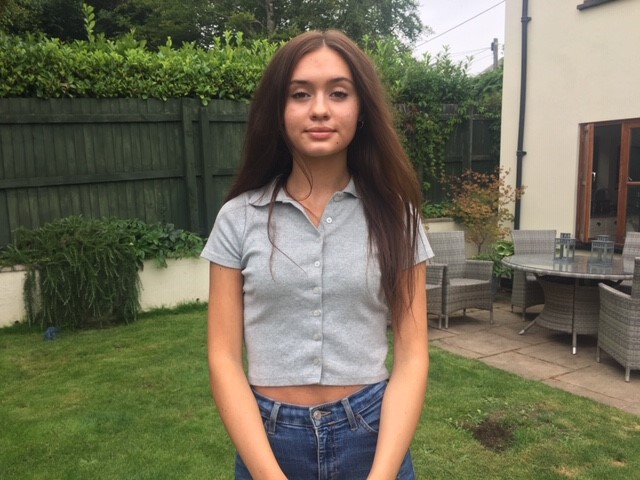 BBC
It's a bit heart-breaking, you don't really know what else to do
Sophie passed her Welsh Bac and got a D in business and E in art; she was predicted two Cs.
Her art mark will be upgraded because of her AS grade last year but she will now need to appeal against her business grade, although her university said it will keep her place open for now.
"I don't have a back-up plan - I was so set on the one thing. 
"It's a bit heart-breaking, you don't really know what else to do.  It's hard when your future's in the hands of other people and you have no control over it."
At Merthyr College, Caitlyn Foley got an A* and three As.
"It's been a bit weird having to deal with all the changes so last minute," she said. "We thought the teacher's predicted grades were final but then we found out that there was a bit more than that," she said.
"Obviously the announcement last night that we wouldn't get less than what we got in AS, that was a bit reassuring."
Fellow student Tom Bush, who got an A and two Bs, added: "I've actually got lower now than I had at AS in Psychology which is odd but hopefully I'll go up."
Zac Evans, a pupil at Ysgol Glan Clwyd, St Asaph, said he got Cs in art, design and technology, and an E in PE.
"I'm going to look into an appeal with the hope of getting a higher grade in DT because I was hoping for a B but it will all be OK in the long run.
"I've just had advice from the headmaster and they'll be releasing how the application process works on Monday because they say it's changing and I'll be looking into it."
Can I appeal?
Qualifications Wales has been asked to quickly make any relevant adjustments to the appeals process and liaise with other exam regulators.
The advice to pupils getting results is:
If your A-level grade is the same or higher than your AS-level, then no action is required.
If the grade is lower it will be replaced with the same grade as that received for the AS-level - and revised grades will be issued by WJEC as soon as possible. It is believed this could involve between 3,000 and 4,500 grades.
If needed, students can contact their prospective university to advise them of the change.
As things stand, appeals have to be made through a school or college, rather than direct to the WJEC exam board - and there are limited grounds. These are restricted to the process - such as the exam board using the wrong data to calculate a final grade.
It will not allow schools and colleges to rethink their estimated grades or ranking of pupils. If other mistakes are highlighted through an appeal, the other pupils affected will not see their grades lowered, the exam board has said.
Jackie Parker, head of Crickhowell School in Powys said: "We will all be working to look through every individual child's performance data to look at what results they've achieved and to ensure if appeals are necessary they are going forward positively.
"I think the WJEC and others have tried to be as fair as they can but I personally think there's more work to do here.
"For me, the moral purpose of leadership is to ensure that our young people are not disadvantaged in any way."
Lisa Thomas, principal of Merthyr College, said it had been a very unsettling time and results would now be closely scrutinised.
"If we feel that there are learners that have been disadvantaged in any way then we would be looking to use the appeals process," she said.
Analysis: Robert Cuffe, head of data science at BBC News
Is there a fair way to award grades without exams?
Even exams can be unfair. Some of us perform badly under exam pressure, and two people marking the same paper can give different grades.
But this year's assessment had left many people feeling their future chances have been harmed by a computer model.
The awarding body put in place a system that led to more than 40% of grades being downgraded to stop grade inflation.
But on the eve of results day thousands of students were rescued when the Welsh Government announced students that achieved higher AS grades are entitled to have their A-level result upgraded to match.
Information available to calculate grades differs across the UK: like in Northern Ireland, AS results contribute to overall A-level results in Wales and therefore can be taken into account. However, this doesn't happen in England - where AS grades have no bearing to A-level results.
Research suggests that using AS performance can improve the overall accuracy of grades.
It still means that if a school has a stronger year group than last year, or if teaching has improved, that might not be fully recognised this year.
Grades could be calculated using a range of evidence including work to date, mock exams and teacher assessed grades, but even experts can't agree on a perfect way to navigate yet another difficult problem caused by the coronavirus.
How schools' past performance is accounted for
There has been concern about how the "standardisation" process looks at schools and colleges' previous results.
In Wales, this does not apply to the process for A-levels, the Welsh Bacc and some GCSEs where you already have a lot of hard data from previous assessment - such as AS-levels - to work from.
But average results from 2017-19 are taken into account when standardising most GCSEs. Schools could appeal to the WJEC if they think there were significant circumstances or events in those previous years which might bring the average down.
However, currently there is no scope for pupils to appeal against the grade they were given by their school or college - the Centre Assessment Grade (CAG).
If pupils have concerns about bias or discrimination in allocating those grades, they can appeal to the WJEC and a process similar to a malpractice complaint would be followed, but those are expected to be rare.
In other years there can be requests for exam scripts to be reviewed, but this is obviously not an option when no exams have been taken.
The minister has announced, however, that the appeal process will be free for all students.
The BBC is not responsible for the content of external sites.