Extreme weather warning as more thunderstorms arrive in Wales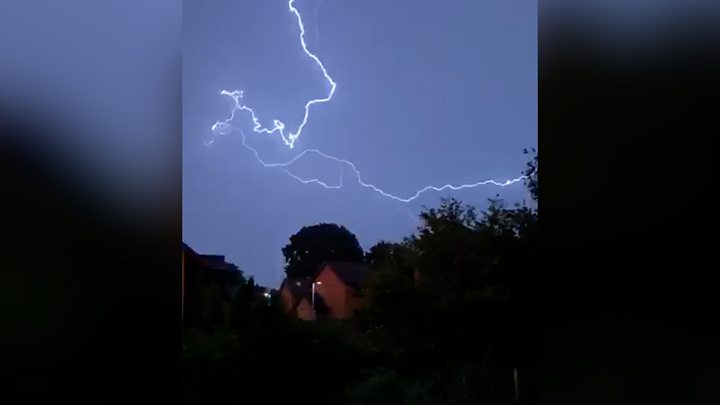 Lightning could be seen around Wales on Wednesday night as an extreme weather warning was issued.
In Wrexham, lightning was photographed at sunset while it arrived later in the south of the country.
Storm scenes were also filmed in Pembrokeshire. The Met Office issued an extreme warning of thunderstorms until 22:59 BST.
Flooding and road closures were predicted and "communities might be completely cut off."
The amber warning covers 20 of Wales' 22 local authority areas - all apart from Anglesey and Pembrokeshire.
However the whole of Wales is covered by a yellow, "be prepared" warning that runs until 23:59.
The warnings predict fast flowing and deep waters could suddenly occur.
Roads could also be closed with dangerous driving conditions, and power could be lost in some areas.
The amber warning suggested up to 40mm of rain could fall in 20 minutes with the chance of up to 100mm in two to three hours.
Most thunderstorms should die out later in the evening though a few may continue into the night, the warning says.
On Monday, thunderstorms brought flash flooding and power cuts to parts of Wales.