Coronavirus: 'It's all been a terrifying experience'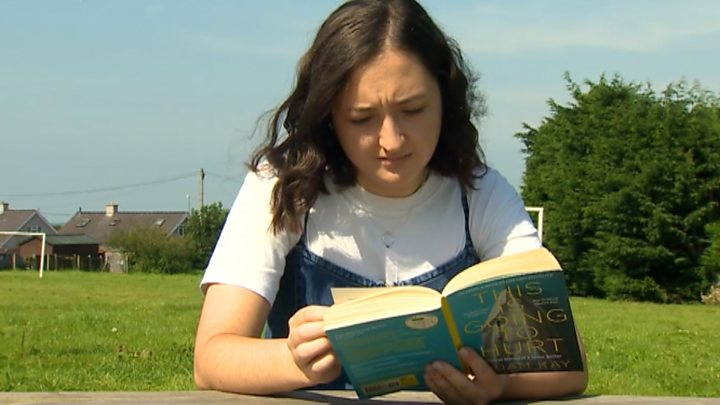 "It's all been a terrifying experience," is one 18-year-old's assessment of the past few months.
Like thousands of other A-level students across Wales, Gwenllian Griffiths received results on Thursday.
But the backdrop is different to that experienced by most other year groups - her dad became very ill with Covid-19 in March and she has been helping to care for him.
"Unfortunately I didn't get in to do medicine" she said.
Gwenllian, from Bethel near Caernarfon, Gwynedd, had hoped to study medicine at Cardiff University, but did not get the grades required after achieving an A* in the Welsh Baccalaureate, an A for Welsh, B for biology and B for Chemistry - it was one of the Bs that lost her the place.
"I'm a bit gutted to be honest. But I have an unconditional offer to study medical pharmacology at Cardiff University and that's a feeder course, so I would only have to do four years in medicine afterwards."
She said the day had been a "rollercoaster of emotions".
"A lot of my friends were a bit confused with grades and it was a shock at the beginning, but now we're just glad it's over and are looking to future," she said.
Reflecting over the past few months, she said: "Dad was so strong and healthy, so seeing him so weak and ill made me feel that nobody is safe at the moment.
"I was lucky because of my family - we all helped each other through it."
The build-up to results day was different than she expected as her mother nursed her dad, and her brother looked after the house, cooking and cleaning.
She added: "It's affected me mentally, the way I look at life now.
"I've realised that I don't have control over everything in my life."
As the country eases out of lockdown, Gwenllian believes young people fall into two categories - those that are happy to go out, and those that do not want to go out at all.
She said it has been a "really difficult" time for those who should have spent the summer turning 18, finishing school and going out with friends.
The last few months has given Gwenllian a new perspective and made her think differently about things.
"It's not the end of the world," she said.
"We've come through a pandemic, I've seen my father very ill, and we've come through it okay.
"If that's the only thing I get out of this year, then I'm perfectly happy with that. I don't think we fully realise what we've been through these last few months."
Gwenllian also believes there should be more professional support for young people to help them come to terms with what they have experienced.
Uncertain times
"There are so many young people, like me, who don't know what's coming next," she added.
"If we think about leaving school, we're leaving the web that has supported us for so long.
"It's not school who should be looking after us now."
Gwenllian believes people her age are "on our own in a way" and not everyone has family to help.