Coronavirus in Wales: Exam results lowered after 'generous grading'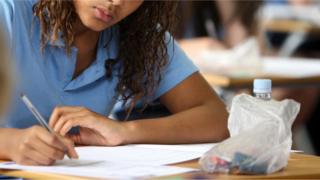 Thousands of estimated A-level and GCSE grades in Wales will be lowered to account for teachers being "generous" and inconsistency across schools and colleges, the exams watchdog has said.
Exams were cancelled due to coronavirus so results are based on how teachers predict a student would have performed and formula applied by the exam board
Results will be released in the next fortnight.
Qualifications Wales said the process was as fair as possible.
It said a majority of learners would receive their estimated grade and a small percentage would receive a grade that is higher.
The rest, it said, would receive a lower grade, with "a small percentage" of final grades "two or more grades lower" than they had been estimated.
Similar processes have been adopted in other parts of the UK, which led to a row in Scotland last week when many pupils were unhappy that they had been awarded lower grades than they had been predicted.
A-level and AS results are released to pupils on 13 August and GCSE grades will be published a week later.
Grades will also be published for the Welsh Bacc.
Schools and colleges submitted estimated grades to the WJEC exam board in June, as well as ranking pupils within grades in each subject.
The exam board then looks at information such as how pupils have performed in previous years and the results of the school and college in the past.
'Not a criticism of teachers'
Chief Executive of Qualifications Wales Philip Blaker said without such an approach "big variations in outcomes would reduce confidence in results and therefore disadvantage this year's learners".
"On the whole, CAGs [centre assessment grades] were generous and there was also evidence of inconsistency between exam centres," he said.
"This is in no way a criticism of teachers as there was no opportunity amid the pandemic to train them."
He said the watchdog's analysis showed a "clear difference between CAGs and exam results in previous years, highlighting the need for standardisation to secure fairness for learners".
"Qualifications awarded in Wales this year are of the same value as those awarded in any other normal year," he added.
He said the approach had been "carefully thought through to be as fair as possible in the circumstances and protect the value of results".
Analysis by the regulator showed that, based on the estimated grades, more than 40% of A-levels would have been awarded at A* or A compared with 27% in 2019.
At GCSE, 73% would have had an A* to C grade, compared with 62% in 2019.
He said the "clear difference" between the estimated grades and previous years' exam results highlighted the need for a standardisation process.
"Changes of this magnitude are unprecedented and unchecked would not be credible", Mr Blaker said.
"They would also be at odds with our aim that results this year at a national level are broadly similar to previous years - something that most people agreed with when we consulted on our aims."