Cardiff Bay: Minority of young people 'ruining it for majority'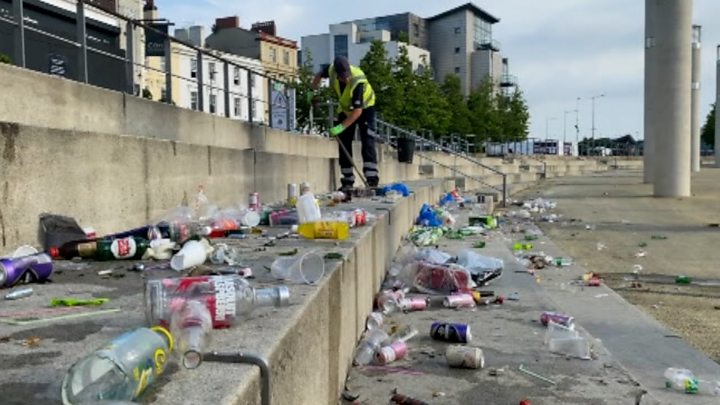 A minority of young people who have caused trouble in public spaces since lockdown was eased are spoiling it for the majority, it is claimed.
The BBC spoke to a number of small groups enjoying a quiet drink in the sun at Cardiff Bay's Roald Dahl Plass.
Two people in their 20s were arrested after a large gathering at the weekend.
Welsh government minister Eluned Morgan has said there is evidence young people are not taking coronavirus as seriously as others.
Since the easing of lockdown restrictions, hundreds of young people have been gathering, drinking alcohol in large groups in Cardiff Bay.
Cardiff Council said it had removed 28 tonnes of waste at a cost of £4,000.
'Social media is driving crowds'
Speaking on Monday evening, Rhys Mallard and Lewis Tebbut, both 21, said most people gathered for a quiet few drinks with friends and cleaned up after themselves.
"I've seen problems with drinking and fighting, people don't clean up their rubbish and it ruins it for everyone else," said Lewis.
"Coming down here with mates is one thing, but inviting everyone you know and people bringing massive speakers is another."
Rhys and Lewis said numbers can grow very quickly on weekends, especially when the weather is nice and people are attracted to the area when they see friends posting on social media platforms such as Instagram and Snapchat.
"Before you know it, you've got 200 to 400 people down here," Rhys explained.
"I would hate to live down here. It's a nice place but it's chaos down here when it's like that."
'Rubbish is the problem'
Lowri, Alisha, Tyler, Elli and Morgan say they like to meet down Cardiff Bay and have a few quiet drinks when the weather is nice.
They say they would only stay until about 22:00 and would take all their rubbish away with them.
"Rubbish is the problem," said Lowri.
"They could have had a good night without leaving rubbish. They get too drunk and then leave it there."
'Families can't enjoy it'
Claire Simms and Simon Graham live in Penarth but regularly walk across the barrage to enjoy the "ambience" of Cardiff Bay.
"I can understand all these kids and their frustration, but we have all got the same frustration," said Claire.
"Families with young children can't enjoy it. It's a nice ambience normally. It's nice to come here and relax, people watch and that.
"I think Cardiff is a lovely city and it's on the coast, so people want to enjoy that."
MP Stephen Doughty suggested crowd management measures similar to those in Cardiff City Centre could combat anti-social behaviour at Cardiff Bay after police officers were injured
"It's clear that a small minority of individuals to want to flout not only coronavirus safety regulations but also behaving in ways that would be unacceptable in any city during normal times."
Baroness Morgan said social media would be used in the future "to make sure that those younger people understand the message".
On the weekend, a 48-hour dispersal order was put in place near the Wales Millennium Centre to deal with problems.
"It is a really concerning situation," the international relations minister said, speaking at a Welsh Government press conference.
"It is something where I think we do have to get messages out, in particular to younger people, that this does affect them, it will affect them.
"Clearly the evidence suggests that the younger people are really perhaps in some parts of the country not taking this as seriously as some of the other age groups.
"That is a message that we need to get out but the police are very well aware of the situation in Cardiff Bay, and will be enforcing measures to make sure that people comply with the rules."
Asked how the government intended to get the message across, Baroness Morgan said social media would be used in the future "to make sure that those younger people understand the message".
In the city centre, social distance markers and one-way systems for walking are in place and the Cardiff South and Penarth Labour MP said he had spoken to the authorities about something similar in the bay.
He praised the council's efforts in the early hours of the morning to clear the large amounts of litter from the area including empty alcohol cans and bottles.
"What they're having to deal with is completely unacceptable. People need to act more responsibly," he added.
"They're coming down here and leaving the litter - take it home with you if the bin is full."
Concern at use of laughing gas
Mr Doughty also told BBC Radio Wales Breakfast he was concerned about the use of laughing gas.
"I have urged the council and licensing to look into what they can do about that problem," he said.
"It is obviously not just the alcohol but the drugs as well. And there are questions about what businesses are doing in terms of serving individuals.
"These things are banned and people are getting hold of them illegally.
There needed to be a crackdown and "action taken", he said.
"It is becoming a bigger and bigger problem."
South Wales Police chief superintendent Andy Valentine said antisocial behaviour and criminality would not be tolerated.
"Our officers are responding to these incidents and are using the powers available to them, including dispersal orders and enforcement action, however with more than 100 miles of coastline, parks, towns and city centres, it is extremely challenging and we cannot be everywhere all of the time."
He added that they were working closely with different agencies as a strong partnership approach was crucial to keeping people safe and ensuring the public's quality of life was not negatively impacted "by the selfish actions of a minority."
In a statement, Cardiff council said it was working with police to ensure people enjoyed themselves but also ensure that everyone was safe.
"To achieve that we need everyone to play their part," said a spokesman.
"The council is working closely with the police to address concerns caused by a minority of individuals in Cardiff Bay. Additional measures to improve compliance with social distancing and ensure that the area is safe for everyone will be put in place this weekend."