Sarah Hassall murder: Brian Manship jailed for life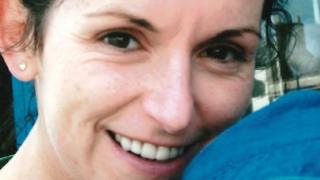 A man has been sentenced to life in prison for the "inexplicable" murder of a woman who he "lured" to his flat after meeting in a pub.
Married mother-of-two Sarah Hassall, 38, from Chelmsford, Essex, was discovered with 22 stab wounds in Brian Manship's flat in Pontypridd, Rhondda Cynon Taff, on 6 October.
Manship, 37, from Llys Graig Y Wion, Pontypridd, who had pleaded guilty, was jailed at Swansea Crown Court.
He will serve a minimum of 20 years.
The court heard Manship met Mrs Hassall at a pub in Pontypridd a before taking her back to his flat where she was found the next morning.
'Life spiralled downwards'
Sentencing Manship, Judge Keith Thomas said Mrs Hassall had "found it difficult to adapt to civilian life after leaving the Army to concentrate on bringing up her two sons".
He added: "Unfortunately, she turned to drink as a means of coping with her issues and her life spiralled downwards.
"She seemed to be turning her life back around until you crossed her path."
He said the night they met the pair had gone onto a bar together before leaving just before 03:00 BST and picking up a bottle of vodka before heading back to his flat.
He said the following morning a neighbour heard noises of "banging, crashing and screaming and a female voice, undoubtedly, Mrs Hassall, shouting 'get off me, get off me, leave me alone'".
Judge Thomas said as the neighbour left his flat he saw Mrs Hassall at a window: "She appeared to him to be distressed, dishevelled and injured. She mouthed the words, 'Help me, help me.'
"The woman then disappeared from the window and the crashing and banging resumed."
He said the neighbour dialled 999 but later heard Mrs Hassall saying: "I will have sex with you again, I won't tell anybody, please let me go; I'll do anything, please let me go."
The police were unable to gain entry to the flat until 08.24 BST by which time Mrs Hassall was fatally injured.
Escaped through a window
Judge Thomas said a forensic examination of the flat showed Mrs Hassall had been subjected to a "sustained attack".
He said the pathologist found she sustained 22 stab wounds and seven slash wounds.
"I have no doubt that you intended to kill Mrs Hassall," he said.
Manship escaped through a first floor window but hours later was found hiding in undergrowth by firearms officers.
Mrs Hassall's husband Graham said in a victim impact statement that he had no doubt his wife's last thoughts would have been of her children.
He wrote the statement on the eve of their son's ninth birthday.
"Not only did you exploit a vulnerable person, you went on to kill her in the most horrible way possible, in a protracted and fear-inducing manner," Mr Hassall said of Manship.
Speaking after sentencing, Ch Insp Mark O'Shea from South Wales Police's Major Crime Team said Mrs Hassall had been "lured to Manship's flat and killed in the most dreadful way".
He said: "Sarah Hassall was a young mother to two small children.
"She was a much loved wife, daughter and sister, as well as a friend to many people.
"I have spoken with those that knew her and the grief they feel is palpable and powerful.
"She was brutally murdered by him in a completely unprovoked and inexplicable attack. I believe he had exploited the inherent trust she placed in all the people she met."