Coronavirus in Wales: 'Make face masks mandatory for NHS visitors'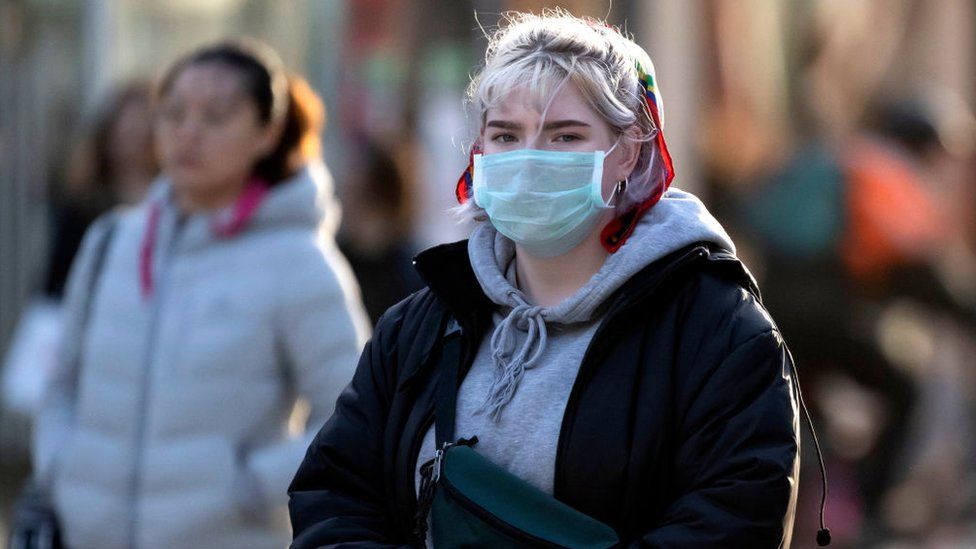 Two Labour politicians have called for the Welsh Government to make face masks mandatory for people visiting hospitals.
In Wales from Monday face coverings will be mandatory on public transport.
No Welsh Government recommendation has been made for visitors to wear them in hospitals, although a health board in north Wales is encouraging their use.
Labour's Lynne Neagle said hospitals should not be having to do that. The Welsh Government was asked to comment.
Ms Neagle's call for masks to be compulsory is backed by her Labour colleague Alun Davies, the Member of the Senedd (MS) for Blaenau Gwent.
It emerged at the weekend that north Wales health board Betsi Cadwaladr is "actively" encouraging patients, visitors and staff at NHS sites to wear a face mask, after a spike in coronavirus cases.
Face coverings are recommended in situations where social distancing is difficult, but have not been specifically stipulated for NHS visitors by the Labour-run Welsh Government.
They are currently only mandatory on buses, trains and taxis for people 11 and over, and need to be three layers thick.
The Welsh Conservatives called on Saturday for masks to be compulsory for hospital visits.
Ms Neagle, a backbench Labour Member of the Senedd for Torfaen, tweeted: "This has made me angry. Hospitals shouldn't be put in the position of making a plea or having to 'actively encourage'.
"They should be mandatory in hospitals in Wales."
In England the use of face coverings is compulsory in shops and hospitals as well as on public transport.
Northern Ireland is due to make face masks compulsory in shops from August.
Labour's Aberavon MS David Rees told BBC Wales he believes there is a "very strong argument for face masks to be used more generally and in more scenarios other than public transport".
But Swansea East MS Mike Hedges said he was happy with the Welsh Government's current policy - stopping short of making masks compulsory in hospitals and shops - because some people cannot wear them for health reasons.
Plaid Cymru said the Welsh Government's policy "contradicts the cautious approach they've been following until now". 
It and the Welsh Conservatives have both called for masks to be compulsory in shops in Wales, in line with Scotland and England.
Plaid's Rhun ap Iorwerth called for ministers to "embrace the latest scientific advice that suggests it can make a real difference in decreasing transmission of the virus".
A body that represents trade unions in Wales also called for face coverings to be mandatory in shops.
Wales TUC general secretary Shav Taj said: "In settings where social distancing isn't always possible, such as hospitals, face coverings seem like a sensible measure to protect workers and the public."
As the first day of compulsory masks for public transport began, travellers in Swansea gave a positive reception to the move.
One woman told BBC Wales: "It prevents the spread of coronavirus so I do think it's a good idea. I find [wearing one] all right."
Another woman said: "It feels all right, but for about the last two weeks I've been wearing it.
"I've just kept it on because you're not supposed to be taking them on and off, so I just keep it on in the shops and when I get off the bus the other end I take it off.
"I think it keeps other people safe from yourself and I think it keeps yourself safe as well."
First Cymru's head of operations Mark Jacobs said: "Our drivers will be requesting that people wear a face covering when they board the vehicle.
"If they are not wearing a face covering when they board the vehicle, they will ask them to wear one.
"There may be some challenges today with it being the first day and our drivers will be looking to encourage people today as we go through this process.
"We will be enforcing it as we go along."
Passengers who are exempt from wearing masks for medical and disability reasons can apply for an exemption card, which they can download from the First Cymru website.
The boss of Transport for Wales (TfW), Chief Executive James Price, said he expected near complete compliance with the rule to wear a facemask on public transport.
Those who refuse to wear a mask may be refused permission to board, and risk being given a fixed penalty notice by British Transport Police.
Mr Price told BBC Radio Wales Breakfast with Claire Summers: "If you look at what has happened in Scotland and in England, we have seen about 97% compliance with the rules a couple of days after they came into force and that is what we expect here.
"We reckon that nearly everyone, when they recognise the law, will comply."
But the TfW boss emphasised that people with hidden disabilities will not be able to wear a mask.
He asked people "not to jump to conclusions and to treat everyone and each other with respect".