Coronavirus cases in Wales: How many people have died?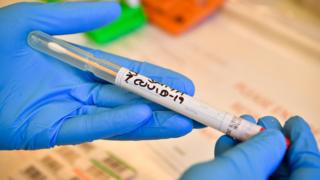 No new deaths of people with coronavirus have been reported by Public Health Wales (PHW).
This is the first day since March that PHW has not announced any additional deaths.
However, deaths may be added or removed in future due to delays in reporting and currently figures show no deaths occurred on 18 June or on 3, 4 or 5 July.
In total, 1,531 people in Wales have died with the virus.
Monday's update also showed eight new cases reported, meaning 15,898 people have tested positive for Covid-19.
Monday's figures showed to date, 148,903 people have been tested for coronavirus in Wales, with 133,005 testing negative.
A total of 198,875 tests have been carried out, with some people having been tested more than once.
PHW publishes daily statistics of deaths, mostly occurring in hospitals, but only when the virus has been confirmed by laboratories.
They do not include deaths of residents from Powys in hospitals over the border in England.
The Office for National Statistics also publishes figures but on a weekly basis.
These include all registered deaths, including those in care homes and at home, where Covid-19 is suspected, as well as laboratory-confirmed cases.
Dr Phil White, from the British Medical Association in Wales, gave a cautious welcome to the announcement.
Speaking to BBC Radio Wales Gareth Lewis programme, he said he believed it was due to stricter lockdown measures in Wales.
"What we need to look at now is the trend over the next few days and weeks to see if this is maintained," he said.
"Scotland has maintained it for several days and hopefully Wales can do the same. It's a reflection of how well the policy has worked and the test and trace has been working in Wales.
"We've had stricter lockdown and its reflected in the zero death rate, similarly in Scotland, and because of this we've seen a more rapid improvement in the situation."
It is certainly very encouraging news that, for the first time since the middle of March, a daily update from Public Health Wales has recorded no newly reported deaths.
However, given the way the figures are compiled there have been previous days where the statistics show no Covid-19 deaths occurred in Wales.
PHW statistics, based on those who tested positive, show no deaths occurred on 18 June and also on 3, 4 and 5 July - although any deaths reported in coming days may be added to those most recent dates.
And the more complete Office for National Statistics figures, based on death registration, also show no deaths occurred on 18 June.
With very small numbers, the statistics are always likely to bounce around a bit.
But a key point will be when the figures show no new deaths over a longer period of time.
Find out how many people have confirmed cases in your area:
If you cannot see the box, click here.