Coronavirus: What do the latest lockdown rules say?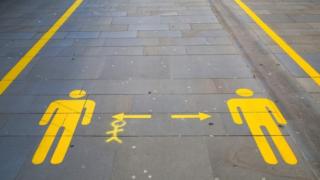 People in Wales can now do more after a further easing of lockdown measures.
The indoor reopening of pubs, restaurants and cafes in Wales has been confirmed for Monday.
Also from Monday up to 30 people can meet outdoors and children under 11 will not have to keep a 2m distance from anyone. More people may be able to meet indoors from 15 August.
Monday will also see the reopening of indoor bowling alleys, auction houses and bingo halls.
Swimming pools, gyms, leisure centres and indoor play areas including soft play can reopen from 10 August.
Lockdown began to ease back in June with non-essential shops reopening and all children being able to return to school, albeit for a "catch up."
Travel restrictions were then lifted on 6 July and people were allowed to form "extended households".
Self-contained accommodation,hairdressers and beer gardens were allowed to reopen a week later.
But what are the current rules and the changes, and how do they apply?
Who can I meet and where?
People from two different households are currently able to meet outdoors, but must maintain social distancing.
This does not need to be the same people from the same household every time.
You are able to meet in local parks and open spaces, and private gardens, though you should not go into someone's home unless they are your one "extended household".
The Welsh Government has acknowledged that people may have to pass through someone's home to reach a private garden, but individuals have been told not to stay inside.
But since a change in the rules from 6 July, this can be more than five miles from your home.
There is no restriction on the number of people at any one time. But getting together with members of more than one household at the same time is still not allowed.
However, that will change from Monday as up to 30 people will be able to meet outdoors in Wales - and it will not matter how many households they are from.
Children under 11 will no longer have to maintain a 2m distance from each other or from adults from Monday, because of lower rates of transmission in their age group.
Indoor bowling alleys, auction houses and bingo halls will also be able to resume trading on Monday.
Where can I travel?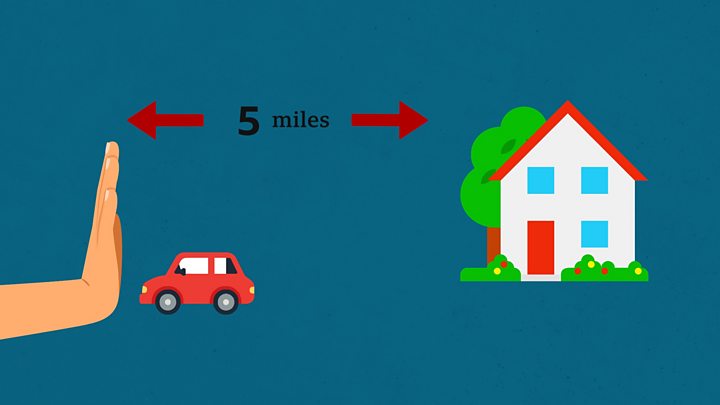 The "stay local" guidance, asking people to stay within five miles of home, has ended, with no limits on travel.
When can I go to the pub or eat out?
During lockdown pubs, cafes, restaurants and bars have been shut, but you will able to enjoy a pint, or a soft drink, indoors at your local again from 3 August.
Beer gardens and outdoor seating areas for cafes and bars are already able to open, but some pubs, including the chain Wetherspoon, have waited to reopen beer gardens until pubs could reopen fully.
What about toilets?
Most public toilets are managed by local councils, and many have been closed during the pandemic.
While some are beginning to reopen, many remain closed, and the Welsh Government has said people should consider this when travelling.
Guidance says you must not use someone else's bathroom, or kitchen, if you are visiting them in their garden, to prevent the spread of the virus.
What about taking children to see family?
Lockdown measures introduced in March meant children had not seen their grandparents, uncles and aunties for some time - and this was one of the main considerations behind "extended households".
The changes were similar to "support bubbles" elsewhere in the UK and were introduced after children started going back to school in small groups.
It means people can have physical contact, exercise, cook and eat together, and also stay in homes of one other household.
There is no limit to the number of people that can be in the two households, but they cannot be changed once they are formed and all members of both households must self-isolate if someone becomes ill.
But from Monday children under 11 will not have to social distance from one another or adults.
First Minister Mark Drakeford has said the decision was made because of their lower rates of transmission.
What if I am shielding or living with someone who is shielding?
More than 120,000 people have been told to self-isolate in Wales during the pandemic.
People shielding, due to being classed as high-risk, can go outside to exercise and meet others - at a 2m distance.
But they have been advised not go into another person's house or share food with them.
Shielding in Wales is set to end from 16 August.
Can I exercise with a friend or play sports?
Currently you are able to go for a walk, run or cycle as often as you want with people from a second household, as long as you are not in large groups and are at least 2m apart.
People can also exercise in groups, with up to 30 people being allowed to play sport outside at once.
This means exercise classes, team games, such as cricket, and sports clubs can meet, but only if they are organised and supervised.
Swimming pools, gyms and leisure centres can reopen from 10 August.
Can I book a holiday in Wales?
You can book a holiday with members of your household or extended household in self-contained accommodation or hotels, B&Bs and campsites with shared facilities in Wales.
But you cannot currently go on holiday with anyone that is not part of your household or extended household.
When can I have my hair cut or a beauty treatment?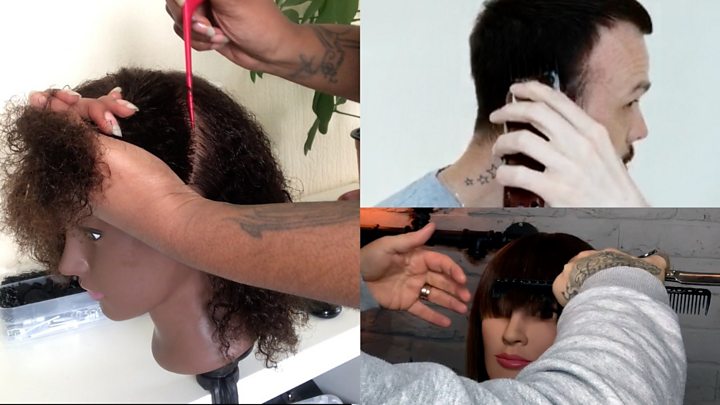 Many people were desperate for a cut, colour or to repair the damage done by doing it themselves by the time hairdressers and barbers reopened on 13 July.
But they are now very different places to those you could simply walk into, chat to friends or browse magazines.
For a start, there are strict hygiene rules in place, with hairdressers only able to accept booked appointments.
The same applies for visitors to tattooists, beauty and tanning salons, which were allowed to open from 27 July.
What about schools?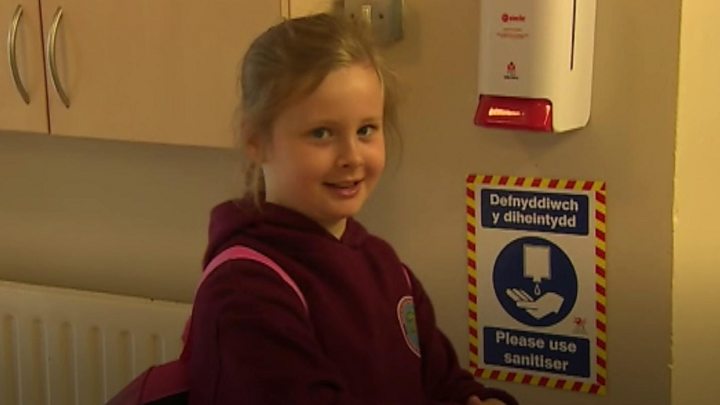 Schools started welcoming back pupils in small groups on 29 June after being closed for more than three months.
Education Minister Kirsty Williams hoped all pupils would be able to "check in, catch up and prepare" before the end of term in July though classrooms look very different with strict social distancing measures and limited numbers in at a time.
She said all state schools in Wales will then reopen to all pupils in September.
She said schools are "safe and secure" - saying children do not seem to transmit the virus.
But parents were not fined if they did not send their children back.
Can I have work done on my house?
Repair and maintenance work can be carried out in people's homes, provided that the tradesperson is well, has no Covid-19 symptoms and ensures a 2m distance is maintained.
The Welsh Government recommends no work should be carried out in a household which is isolated or where a vulnerable person is being shielded, unless an emergency repairs that could out people at risk.
What about places of worship?
During lockdown mosques, synagogues and churches were closed in Wales, and there have been limits on the number of people attending funerals.
From 13 July faith leaders were able to gradually resume services, once they felt ready to do so safely.
Marriages or civil partnership services can also be held but only small, socially-distanced ceremonies are permitted and only in official register offices and places of worship.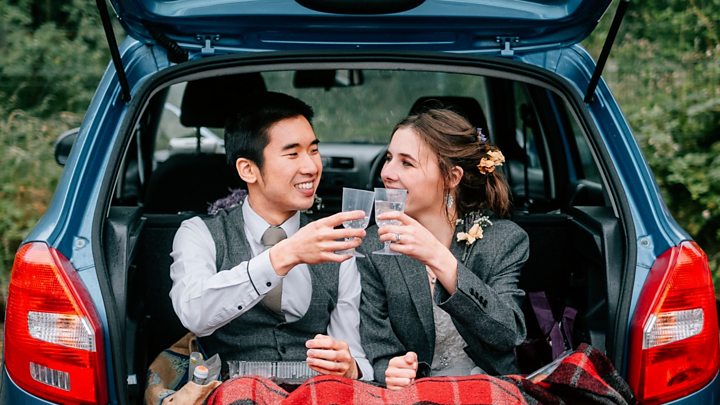 What if I'm pregnant, have a medical condition or I'm over 70?
If you're over 70, pregnant or have an underlying health condition, then you are advised to stay at home and "take extra care to protect yourself".
There are 120,000 people in Wales in a so-called shielding group and Mr Drakeford said: "It is really important this group continues to follow the shielding advice."
That also includes advice on safe exercising outdoors from 1 June.
Mr Drakeford has announced that shielding will "pause" on 16 August.
Can I buy or rent a new house?
If you are looking to move house, you can view homes for rent or sale in Wales - but you must follow social distancing rules and keep your hands clean.
You can also visit estate agents, sales offices or show rooms.
Can I visit my Welsh second home?
People were previously told not to travel to second homes in order protect the smaller NHS hospitals in areas where most Welsh boltholes are situated.
However, people can now "travel as far as they like for all purposes" according to First Minister Mark Drakeford, opening the door to visiting your second home.
Last updated 31 July 2020: This story has been updated since April with new information from the Welsh Government about the lockdown rules.