Coronavirus: What do the stats tell us in Wales?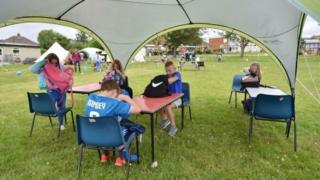 What can different statistics tell us about coronavirus in Wales so far?
We seem to be bombarded with different measures, but what do they mean and how does Wales compare with other parts of the UK?
Here, we try to answer some of the questions and explain what the different measures are and also give some of the most recent figures.
How many deaths have there been?
In Wales, there were 39 deaths involving Covid-19 registered in the week ending 19 June, accounting for 6.3% of all registered deaths - the lowest weekly total since the pandemic began.
The total number of deaths in Wales up to 19 June was 2,408 - for deaths to be included in these figures, they must have been registered by 27 June.
Cardiff has the largest number of deaths with 366, followed by Rhondda Cynon Taff (RCT) with 291 up to 19 June.
There were no new coronavirus deaths registered in nine council areas: Blaenau Gwent, Caerphilly, Ceredigion, Merthyr Tydfil, Monmouthshire, Neath Port Talbot, Newport, Pembrokeshire and Torfaen.
Where is the Welsh hot spot?
Early on in the pandemic, the hot spot was in the Aneurin Bevan health board but this area showed no deaths at all in the latest figures.
The latest cumulative figures shows RCT has had 121.6 deaths per 100,000 people - which ranks 21st across all local authorities in England and Wales.
This is followed by Merthyr Tydfil (108) and Newport (104.4)
Ceredigion has the second lowest behind the Isles of Scilly, with a death rate of 9.6 per 100,000.
There are also very few positive cases in the county and a combination of factors have been suggested by experts for its comparative success, including remoteness and the early, local response.
But Health Minister Vaughan Gething said there needed to be a full examination as to why: "The honest thing is we don't know all the answers to those questions."
When looking at the highest death rates across England and Wales, London boroughs dominate, with four out of the 10 highest.
Middlesbrough, North East Derbyshire and Midlands towns such as Walsall and Bromsgrove also feature.
When figures are also standardised to account for variants in age, Cardiff had the worst death rate in Wales at 124.5 deaths per 100,000, up to the end of May.
Recent figures from ONS show less of a gap between the death rates between men and women in RCT than many other areas.
Cardiff and Merthyr Tydfil have the highest death rates among men in Wales so far.
Which area has the most deaths?
Across England and Wales, north west England again had the largest number of deaths involving Covid-19 with 134 deaths for the most recent week, while Yorkshire and the Humber had the highest proportion of deaths involving Covid-19, with 11.7% of all deaths.
For the week ending 19 June, 783 mentioned mentioned coronavirus on the death certificate, the lowest number in the past 12 weeks. It accounted for 8.4% of all deaths.
Coronavirus deaths in Wales
Total by 19 June, by place of occurrence
What about deaths in care homes?
There have now been a total of 670 Covid-19 deaths in care homes up to 19 June, making up just over 28% of all coronavirus deaths in Wales.
All deaths in care homes in Wales
Notified to Care Inspectorate Wales
Meanwhile, Care Inspectorate Wales (CIW) compiles its own figures, which showed it was notified of 3,148 deaths in care homes since 1 March.
This is 78% higher than deaths reported for the same time period last year, and 48% higher than for the same period in 2018.
Covid-19 was confirmed or suspected in 725 deaths of care home residents. This makes up 23% of all deaths notified to CIW.
Deaths in care homes in Wales
Deaths registered per week
There were seven care home deaths where Covid-19 was mentioned on the death certificate in the latest ONS weekly total in Wales, a ninth successive weekly fall.
The ONS says across England and Wales combined, the proportion of deaths occurring in care homes fell again to 20.7%.
Deaths involving Covid-19 as a percentage of all deaths in care homes also decreased to 12.9%.
The number of deaths in care homes fell below the five-year average for the first time since 13 March.
What about 'excess deaths'?
Deaths registered in Wales
All causes and those involving Covid-19 by week
So-called excess deaths, which compare all registered deaths to previous years, are above the five-year average again after dipping below it for the first time since the pandemic began.
Overall in Wales, the total number of deaths rose to 617 in the week ending 19 June.
There were 44 more deaths in Wales (7.7%) than the five-year average for that particular week.
Across the pandemic, there have been 2,003 excess deaths in Wales, making up 12.1% of all deaths.
Looking at this average - which accounts for spikes in deaths at particular times of the year - is seen as a useful guide to what is happening with the pandemic.
Excess deaths in the UK
Percentage of registered deaths from all causes above or below the five-year average, by week
Figures from Scotland suggest it has had 4,769 excess deaths up to 7 June and Northern Ireland has had 940 excess deaths up to 5 June.
Mr Gething said last week that if Wales had had the same excess death rate as England, it would have meant 1,600 more deaths; and if England had the same excess dates as Wales it would have meant 24,000 fewer deaths there.
"We know that Wales compared to England has an older population, levels of underlying illness are higher and we have higher levels of deprivation, so this is not what we would have expected to see at the start of the pandemic," he said.
He said they were looking at factors including age, deprivation, population density and ethnicity to understand it and he has promised a report later in the summer so it may help understand what is happening if they have to deal with any future peak later in the year.
Deaths by age group in Wales
Registered up to 22 May
What about age, gender and different ethnic groups?
The number of deaths involving coronavirus rises sharply for those over 75.
Although more men are dying from Covid-19 than women, more women over 85 are being registered with coronavirus involved than men.
There has also been concern people from ethnic minorities might be disproportionately affected by the virus.
Black men and women are nearly twice as likely to die with coronavirus as white people in England and Wales, according to the ONS.
Between 2 March and 15 May, there were 44 deaths in Wales involving Covid-19 among black and minority ethnic (BAME) groups.
This suggests that deaths involving the virus accounted for a higher proportion of all deaths in BAME groups (35%) in that period compared with those in the white group (23%).
Analysis of critically ill coronavirus patients from the Intensive Care National Audit & Research Centre found there was a "noticeably higher" proportion from BAME backgrounds.
The British Medical Association in Wales said it was "shockingly clear" the number of BAME healthcare professionals being adversely affected by the virus was "significantly disproportionate".
Mr Gething said: "We don't yet fully understand why - there will be a number of reasons and complexity behind this.
"We also know that people from BAME backgrounds have higher rates of some underlying health conditions, such as type 2 diabetes and hypertension, which may put them at greater risk."
An expert panel set up by the Welsh Government, led by judge Ray Singh, who also chairs Race Council Cymru, is expected to report initial findings about the issue soon.
A sub-group has now reported on how systemic racism may have contributed to increased risks. It said "the lack of or poor quality of ethnicity data has resulted in poor health decisions, and BAME communities face a higher risk of catching and dying from the disease".
The group will also look at the "ongoing risk assessment in relation to front-line healthcare workers" and an online risk-assessment tool has been developed.
It will feed information back to ministers and Welsh health officials, as well as Public Health England, which has launched a formal investigation.
Death rate from coronavirus and deprivation in Wales
Deaths per 100,000 based on levels of deprivation
What else can we tell?
The ONS has published figures which suggest nearly twice as many Covid-19 deaths have occurred in Wales' poorer areas.
There were 109.5 deaths per 100,000 population in the three months to the end of May in the most deprived areas.
This compares to 57.5 deaths in least deprived parts, the ONS has said.
For men, it was 142.9 deaths per 100,000 in the most deprived areas compared to 74.5 in the least deprived.
The ONS has also developed a tool so people can see the number of deaths from the virus at a neighbourhood level.
GP consultation rate in Wales
Per 100,000 population by day for coronavirus
Health officials say we should also look at how many people are consulting with their GP - as another indicator of how the virus is progressing.
This surveillance data - which involves around 400 GP practices, shows how the rate has come down from the clear peak in April.
Public Health Wales' data dashboard also shows consultations for flu and respiratory conditions. It is currently around 4.2 consultations per 100,000 people for suspected Covid-19, compared to around 0.3 per 100,000 for flu symptoms.
Patients in critical care in Wales
Numbers in invasive ventilated and critical care beds
How many people are in hospital with coronavirus?
NHS Wales also gives us figures weekly about how many patients are being treated - the number of patients in critical care or on ventilation with coronavirus are at their lowest levels since the pandemic began.
Latest figures from NHS Wales Informatics show there are five times as many patients in critical care with other conditions
A total of 22 people were being treated on invasive ventilated beds - including in critical care - for coronavirus, according to the NHS Wales figures on 2 July - this is five fewer than the week before and the lowest since the pandemic began
Hywel Dda health board has only one patient with Covid-19 in critical care. Cwm Taf Morgannwg - one of the hotspots a few weeks ago with 29 patients on ventilators - and Aneurin Bevan - with 46 at its peak - both had two patients on 1 July
There were 571 coronavirus-related patients in hospital beds - 190 fewer than last week and the lowest since 29 March
The seven-day average in total daily admissions to hospitals of confirmed and suspected Covid-19 cases is currently 74, 10 fewer than last week
The average age of someone being treated in critical care has been 56 and most coronavirus patients in intensive care are men
Three-quarters of people in critical care are mechanically ventilated within first 24 hours and 11 days has been the typical length of time for patients needing respiratory support
Critical care patients with coronavirus
Numbers per day by health board
We can also see with the NHS Wales statistics how the peaks of patients in critical care has changed over time in different parts of Wales.
Aneurin Bevan health board had 46 patients being ventilated on 11 April, higher than anywhere else in Wales. That number had fallen to eight by 3 June.
Cwm Taf Morgannwg and Cardiff and Vale had peaks of critically ill patients at about the same time but at a slightly lower level.
Betsi Cadwaladr health board has had coronavirus patients in its critical care on a more regular pattern, the most being 25 on 18 April. The most recent figure shows nine.
Hywel Dda health board has the lowest figures, with seven of the highest number of critically ill patients in its hospitals at any one time.
What are the differences between these different measures?
The ONS and public health bodies are measuring things in a different way - and information is available at different times so do not expect to see the same thing.
The ONS gives figures weekly based on all deaths registered involving Covid-19, according to what a doctor puts on the death certificate, whether in or out of hospital
The virus may not be the main cause of death, just a factor. There does not need to have been a positive test - it could be it was just suspected by the doctor
There is a time lag as people have up to two weeks to register deaths, but more than 80% are usually registered in Wales within a week
Public Health Wales' daily updates on its online dashboard show numbers of deaths and positive tests for coronavirus.
Most of the deaths PHW reports are in hospitals - it receives information on a daily basis from health boards. But Powys has no general hospital and patients from here are treated over the border. The 91 deaths of Powys residents so far are not reflected in the PHW figures
It will only include deaths which were given a positive test for Covid-19 in a laboratory - not any suspected cases. This can also include deaths reported by health boards, which could be from several days ago
The data is revised and PHW refines and verifies it and then each individual fatality is assigned to the date at which it occurred.
PHW has also revised the figures on two notable occasions: Once after it emerged Betsi Cadwaladr health board had been using a different computer system and had under-reported numbers.
Hywel Dda health board also had a "consistent under-count" of its figures, which were then adjusted.
PHW also acknowledges the "true number of Covid-19 deaths will be higher".
When looking at cases of people testing positive it is quite complicated as the results coming back at different times mean the dashboard showing tests for particular days are revised and updated as they come back in.
Coronavirus positive cases by area
Cases per 100,000 population
Why are there more cases in some areas?
When we look at the case rate provided by PHW - reflecting population size - Merthyr Tydfil is the highest for positive tests.
This follows a recent spike in cases linked to workers at a local meat factory.
Health minister Vaughan Gething says there was no indication of community transmission around the coronavirus outbreaks linked to food processing plants in Merthyr and two others in Wrexham and on Anglesey.
Change in coronavirus cases over week
Increase in numbers of reported cases per 100,000 population
| Area | Change |
| --- | --- |
| Merthyr | 179.5 |
| Wrexham | 36 |
| Anglesey | 17.2 |
| Conwy | 12.4 |
| Wales | 8.9 |
| Carmarthenshire | 7.4 |
| Gwynedd | 7.3 |
| Flintshire | 7.1 |
| Cardiff | 6.1 |
| Denbighshire | 5.3 |
| Rhondda CT | 4.2 |
| Monmouth | 3.2 |
| Vale of Glam | 3 |
| Blaenau Gwent | 2.9 |
| Torfaen | 2.2 |
| Newport | 2 |
| Caerphilly | 1.7 |
| Powys | 1.5 |
| Bridgend | 1.4 |
| Ceredigion | 1.4 |
| Neath PT | 1.4 |
| Pembrokeshire | 0.8 |
| Swansea | 0.4 |
When we look at how cases have increased over the most recent week, Merthyr has by far the highest jump in its case rate, followed by Wrexham, but only two other areas are in double figures.
It also has the highest case rate for the week in the UK, with Leicester (141 cases per 100,000) and Bradford (45.8) following ahead of Wrexham.
RCT and Denbighshire both have cumulatively more than 740 positive tests per 100,000 of the population - this is higher than all but one local authority area in England, Barrow-in-Furness.
But new cases have stabilised and there is caution about making comparisons.
Health officials believe it is a reflection in how parts of Wales were hit early on. It also reflects the higher intensity of testing per head of the population in Wales compared to England.
Northern Ireland has been doing similar levels of testing but has had lower impact from the virus.
Recent figures also point to far fewer positive tests per day in Denbighshire and RCT than it was in May.
PHW said: "It should be noted that the number of positive cases in all areas of north Wales are reducing from their peak, and that the general trend of these numbers is downwards."
It has also said a higher number of tests were being carried out in care homes and among key workers in north Wales and it was picking up symptomatic and asymptomatic infection.
The chief medical officer has also indicated that north Wales seemed to be getting a later peak than other areas, while greater testing in the region, particularly around care homes, may be a factor.
"When I look at hospital admissions in north Wales and the deaths from coronavirus I see the same picture as in other health boards, which is one of declining incidents," he said.
Coronavirus deaths in north Wales
Numbers by week and local authority area
When you look at the deaths in north Wales, across the Betsi Cadwaladr health board area, the figure had been fairly static over recent weeks, although the past two weeks has seen a decline too.
There have been a total of 482 deaths in north Wales so far, 17.2% of these in care homes. Flintshire still has the highest number of deaths in the area, at 125. There were 21 deaths in the most recent week.
Earlier in the pandemic, there had been concerns expressed within RCT at what might be happening.
One intensive care consultant at the Royal Glamorgan Hospital told BBC Wales in May: "In this area there's a lot of poverty, deprivation and chronic ill health - so those people if they do catch covid are less likely to survive."
The most recent mortality figures also show far less of a gap between men and women in RCT than other areas.
A PHW spokesman said: "The statistics Public Health Wales provides are part of a rapid reporting system. Unfortunately, it is impossible to say with any degree of certainty why the positivity rate may be higher in some areas than others, especially by comparing areas of Wales with other parts of the UK.
"There are a wide variety of factors that may influence this variation. For example, variation in true burden of disease, population composition, testing policy, access to testing and uptake of testing rates could account for differences in the positivity.
"Conclusions should not be immediately drawn from these variations.
Who is being tested in Wales?
Nearly 138,000 people had been tested by 29 June- more than 15,400 tested positive.
We can also see from more detailed PHW figures how many different key workers and others who have been tested so far.
Testing of key workers in Wales
Cumulative numbers to 28 June
| Category | Tests | Positive cases |
| --- | --- | --- |
| Healthcare | 26,949 | 6,310 |
| Care home resident | 27,513 | 1,253 |
| Care home worker | 38,425 | 1,254 |
| Education worker/resident | 658 | 25 |
| Emergency services | 1,028 | 153 |
| Hostel worker/resident | 1,020 | 49 |
| Household member of key worker | 4,328 | 387 |
| Prison worker/resident | 197 | 42 |
| Other essential worker | 3,903 | 426 |
By 28 June, nearly 27,000 healthcare workers had been tested, with 27,513 tests on care home residents. This is 629 more than the week before, with 95% of tests proving negative - and only three residents testing positive in the last week.
The rolling out of testing into care homes also shows now that 38,425 staff had been tested too; 97% of tests were negative.
Those NHS workers tested include 9,993 hospital staff.
There was very little change in the number of tests on other key workers: a total of 415 police officers tested so far, 308 ambulance staff, 622 people working in schools or universities and 197 working or inside prisons.
But there are still issues with Covid-19 test results coming back within 24 hours, the figures from PHW show.
Only 46.3% of results from tests at drive-through centres came back within a day - in the week to 28 June.
And a third of these test results still hadn't arrived within 48 hours.
The figures also show only a third of results from testing units come back inside a day, down on the previous week.
For tests in hospitals, 80.6% came back within 24 hours.
It comes after the first minister pledged to speed up testing.
Coronavirus deaths in Wales
Daily deaths from different data sources, up to 19 June
Can we compare the two sets of figures?
The graphic above shows how it looks when you compare figures from all the different data sources - and how there is a difference of 921 deaths.
The figure for total deaths being given by PHW has been around 60% of what has turned out to be the total figure when including all registered deaths.
The UK government also includes PHW figures in its daily bulletin, which covers all deaths that occurred in hospitals in England and, like in Wales, only those patients who tested positive for coronavirus.
It also includes all known deaths given to it by PHW and the agencies in Scotland and Northern Ireland.
Since 29 April, Public Health England has been giving the UK government numbers of confirmed Covid-19 deaths wherever they took place, not just in hospitals.
So which should we look at?
The ONS says the daily figures issued by the UK government and other health bodies are valuable because they are available very quickly and give us "snapshot" of what is happening day by day.
But it suggests its own figures - although they take longer to produce because it takes longer to register deaths - offer the most accurate and complete picture.
PHW would agree with that too and it also now includes ONS figures and its own analysis of them on its online dashboard.
Coronavirus deaths in Wales
Confirmed by day from health board figures
NHS Wales' chief statistician argues to look at the trend and the curve of the outbreak, it is best to focus on deaths on the day they have occurred rather than the daily PHW figures as they first appear, as these can be volatile.
So the chart above shows the daily deaths, as they have been adjusted, as well as a seven-day rolling average.
By 30 June, it had dropped to a daily average of just under three deaths.
Meanwhile, analysts at Johns Hopkins University in America have been looking at the global picture in detail, giving regular updates, and currently rank the United Kingdom third in terms of mortality rate. and fourth in terms of rate per 100,000 population.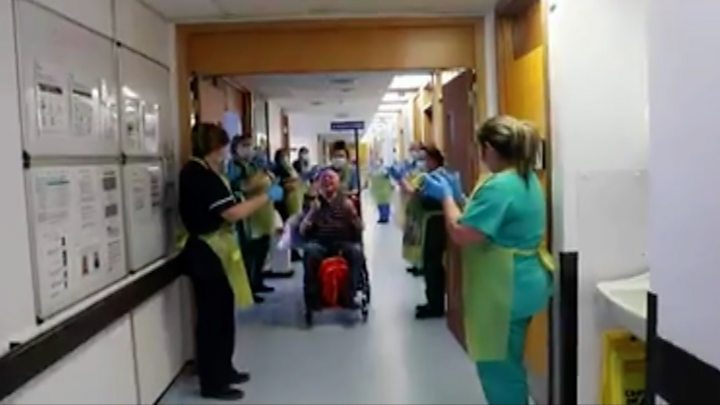 How many people recover?
PHW has tested 113,000 people so far, only about 13% testing positive. Most people have mild symptoms and make a full recovery.
But getting accurate figures on how many people recover is difficult.
Doctors at Wales' largest hospital, the University Hospital of Wales in Cardiff in May said 30% of patients admitted to its intensive care unit with Covid-19 have died and said the road to recovery was long.
NHS Wales said on 10 June that 7,000 people with Covid-19 symptoms had been discharged from hospitals.
Chief executive Dr Andrew Goodall said the figure should be celebrated and showed "people can recover from this terrible virus".