Coronavirus: Why is Wales not testing over 65s as in England?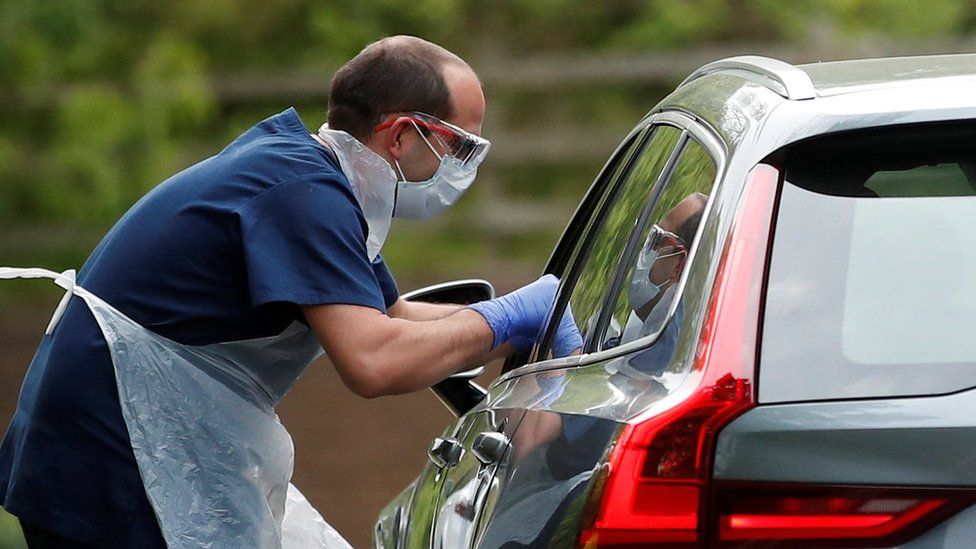 The staff and residents of care homes in England can now be tested for coronavirus, even if they don't have any symptoms, while anyone over 65 with symptoms can also be tested.
Testing lets people confirm if they have the disease and provides information about the virus' spread.
Health Minister Vaughan Gething said on Tuesday he had been given advice that testing everyone in the care sector - there are around 25,000 care home residents - was not the best use of resources.
So, what is the position on testing in Wales?
The Welsh Government is committed to testing key workers with symptoms, including care home staff and also care home residents, but not to test anyone else over 65 if they have symptoms.
The health minister says he has clear advice from medical and scientific advisers that this is a best use of testing resources and to not simply test "everyone and anyone".
Why not offer it to more people like in England?
The inference is that you will have to keep on testing people, perhaps multiple times, and at the moment Wales does not have the capacity.
But the Welsh Government aims in the future, as we move out of lockdown, to have a larger community testing programme, including tracking and tracing people.
At the moment, ministers do not think there is any point in testing someone today, which may give one result - and if you test them the following day, it would give another.
Chief medical officer Dr Frank Atherton said they did not believe in "testing for testing's sake, we have to test for a purpose" and Wales was determined to "follow the science".
He also had discussions with colleagues in Germany, which was "in a very different position" to the UK with a network of 300 public health laboratories already in place to test and a chemical industry able to produce the reagent.
In Wales, who qualifies for testing?
If you're a key worker - and you have symptoms - you can book a test.
Health and social care workers
Emergency workers and national security workers
Local and national government workers
Education and childcare workers
Food and other necessary goods
Transport workers
Utilities, communication and financial services workers
A swab is taken, you get your results back and you will then follow advice on self-isolation.
The aim of this policy is to get these people, virus-free, back to work as soon as possible. Wales has 438,000 critical workers, including 164,700 healthcare workers and 9,900 police and prison staff.
Care home residents and people in hospital with symptoms are also eligible.
A swab is taken, you get your results back and you will then follow advice on self-isolation.
How many are being tested here?
So far, there have been nearly 30,000 testing episodes - which can involve someone with symptoms being tested at different times over the course of six weeks.
Currently, Rhondda Cynon Taf and Swansea have the highest numbers of testing episodes, according to Public Health Wales figures. The highest proportion of tests proving positive is currently in Wrexham (42%).
When did Wales start testing?
The first test happened on 29 January. People returning with symptoms from countries affected by the pandemic were tested first, followed by those admitted to hospital with symptoms and also NHS and social care staff.
What happened to the targets?
There was a target of testing 5,000 people a day by mid-April, rising to between 8-10.000 by May. But that was clearly not deliverable and brought criticism of the Welsh Government.
Wales' chief scientific adviser said he had set a target of 9,000 a day - based on "reasonable worse case scenarios" but the public had observed lockdown measures, which had suppressed the spread of the epidemic significantly.
The Welsh Government said the 1,300 a day test capacity is being increased.
Do lower testing numbers mean we can't track the spread of the virus?
Chief scientific advisor Dr Rob Orford said greater testing would not have made much difference to how the pandemic was managed in Wales.
"We also use measures like hospital admissions, ICU beds and calls to 111," he told assembly members.
"We have introduced the Zoe tracker app which enables people themselves to upload their symptoms. We have got over 100,000 people in Wales using that app."
Dr Orford said the app results were helping to inform the scientific advice to government.
Diagnostic antigen tests. A swab is taken from the nose or throat to look for signs of the virus.
It takes at least 24 hours to get the results.
Public Health Wales said there is no shortage of machines to conduct tests, and it has received offers from labs to expand capacity.
There was also hope a few weeks ago that key workers, without cars or unable to travel. would be able to get test kits posted to their homes - and the kits picked up afterwards.
What about testing for immunity?
The antibody blood test looks for this. It's a quicker test.
It can be done with a pinprick and a portable machine.
Antibody test kits are being trialled in Wales, but there is concern many do not provide high reliability. Experts are worried that unless the exact strain of coronavirus is properly identified it could give a false sense of security.
A "false positive" result could be especially worrying if they are frontline health or care workers.
What's happening at drive-through centres?
Wales has drive-through centres at Cardiff City Stadium and Newport's Rodney Parade, with others being added in Carmarthen and Llandudno.
They use the antigen test to swab key workers.
They're staffed by Public Health Wales officials and staff from Deloitte, the firm which worked with the UK government to establish the centres.
Who is being tested at the drive-through centres?
You must be invited to attend a drive-through centre.
The Cardiff centre opened on 7 April with capacity to test 200 daily.
Priority was given to health and care workers displaying symptoms, or those self-isolating because someone in their home had symptoms.
Other critical workers being tested include police, prison, fire and military personnel.
Workers are referred by employers and local authorities.