Coronavirus: Minister calls review after Cardiff test centre closure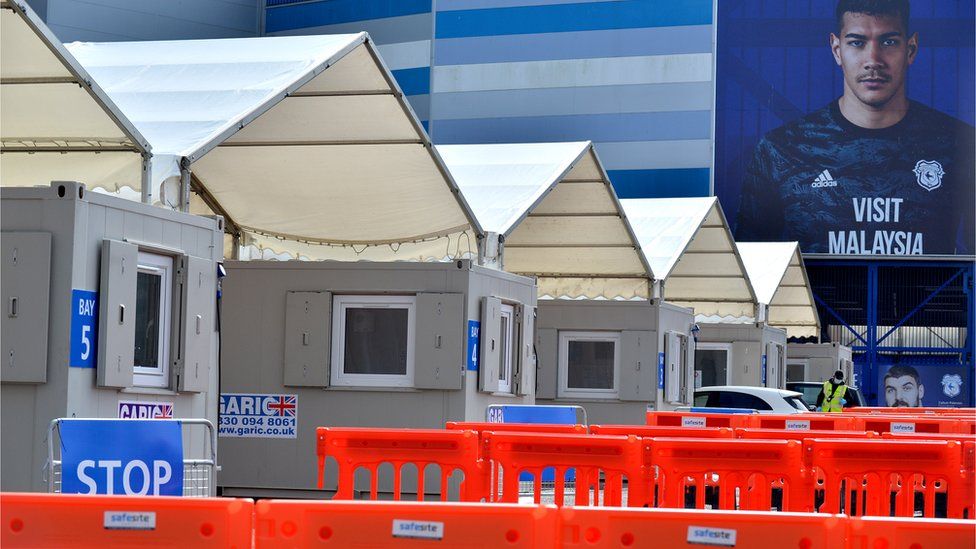 Wales' health minister has accepted criticism of the closure of Cardiff City Stadium testing centre on Bank Holiday Monday, saying it showed problems with the system itself.
Vaughan Gething said he was concerned the country's full testing capacity was not being used.
But his comments suggesting some councils had not taken up testing for social care led to an angry response.
Gwynedd council leader Dyfrig Siencyn said the system was "shambolic".
Later the leader of the Welsh Local Government Association said the numbers of councils seeking testing for care workers was higher than Mr Gething suggested it was.
Wales currently has capacity to test 1,300 a day for coronavirus, although the Welsh Government has set a public goal of reaching 5,000 tests a day by mid-April.
On Monday the Welsh Government brushed off the comments, saying they demonstrated a "lack of understanding" of how the system worked.
But, in a change of tone the next day, Mr Gething acknowledged the one-day closure was a "visible sign of where something hasn't worked".
The minister has asked officials at Public Health Wales "to look again at the procedures in place, to ensure that people can get the test they need as quickly as possible".
He called for councils to refer social care workers for more tests - saying 12 of Wales' 22 authorities had done so.
However the Welsh Government later issued a clarification, saying that the figure related to councils referring social care workers to Public Health Wales.
Some testing is happening outside that central arrangement. Andrew Morgan, leader of the Welsh Local Government Association, said: "Though it said only 12 were using the central system some have local arrangements in place so the number of councils having staff tested is actually higher."
The Welsh Government said that social care workers outside the south east Wales area are being tested in Community Testing Units locally, managed by the health boards.
In Wales health and social care workers with symptoms can get tested, as well as patients admitted to hospital.
Public Health Wales said the centre, opened last week, had closed for the day because of the "low number of key workers anticipated to be working" on Monday.
But a Swansea nurse said staff would have been happy to travel to Cardiff.
Sian, a staff nurse at Morriston Hospital, told BBC Radio Wales she was "astounded" and staff from Swansea would "happily have travelled there because we desperately need testing".
She said: "We have 200 nurses off self-isolating at Morriston - 25% of porter staff are off as well…
"I'm going into work right now and I could be taking in Covid. Why did they shut it yesterday? Why aren't we testing?"
Mr Gething said: "Tests are available for social care staff who need to be tested. There is currently capacity in the system to deliver more tests for frontline social care staff."
"I urge all local authorities to put forward the names of social care staff who need a test", he said.
"I am concerned that we are not always using all of the tests that are available".
Mr Gething said the day-long closure was a "visible sign of where something hasn't worked".
"It shows that not enough referrals are being made in the first place," he told the daily Welsh Government press conference.
"If I was a social care worker or frontline health workers sat at home self-isolating, I'd be deeply frustrated to know there's capacity that I can't make use of."
But Dyfrig Siencyn, Gwynedd council leader, said he is "at a loss to hear the health minister accuse local authorities of not taking up their quota of Covid-19 testing".
The Plaid Cymru councillor said the system is "complex" and "shambolic" and involves reference to "the health boards, Public Health Wales, Data Cymru and local authorities".
"There is a long chain of bureaucracy, complexities and layers before results reach us," Mr Siencyn said, adding some names put forward are "ineligible for reasons difficult to understand".
"Stop blaming others for your own deficiencies, get on with the vital job in hand," he told the health minister.
A Welsh Local Government Association spokesman said: "Local authorities have expressed concern at the slow turnaround of test results, which is not helpful in enabling them to take any necessary action.
"We welcome the minister's commitment to look again at the procedures in place to make sure that the people can get the test they need as quickly as possible."