Coronavirus testing deal 'collapses' but new plan unveiled
A new Welsh Government plan for coronavirus testing has been announced after a deal to provide an extra 5,000 tests a day with a supplier collapsed.
Currently 800 tests a day can be done.
The Welsh Government. said it was "disappointing" that a company was not able to honour a written agreement.
But now the health minister has unveiled a new "smart test", as well as a new plan for supplying antigen tests, with hope for 5,000 of these tests a day by mid April.
They can tell if someone has the virus and is only used if someone has symptoms of coronavirus or is living with someone who has those symptoms.
Vaughan Gething said that from next week, there will be capacity for 1,100 tests a day in Wales.
"By mid-April, up to 5,000 antigen tests a day will be provided to people admitted to hospitals with suspected coronavirus, frontline NHS staff and people who are classed as extremely vulnerable."
The Welsh Government expects an extra 4,000 daily antigen tests to become available as part of a four-nation deal with a number of large organisations.
It is not clear when this will happen, but the government thinks there is still a possibility it could be in time to allow it to reach its 9,000 a day target by the end of April.
Originally the government had planned to be able to carry out 6,000 tests a day by 1 April.
A new 'smart test' is unveiled
Mr Gething also announced that a new "smart test" would be rolled out which could identify if people have had coronavirus and help them get back to work.
He said: "The new antibody test will be a massive leap forward in helping us respond to coronavirus. In the immediate term, it will help our critical workers - especially our frontline NHS and social care staff - return to work and provide life-saving care.
"Initially, it will be for frontline healthcare workers and the most vulnerable, but it will be expanded to other critical workers such as police, fire service and social care workers."
Dr David Bailey, chairman of the BMA's Welsh Council, said: "We welcome the news that a new antibody test, which will help reassure health professionals returning to frontline care, will be introduced in Wales.
"Whilst it is disappointing that the number of tests won't increase as quickly as was first announced, we hope efforts will continue at pace to increase the numbers tested."
Dr Bailey said ministers were right to focus on testing healthcare workers.
"Rapid and effective testing, which shows staff don't have the virus and don't present a risk to their patients, means they can return to work as soon as possible," he added.
"This in turn helps create greater resilience in the workforce for what is going to be an incredibly stressful time ahead."
'I feel as if I've been abandoned this week. Absolutely abandoned.'
A nurse at the University Hospital of Wales in Cardiff told BBC Wales of their frustration with issues around testing and personal protective equipment (PPE).
"The only people who are being tested are A&E, and anybody in a high-dependency ward that are dealing with Covid-19.
"I'm really cross about it because we've worked with patients knowingly with the virus.
"And instead of testing all the staff that actually worked with those patients, they're waiting for symptoms.
"How many other patients are we passing that on to?
"And it's also the other way around. Patients are not being tested until they've had symptoms and the people around them, once they've had the symptoms, they're being isolated where possible but they're not being tested so there is no testing being done.
"People working there are so frustrated. They're being put in a position but they haven't got PPE. They're not being tested, and it's frustrating and it's not fair because they keep saying they're "testing, testing, testing" and they are testing the front line - they're not.
"This is how I feel right now: I will go back and I will look after my patients, and I will stay the course. But at the end of this, I will no longer work for the heath service, I will no longer work for the NHS. That's me done.
"They're not respecting the staff. I feel as if I've been abandoned this week. Absolutely abandoned."
There is no suggestion staff showing symptoms are not isolating or continuing to work. Cardiff and Vale health board has been approached for comment.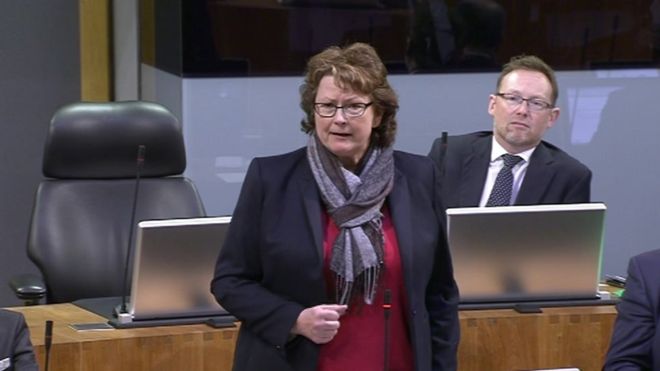 BBC
The Welsh Government has got to pull together every single trick in the book...to go and get the ability for us to have far more testing than we currently have
Responding to the earlier news of the collapsed testing deal, Welsh Conservative health spokeswoman Angela Burns said: "I'm deeply concerned by this turn of events.
"It is vital we are able to test our frontline staff.
"Social care, pharmacists, GPs, all these people will come into contact with people who have Covid-19."
Plaid Cymru's health spokesman Rhun ap Iorwerth added: "If plan A fails, you need a plan B and they need it quickly.
"And the reason we need an urgent plan B for increasing testing is that we need to follow the spread of the virus and we acutely need to make sure that we are able to test in large numbers key workers in health and care and other sectors who are currently sitting at home self-isolating, who want to get back on to the front line."
On Friday, Public Health Wales said 5,000 tests had so far been carried out in Wales.
"We're way behind where we were told we'd be in terms of testing. Way, way behind," Mr ap Iorwerth said.
"I find that deeply worrying."