Coronavirus: Drakeford claims enough protective kit for NHS despite concerns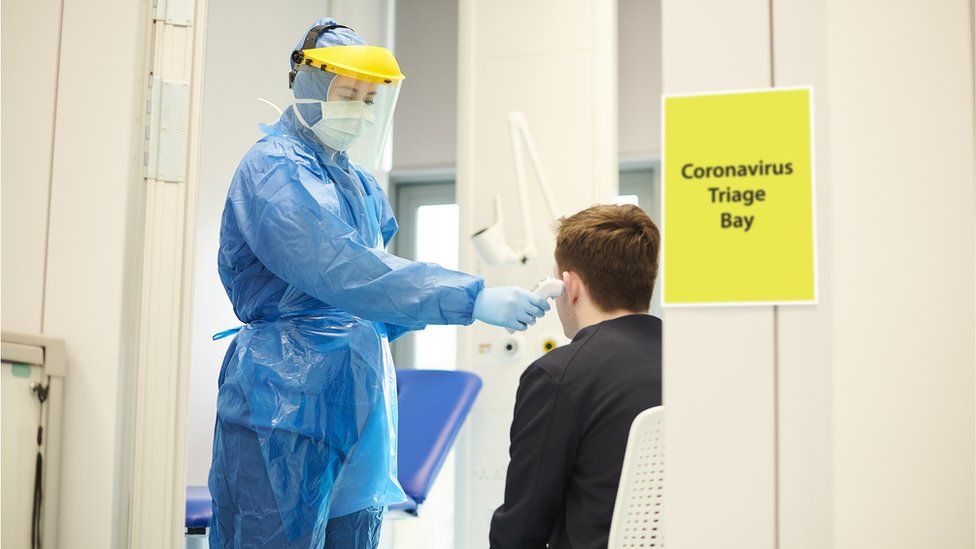 There is enough personal protective equipment (PPE) for everyone in the health service who needs it, the first minister has claimed despite concerns from nurses over supplies.
The Royal College of Nursing (RCN) says nurses need the right equipment to be protected from coronavirus.
Mark Drakeford said it had been "inevitable" there would be some gaps.
"Almost everybody has it," he said, adding people in social care are also now receiving the kit.
Helen Whyley, RCN director in Wales, told the BBC it had received "a lot of contacts" from its members also raising concerns about "both the accessibility of PPE and guidance about what equipment is required".
"We have been working with the Welsh Government over the last few days and we will continue to do so but I have escalated those concerns urgently to ministers asking them to make this an absolute priority," she said.
"Clearly we need to make sure staff have the right equipment - it's absolutely crucial it happens immediately."
In a press conference Mr Drakeford said: "In such a rapidly changing situation… I'm afraid it was a bit inevitable that there would be some gaps here and there."
"There is PPE in the system for everyone who needs it," he said.
"We are doing everything we can with our colleagues in the NHS and suppliers to make sure that everybody who needs it has what they need and has it as fast as possible."
He added: "Almost everybody has it, that is really important to say that.
"There will be individual examples, I know, but if you're looking at the big picture then the stuff is out there, it has been going out there."
Earlier the BMA, the doctors' union, and the Welsh NHS Confederation, which represents all health service organisations, said they were in talks with Welsh Government over the supply of PPE.
Darren Hughes, director of the confederation, said the reports they had received suggested it was "getting through in the main".
"It's a very challenging situation as we're seeing Covid-19 spreading widely now in all areas of Wales," he said.
"It's vital for those providing healthcare and social care in those communities that they're protected."
"We're really pleased to see Welsh Government say that PPE is going to be supplied - certainly we need to get that to the frontline as soon as we can."
A Welsh Government spokeswoman said personal protection equipment was available for NHS staff in healthcare settings.
"NHS organisations are able to use established routes to access supplies," she said.
"Supplies of PPE are continuing to be distributed to health boards, the ambulance service, GPs and pharmacists and arrangements being made for social care settings to be supplied too."