Coronavirus cases in Wales: How many people have died?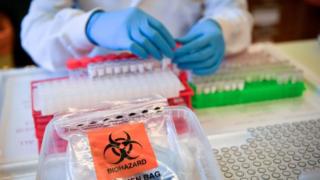 Four more people have died in Wales after testing positive for Covid-19, taking the total number of deaths to 38, Public Health Wales has said.
Dr Robin Howe announced the update on Saturday, saying there were also 172 new cases of the virus in Wales, taking the number of confirmed cases to 1,093.
The true number of cases is likely to be higher as many people with symptoms are not being tested, he added.
Dr Howe offered his condolences to families and friends affected.
Find out how many people have confirmed cases in your area:
If you can't see the look-up click here.
A total of 1,019 patients have died after testing positive for coronavirus in the UK as of 5pm on Friday, the Department of Health has said, up from 759 the day before.
Cardiff's Principality Stadium, the national stadium of Wales, is to be used as a field hospital for up to 2,000 beds to help fight the coronavirus.
And police have warned people to "stay home" and avoid unnecessary travel, with checkpoints stopping motorists trying to head to the coast.
On Monday evening, 27 million TV viewers watched Boris Johnson tell the country it was facing a "moment of national emergency" and that staying at home was necessary to protect the NHS, save lives and tackle "the biggest threat this country has faced for decades".
On Friday, Prime Minister Boris Johnson tested positive for coronavirus.