Covid: Three further deaths and 366 new cases in Wales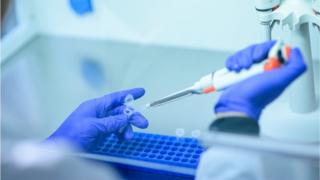 Three further people have died with coronavirus in Wales, according to the latest Public Health Wales figures.
It takes the total number of deaths with Covid-19 in Wales to 1,615.
There were also 366 new cases of coronavirus reported in Wales on Tuesday, taking the total to 23,597.
Rhondda Cynon Taf had the highest number of cases with 61, followed by Cardiff (53). The rate of infection in Blaenau Gwent, already the highest in the UK, increased.
Both Cardiff and Swansea went into local lockdown on Sunday, with Neath Port Talbot, Torfaen and Vale of Glamorgan following later.
The rate per 100,000 of the population in Swansea is now 98.8, while in Cardiff it is 76.
Blaenau Gwent has the highest rate of infection in the past week - with 307.7 positive tests per 100,000, while Rhondda Cynon Taf is at 166.2
The new counties facing further restrictions - Neath Port Talbot, Torfaen and Vale of Glamorgan - had rates of 48.8, 47.9 and 36.7 per 100,000 respectively.
Caerphilly, the first county to go into a local lockdown, saw 12 new cases reported on Tuesday, with the rate of infection at 50 per 100,000 - among the fastest falling in the UK and now below the Welsh average.
The number of people who have been tested in Wales is 519,565, with 495,968 testing negative.
A total of 9,806 tests were carried out on behalf of PHW on Monday.
PHW's figures mostly involve hospital deaths and only include cases when the virus was confirmed in a laboratory test.
The figures do not include deaths of residents from Powys in hospitals in England, although these are included in Office for National Statistics (ONS) data.
Find out how the pandemic has affected your area and how it compares with the national average:
If you can't see the look-up click here.
The postcode search has been updated to replace data for health boards in Scotland with data for local councils. In England, data for county councils has been replaced with data for district councils. Figures for boroughs and unitary authorities remain unchanged. Last updated 4 September.