Coronavirus: Drive-through testing centre launched in Wales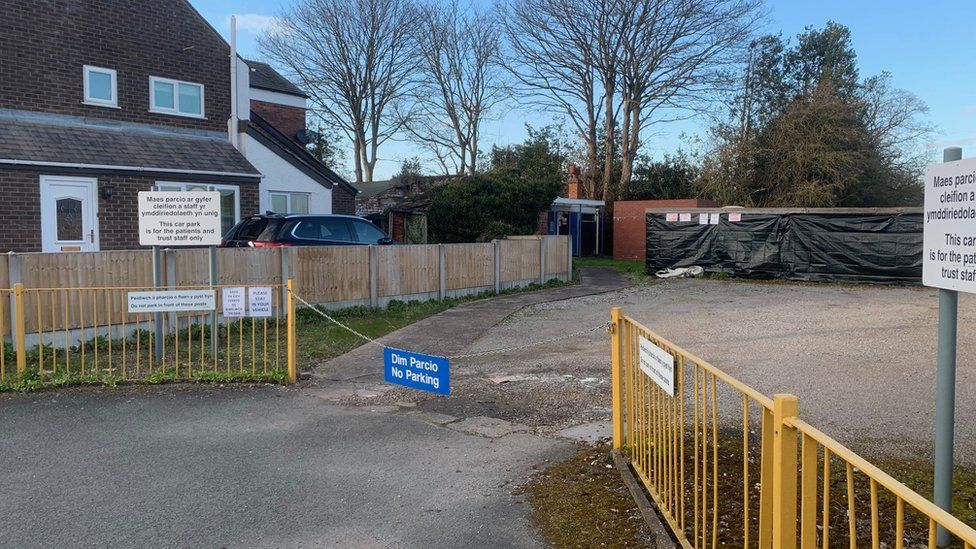 A car park for an old medical clinic is doubling up as Wales' first drive-through coronavirus testing centre.
Wales was warned to "expect more cases" of Covid-19 after the country's second positive test on Thursday, with 500 people in Wales already tested.
The UK now has 164 coronavirus cases and the new testing area in north Wales aims to halt the spread of the disease.
The service in Rossett, near Wrexham, will see patients get tested without having to leave their cars.
A woman in her 70s became the first person in the UK to die after testing positive for coronavirus on Thursday and precautions to curb the spread of the disease have continued apace.
Another fatality was confirmed on Friday night as tests showed a man in his early 80s, who had underlying health conditions, had coronavirus when he died on Thursday.
More than 100,000 coronavirus cases have been confirmed worldwide and over 3,400 deaths, according to data collated by Johns Hopkins University. The majority of cases and deaths are in China, where the virus first emerged in December.
Wales' first case was confirmed last week in Swansea - and Friday's jump to 164 positive UK tests is the biggest daily jump. More than 20,000 people have been tested across the UK.
Betsi Cadwaladr University Health Board wrote a letter to people in the Wrexham area saying it was using "a drive-through model of testing, which will involve individuals who require a test to drive up to the clinic".
The Welsh Government said: "People who meet the criteria for suspected coronavirus cases should contact the NHS on 111 before attending any testing centre.
"They will be assessed and directed to attend a centre, if appropriate."
It is expected to be the first of many drive-through testing centres in Wales.
The local health board tried to "reassure" nearby residents in a letter that said "using this site will not place you or the other residents in the area in any increased risk".
"This will mean that the individuals will not exit their cars and the risk of virus spread will be managed," the letter said.
"You may see individuals wearing white protective clothing. This is due to them being in direct contact with the individual.
"All protective clothing and equipment will be removed from the site on a daily basis by courier and the premises will be thoroughly cleaned in line with infection control standards."
Train operator Transport for Wales is also stepping up measures in a bid to reduce the risk of coronavirus spreading.
TfW says it is stocking up and issuing extra sanitisers and protective equipment for employees, and "reviewing" its cleaning systems.
It has stepped up maintenance of washrooms at stations - and reviewed cleaning of high contact areas such as door handles and banisters in stations and trains.
It has also put up "catch it, bin it, kill it" posters at key railway stations, and ensuring good supplies of soap.
The company says it has not affected its services, and it is working with bodies such as the Department for Transport and trade unions to ensure it has "robust" systems in place.
Church ministers have been urged not to share chalices during communion, and to use "non-physical" ways of sharing the peace in church.
The Church in Wales also issued new guidance for ministers and congregations, although chalices will continue to be taken individually.
The guidance also urges people to use "non-physical" ways of sharing the peace, instead of handshakes, hugs or kisses.
Announcing the fresh guidance, the Church in Wales said: "Public administration of the chalice should cease in the Church in Wales until further notice.
"The chalice must continue to be prepared and consecrated in the usual way, but the celebrant alone should receive from the chalice."
On its website, the church posted a video showing people British Sign Language for "peace be with you" as an alternative to physical methods of sharing the peace.
With Wales in a containment phase, chief medical officer Dr Frank Atherton has said he expected to see more cases.
Holy Communion is a sacrament accepted by almost all Christians.
In some churches, the person who takes the leading role in the ceremony is called the celebrant.
A re-enactment of the Last Supper, people taking part drink a sip of wine (or grape juice) and eat a tiny piece of some form of bread, both of which have been consecrated.
Different churches have different ways of doing this, and different ways of understanding what it means, and what spiritual events are happening at the time.