China coronavirus: Cardiff lecturer set to leave Wuhan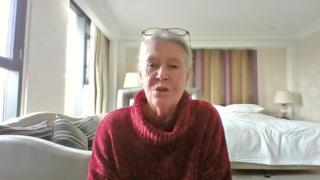 A lecturer stranded in China by the coronavirus outbreak is hopeful of leaving the country on Thursday.
Yvonne Griffiths, 71, from Cardiff, had been due to fly back on Monday but her flight had been cancelled.
The UK government is evacuating up to 300 Britons from Wuhan and the Hubei province who will be put in quarantine for two weeks.
The virus has caused more than 100 deaths, spreading across China and to at least 16 other countries.
Dr Griffiths, who has been in Wuhan for three weeks, told BBC Radio Wales Breakfast with Claire Summers it was "excellent" news.
"It would be a great relief to get home... we are very happy the government has put this in place," she said.
"Friends and family at home had been very worried.
"The health risk is more, day by day not getting any better."
Her daughter, Bethan Webber, from Cardiff, said it was a "relief" her mother would be coming home despite having to spend two weeks in quarantine.
"Our mission was just to get her home and out of that situation. She was there with work, she didn't need to be there anymore because her work was cancelled," she said.
"I think, if the quarantine is deemed to be the safest way of returning people and that's what they need to go through, then that's fine and I trust that that will be done in a way that is as minimal a risk to them as possible.
"Being cooped up in a hotel with just a couple of people is less risky probably than being in a quarantine situation with hundreds of people where potentially a risk of catching the virus might be exacerbated.
"I don't know enough about it. I remain slightly concerned about that but if it's in the best interest of everyone and if that's the best way forward..."