A&E: Welsh waiting times hit worst ever level
Waiting times for A&E departments in Wales hit their worst levels in December, with only 72.1% of patients waiting less than four hours.
The target is for 95% of patients to be seen in that time - but that target has never been met.
Figures published on Thursday also show a record number of patients waited more than 12 hours.
Welsh Health Minister Vaughan Gething has announced an additional £10m to help tackle the pressures.
That is on top of £30m already provided this winter to improve the flow of patients out of hospital and into the community.
The Welsh Ambulance Service also missed its target for responding to red - immediately life-threatening - calls for a second month.
Emergency departments saw the highest number of attendances over the period, with spikes in demand on some days.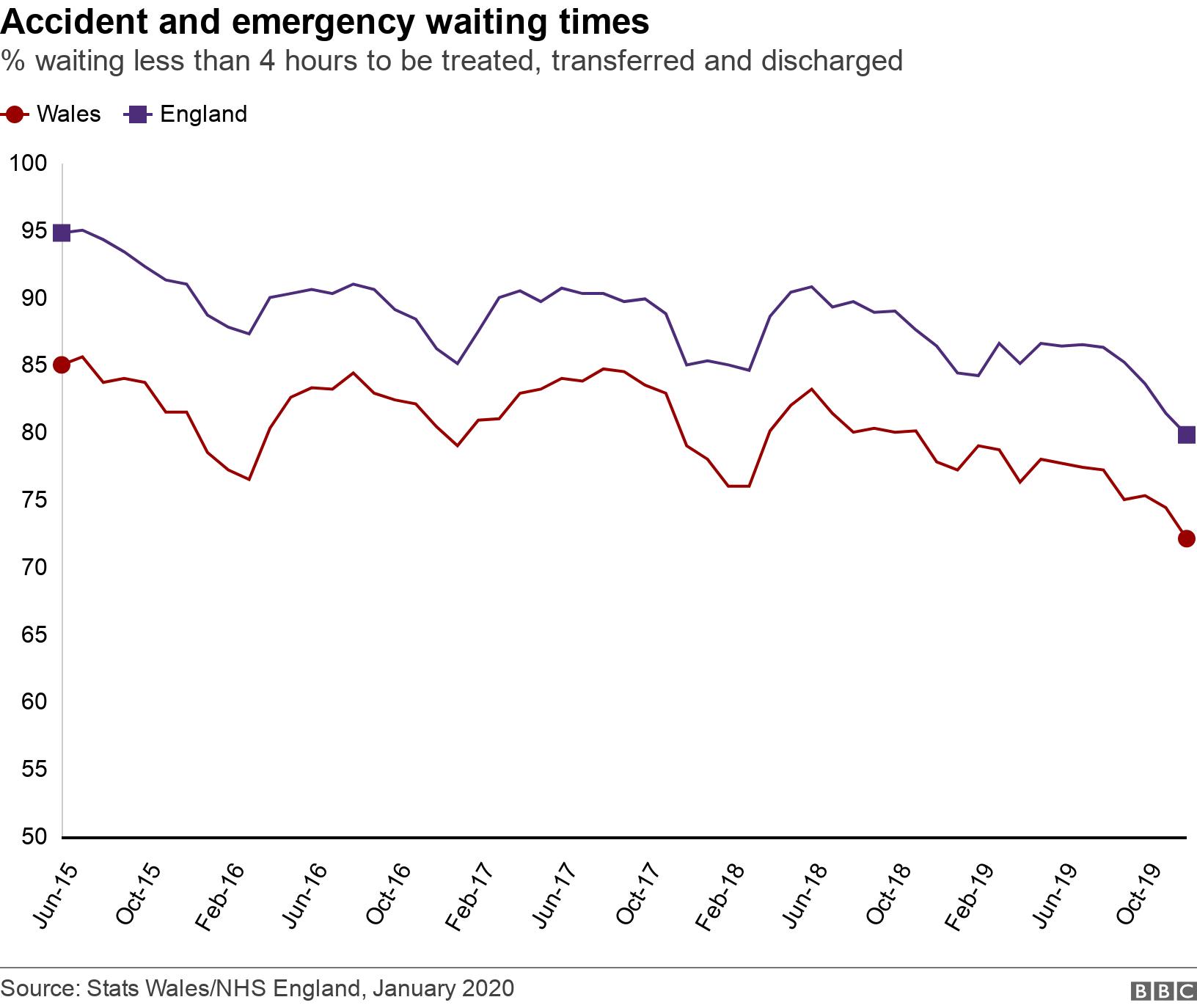 The December figures showed only 72.1% waited less than four hours in A&E to be treated, transferred or discharged, compared to the target of 95%
This is down from 74.4% in November and significantly worse than December 2018 (77.8%)
There were 6,656 patients waiting more than 12 hours - a record high. The target is that no-one should wait that long
The ambulance service failed to meet its target for responding to immediately life threatening calls for the second time since the target was introduced in 2015
In December the ambulance service responded to 62% of red calls within eight minutes - the target is 65%
The ambulance service had a 23% rise in red calls and an 8.4% increase in amber calls compared to last winter.
It received more than 100 red calls on eight out of these 17 days, peaking at 119 calls on 20 December.
Its performance was a slight improvement on November's figure of 61.4% - but significantly worse than the same time last winter.
Winter tends to bring more complex conditions and circulating illnesses which affect older people more seriously.
That is reflected in figures which show - despite milder weather - an 8.4% rise in A&E attendances over the Christmas and New Year period for the over 75s compared to last year.
There was also a 5.2% increase in emergency admissions to hospital of patients aged over 75 when compared with 2018-19.
'It's better to treat them in a chair than not at all'
The Royal Gwent Hospital in Newport has had its busiest month on record, with 7,409 patients attending its A&E unit. That's an 8.3% rise on last December.
Its waiting times performance has also suffered - with only 53% of patients seen within the four hour target.
There were also 852 patients who waited more than 12 hours.
Paul Mizen, director of urgent care, said it was a "daily challenge" which could be very stressful for staff.
The hospital has opened up extra beds, put a pharmacist inside the emergency department and a member of staff co-ordinates the discharging of patients to improve the flow.
But Dr Mizen admitted sometimes patients had to be treated in chairs rather than beds "and that's a regret".
"The system is coping but there are times when it's very, very tight," he said.
Senior nurse Natalie Skyrme said: "Staff have risen to the challenge. It's not always done in places but we're doing our best.
"It's better to treat them in a chair than not at all.
"Boxing Day was an exceptionally bad day but I suppose it feels like you're in a place where you have no control - but you're trying to deal with what's in front of you," she said.
Jan Newman brought her friend Gwyneira into Newport by taxi after she suffered a fall in her bedroom and needed a series of tests. They had been referred from hospital in Ystrad Mynach and said they had a "feeling of dread," knowing the wait they faced.
She said the Royal Gwent was "bursting at the seams".
"They're constantly stressed and rushed - and the fact we couldn't find a chair in the waiting room to sit down on [when we arrived], it's stress all round."
The money announced on Thursday by Mr Gething is on top of £30m worth of funds announced in the autumn.
"There has been a welcome reduction in delayed transfers of care but too many patients are spending long periods in emergency departments waiting for a hospital bed," he said.
"We want health boards to work with partners to improve the flow of patients through the hospital system and out into the community, and I have made an extra £10m available to support improvement in this area."
One consultant at Morriston Hospital in Swansea told BBC Wales earlier this month there had been 125 medically fit patients in beds who were unable to leave until social care was available.
What has been the response?
Jo Mower, vice-president of the Royal College of Emergency Medicine in Wales said the figures came despite A&E staff "working tirelessly" to provide care in the face of reduced capacity.
"We need to assess ongoing health and social care needs both in hospitals and in the community," she said.
"Without adequate health and social care resources and the consequential effect upon the unscheduled care system this will inevitably result in emergency department crowding which has in turn resulted in an increase in patients waiting outside the emergency department."
Dr David Bailey of the BMA in Wales added: "The whole system is under strain like never before and a whole system approach is needed to tackle it.
"We've received countless examples from our GP members across the country of unacceptable delays in handing over seriously unwell patients to onward care, particularly when emergencies occur on GP premises.
"Beds in hospitals are blocked by patients who can't be moved on to social care, due to a lack of resources."
The Welsh NHS Confederation, which represents health boards, said work had started to transform services, including working closely with local government.
"This is the right path to take, but we need to deliver this change at pace and scale for the benefit of everyone in Wales," said a spokesman.
Mr Gething said it was a "difficult challenge but not unfixable" but he was against a "big bang reorganisation" to move social care out of local government and into the health service.
He also said he would soon consider a possible change in the waiting time measures - also being considered in England - on advice from senior consultants.
"It's not simply about junking measures we don't like, it's about what would be the right set of measures to have that clinicians themselves agree would make a difference," he said.
"[They would] tell you and the wider public something useful about the quality of care as well as the volume of care and how timely that care is being provided."
Plaid Cymru said the explanation from the minister about the latest figures was "not good enough" and the performance was consistently worse than in England.
Health spokesman Rhun ap Iorwerth said: "Every year, we get a different excuse as to why this time the poor performance is 'unprecedented' or 'extraordinary'. The excuses change, the deterioration in performance doesn't".
Welsh Liberal Democrat leader Jane Dodds added: "It is vital that the Welsh Government urgently gets to grips with A&E waiting times so we can improve patient safety, increase staff retention and give patients the quality treatment they deserve."
Conservative health spokeswoman Angela Burns said staff were being let down and called the figures disturbing.
"The health minister must announce - today - what remedial action he is going to take, and a definite timeframe in which to deliver it," she added.
In the bigger scheme of things, £10m is a drop in the ocean compared to the £8bn entire budget of NHS Wales.
But the Welsh Government will hope that by injecting this cash now, on top of the cash pledged earlier, they might be able to stop the slump in performance seen over the past four months.
The NHS will also get a significant cash injection to its budget in the next financial year. But it's struggling now.
The health minister insists demand this winter has been exceptional - despite it being relatively mild - with a big rise in the most serious red ambulance calls, for example.
But opposition parties argue Mr Gething can't use this as an excuse.
They say the blame for long A&E waits and worsening ambulance response times lie squarely at his door, even though targets have been missed across the UK this winter.