Prince of Wales Bridge looks 'spectacular' in foggy weather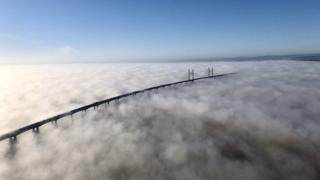 A police helicopter crew was treated to a "spectacular" view of the Prince of Wales Bridge protruding from fog.
The National Police Air Service spotted the eye-catching scene on Tuesday at about 12:45 GMT.
PC Lloyd Birch, a tactical flight officer, took the pictures, which have been liked more than 600 times on Twitter.
He said the south-west crew, which is based in Almondsbury, Bristol, saw fog and unusual weather "quite often".
But PC Birch added the way the bridge, formerly known as Second Severn Crossing, emerged "looked quite spectacular so I took a few snaps on the way past".
BBC Wales weather meteorologist Derek Brockway said the fog was caused by a temperature inversion, when cold air is trapped by warmer air above during high pressure.