Family of boy, 3, killed in caravan fire 'mourning loss'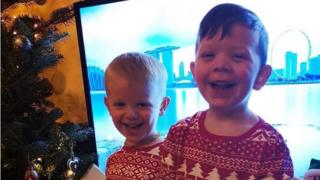 The family of a three-year-old boy who was killed in a caravan fire have thanked people for their "kind words and support".
Zac died and his brother Harley, four, is in a critical condition following the blaze on Sunday morning in Ffair Rhos near Tregaron, Ceredigion.
Shaun Harvey, 28, the boys' father, is in a stable condition in hospital after escaping the fire with the eldest boy.
The fire is not being treated as suspicious, Dyfed-Powys Police said.
In a statement the family said: "We would like to thank everyone for their kind words and support.
"We thank you for respecting our future privacy as we mourn the loss of Zac and focus on our son Harley who is still critical."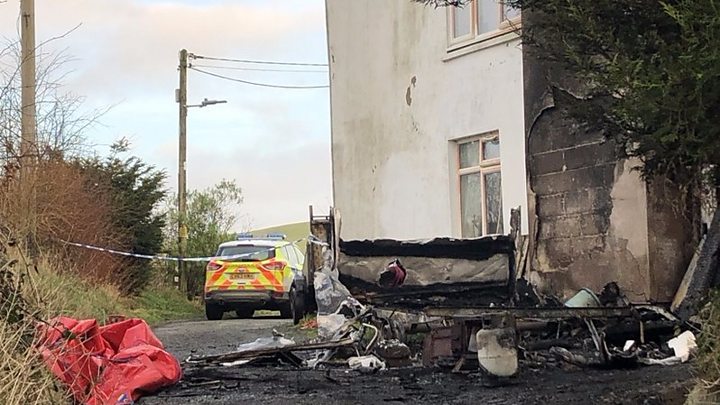 Neighbour Miriam Connolly said the caravan "went up like an inferno".
She said she had been in bed when she heard a knock on her door followed by "shouting, screaming from outside".
"All I could hear was a crescendo of screaming from Shaun," she said.
"You could tell he was in agony. I thought the best thing for me to do is phone the emergency services.
"I could see the reflection of flames on the building next door, so I knew it was a fire, but I couldn't see where it was coming from.
"It's so horrendous. You can't imagine dealing with anything like that."
Mrs Connolly's husband, Sean, said Mr Harvey had burns all over his body and one of the little boys was put into a bath of water by firefighters.
"I've never seen anything like that in my life. It was very traumatic," he said.
Neighbours said Mr Harvey had separated from the children's mother Erin and was living in the caravan temporarily while he looked for a permanent home.
Mrs Connolly described Mr Harvey as "a lovely lad", adding: "He was so pleased that he had the children for the weekend."
Community councillor John Jones said: "We are deeply saddened by the events.
"When it happens on your doorstep in a small rural village like this, it's a total shock."
Ted Jones lives near to where the blaze happened and said it was "lucky" there had been any survivors.
"My neighbour saw the fire and the caravan just went up in flames and they said it was lucky that anyone got out," Mr Jones told BBC Radio Wales.
"Ffair Rhos is a tiny, quiet little village in rural Ceredigion so it is a big shock to everybody especially when a small child has died."
Emergency services were called to the scene at about 05:30 GMT on Sunday and as well as destroying the caravan and a vehicle, it also damaged an adjacent property.
The Welsh Ambulance Service said it sent three ambulances to the scene, taking two patients to Bronglais General Hospital in Aberystwyth.
A police spokesman said: "Police and fire investigators continue to examine the scene though the circumstances are not currently being treated as suspicious."
Specialist officers are supporting the family, police said.
In a statement, Ceredigion council said: "Our heartfelt condolences go out to the family following the tragic incident."
It added it was working with Dyfed-Powys Police to provide "support to the family and school at this difficult time".