Cardiff congestion: £2 charge plan to cut city traffic
A £2 congestion charge for drivers is being proposed in Cardiff as part of a £2bn, 10-year transport plan.
Cardiff council plans to charge non-residents in a bid to hit green targets and cut congestion as research said air quality is among the UK's worst.
The charge may come in by 2024 and the charging zone is under discussion.
Council leaders believe it will be a "supercharging" of the Metro plans, including creating new tram-train lines, opening new stations, rapid bus routes and segregated cycle lanes.
They admitted the city's transport network was "creaking" and no longer fit for purpose.
New stations at Loudon Square in Butetown, in the heart of Cardiff Bay, Crwys Road and Roath Park are proposed by 2024 before adding halts at Gabalfa, Victoria Park, Velindre, Roath Dock and Splott.
New park-and-ride facilities at the east and west of Cardiff - at junction 32 and junction 33 of the M4 motorway - and another at the planned Cardiff Parkway mainline station at St Mellons.
Working with bus operators to cut fares to £1 - half the price of a normal single fare in the city - and smart technology will prioritise buses at traffic lights and junctions to make public transport more attractive.
Bus and taxi operators will be offered incentives to use cleaner or electric engines.
An integrated ticketing system - similar to the Oyster in London - for all public transport in Cardiff, including buses, trams and bikes, could also be launched.
The council said it would also lobby the Welsh Government to complete the Eastern Bay link road between Eastern Avenue and Cardiff Bay.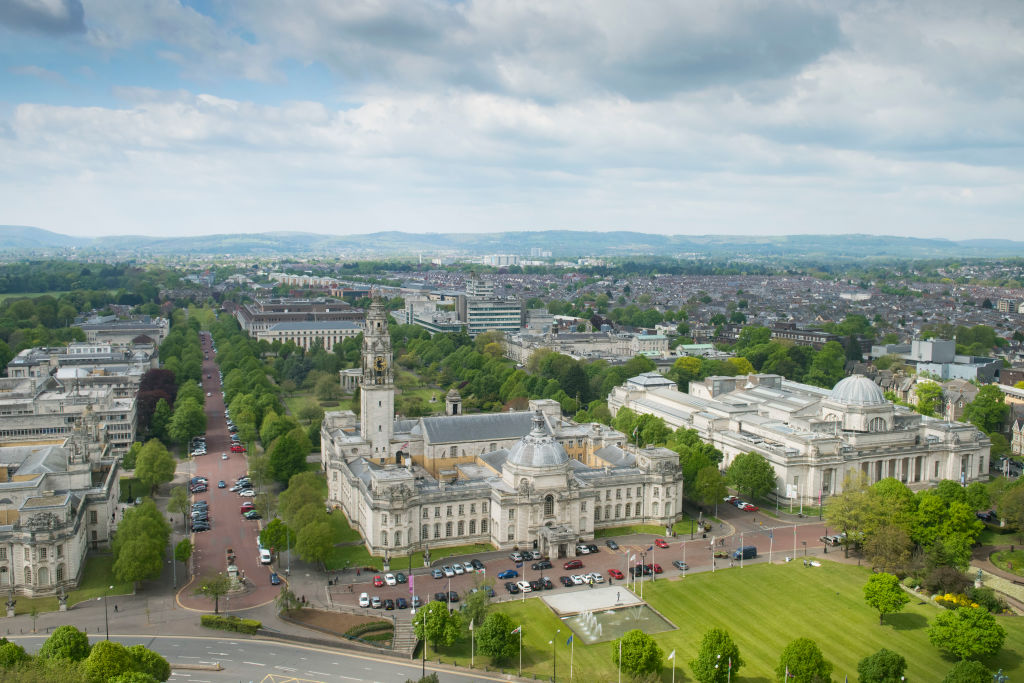 GETTY
Transport timeline
2021Park-and-Ride at M4 J32, M4 J33 and Cardiff East

2023Cardiff Parkway and Crwys Road stations to open

2024Tram-train lines and stations open. Congestion charge starts

2025Full cycle network completed

2028More stations open. Circle and crossrail lines open
Source: Cardiff council
Why does the council want to do this?
The city's public transport infrastructure was built for 200,000 people but needs to cope with Cardiff's 335,000 population, as well as more than 100,000 daily commuters.
"Once commuters, shoppers and visitors are taken into account our city has a daily population of almost half a million," said councillor Caro Wild.
"If you look at it from the point of view of the average Cardiff resident driving within the city to work every day, struggling for their bit of road space with the 80,000 other car commuters from outside the city's boundaries then absolutely, traffic congestion, traffic pollution and a public transport system which struggles to adequately serve the people who live and work here are all issues of major concern."
Figures show 50% of people are still commuting to Cardiff in cars, with 30% walking or cycling and 20% using public transport.
Prof Mark Barry, a connectivity professor at Cardiff University, said we did not need to get everyone out of their cars but to give drivers a public transport alternative, to persuade enough to switch.
The figure for car commuters should be halved and up to 40% needed to be via public transport, with a further 40% walking or cycling.
"Most cars spend probably 95% of their 'lives' doing absolutely nothing," he said.
"This clogs up streets and ties up natural resources. Having to design our cities around what cars do when they are not moving is as bad as having to do so when they are."
Will these proposals change our behaviour as the council hopes?
There's a carrot and a stick. The carrot is the promise of better, more frequent and affordable public transport linking communities across the city, including some which are not joined up at the moment.
The stick? A £2 charge every time a car owned by someone who lives outside Cardiff enters the city. That proposal will now be investigated in detail before a formal business plan is published. There will be a few years for people to think about what they will do as individuals, but behaviour can change quickly when other options are improved.
Cardiff council has looked to the experience of Stockholm in Sweden. There they introduced a similar charge and found within three months traffic was reduced by 35%.
If that happened in Cardiff, it would be expected to improve air quality which is so poor at the moment it's assessed to be shortening lives. It would also make travel across the city faster.
Is £2 is the best level to set the charge initially? The income from that would be ring-fenced and contribute towards the £2bn investment plans for public transport.
But of course a higher charge, or extending the fee to Cardiff residents, would bring in funds more quickly. A balance needs to be found which generates enough money to deliver an attractive alternative to the car, but which isn't so steep that drivers refuse to change their behaviour.
The 10-year plan has kick-started the debate.
Public Health Wales estimates air pollution results in the equivalent of more than 220 deaths each year among people aged 30 and over in the Cardiff area.
And a study from Birmingham University revealed air quality in Cardiff is among the worst in the UK relative to its geographical size, traffic volume and population.
The move has been welcomed by clean air organisations who said it would make Cardiff "a cleaner, safer and more attractive city."
"This is about reducing emissions to combat climate change, improving air quality to protect our health," said Haf Elgar of Healthy Air Cymru.
"We must see a change in the way we think about travel and we can only do that by introducing bold interventions that will help people make the best choices for them.
"It's also promising to see that the city-wide road user charge will be supported by improved public transport and active travel infrastructure, which will play an integral role in making the transition to sustainable methods of travel much more affordable and achievable."
Adrian Field, executive director at the Cardiff Business Improvement District, said doing nothing or tinkering around the edges wasn't an option.
"We are reassured that no charge will be put in place until a business case is completed, taking all options into consideration, and that alternative travel options will need to be in place before a charge is introduced," he said.
Related Internet Links
The BBC is not responsible for the content of external sites.