Flint flats flood as water pipe bursts at Bolingbroke Heights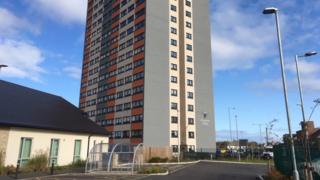 Some tower block residents have decided to temporarily move out of their homes after a rooftop water pipe burst in the early hours.
A number of flats have been "quite badly damaged" by water at Bolingbroke Heights in Flint, according to Flintshire council leader Ian Roberts.
The worst affected properties in the 17-storey block are from the 9th floor up and the lift remains out of order.
Resident Lyn Bynes said she was woken by water pouring down the walls.
She said she was unable to stay at the property as engineers had been unable to restore her electricity supply.
"I have a serious heart condition and I am diabetic and have insulin in the fridge so I have made the decision to move out for a bit," she said.
'Badly damaged'
Another resident, Nigel Jameson, said a small amount of water came through his ceiling but he initially found out what was going on through social media.
"The fire alarms were going off and then we found on Facebook the building was flooded with hot water coming down," he added.
North Wales Fire and Rescue Service said it was called to the tower block, which houses about 100 flats, at 03:10 BST on Sunday.
The service said water was "cascading down through the building from the water tank situated in the roof".
It said the water had affected "a number of flats" and the building's main fire alarm system.
Most residents are still in their flats and power has been restored to parts of the building although the issue has rendered the lifts out of order until at least Monday.
More than 30 flats in the block also suffered water damage in 2016 after a fire service training exercise.
Mr Roberts said if any resident felt their accommodation was not appropriate, the council would provide advice.
'Big clean up'
"Some residents' flats are quite badly damaged with water penetration," he said.
"If there are flats where beds are wet and so on then we will provide temporary accommodation.
"Tomorrow, a big clean up and assessment will take place to ensure that they're back in their flats.
"For some it will be an easy job but for others it's going to be a longer job."
He added: "There's been a tremendous investment in these buildings and unfortunately this is an accident but we will be working as hard as we can to ensure the aftermath is cleared up as quickly as possible."