Geraint Thomas: Lawyer found dead 'had been suspended'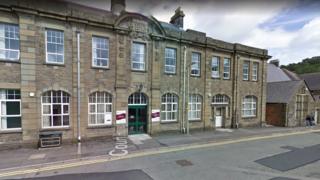 A lawyer whose body was found near cliffs had been suspended after allegations of inappropriate behaviour, an inquest has heard.
Geraint Thomas, 47, was found dead on a beach near Bridgend in December 2018.
Recording a narrative conclusion, senior coroner Graeme Hughes said he "had no evidence he had formed an intention to take his own life".
He also said he was "satisfied that there was unlikely to have been any third party involved".
The inquest in Pontypridd heard Mr Thomas had never been treated for mental illness.
Mr Thomas' wife Rebecca told the inquest she had "no doubt" a work meeting about the allegations was "fundamental" to a change in his state of mind.
Mrs Thomas said the weekend before her husband died there had been "no signs whatsoever" of any concerns and he was looking forward to an upcoming holiday to Australia.
He kissed her goodbye on the morning of 17 December and said "I'll see you later - I'll be home by 7.30" before going to work in his Cardiff office.
However, she became worried that night and reported Mr Thomas missing after speaking to a partner at his law firm. His body was found the next day.
She told the inquest her husband had not been stressed in the months leading up to his death and had been "wrapped up in home life".
Mr Thomas, an Oxford University graduate, was a partner at Eversheds Sutherland and specialised in offering Brexit advice to businesses.
'Not stressed'
Lorraine Kilborn, director of international human relations at the firm, said he was a "great specialist and real expert".
She said she received allegations about Mr Thomas's potentially inappropriate behaviour at a Christmas party the night before and on one other previous occasion and decided on the Monday morning he needed to be suspended while an investigation took place.
Ms Kilborn told the coroner the company had a wellbeing strategy which included informing the suspended person's line manager, access to an independent helpline and a nominated peer from the firm to offer support.
During a meeting about the allegations she said Mr Thomas was "very polite and very calm" and she hoped to complete the investigation before his holiday.
When asked to leave the building, he said: "I'll collect my things", but she received no more contact with him that day despite sending him a text.
Mr Thomas was seen walking towards the cliff by an eyewitness later that afternoon.
PC Robert Burchill said he found Mr Thomas's car in a car park near the beach at about 03:00 on 18 December, but was prevented from searching the shoreline by the high tide.
A police helicopter found Mr Thomas's body nearly two hours later.
The coroner said that Mr Thomas had "suffered catastrophic injuries".