Wales Rally GB halted over spectator safety concerns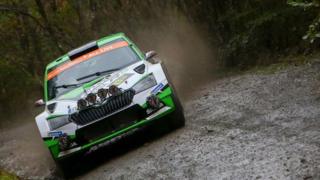 A stage of the Wales Rally GB was halted after spectators refused to move from "dangerous positions".
On the first morning, the Aberhirnant stage in Gwynedd was stopped.
A spokesman said marshals moved the spectators, but they kept returning and eventually refused to move.
Meanwhile North Wales Police has warned competitors to "adhere to the rules of the road" as the force reported receiving complaints about the manner of driving by some.
The Wales Rally GB is an annual round of the World Rally Championships, with drivers competing on circuits around the country until Sunday.
About 100,000 fans are expected to attend the different stages, with this year's edition officially launched in Liverpool on Thursday.
Conditions were described as slippery and the spokesman said the safety of spectators and drivers were the most important considerations.
Organisers tweeted to say the Aberhirnant stage had been stopped on Friday, with cars driving through at "non-competitive speeds".
"This is due to spectators on a fast section mid-stage standing in dangerous positions - and returning to them despite instructions to spectate elsewhere," the tweet said.
The spokesman added it would not affect overall standings, but the incident was unfair to drivers and thousands of spectators.
The stage had got under way in the forests around Dyfnant, near Welshpool, Slate Mountain.
But the Penmachno stage had to be stopped due to an accident.
The winner is expected to be crowned following the final stage at Llandudno's Great Orme on Sunday.
Drivers from 24 countries are competing in the event, which is the 12th round of the World Championship.