£4m Caerphilly council pay saga chief sacked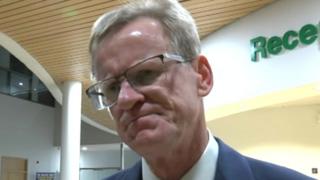 A council chief who was suspended six years ago after a pay row has been sacked with immediate effect.
Caerphilly council's Anthony O'Sullivan was suspended in March 2013 after claims over wage increases for him and two other senior officers.
After criminal charges were dropped in 2015, the two other men agreed payouts worth £300,000 between them.
Mr O'Sullivan has been on special leave for three years and was sacked for gross misconduct.
At a meeting of councillors held in private, they backed an investigation's report recommending they dismiss him.
Barbara Jones, the council's interim leader, said: "We regret the amount of time and money that has been spent on this matter, but we had no choice other than to follow the agreed statutory process.
"It should also be noted that during this time we had to allow criminal investigations to proceed, which added almost two-and-a-half years to the overall timeframe."
She said the decision concluded a "very difficult chapter" for the council.
Mr O'Sullivan, 60, had gone into the meeting promising to "robustly refute all the allegations against him".
He was accused of having "no regard to the council's code of conduct" when he authorised wage rises for himself and other senior officers.
The row flared after claims he and two other officials authorised a 20% pay rise for senior officers, while most other staff had a pay freeze.
It has meant he has been paid his salary of £137,000 a year for six-and-a-half years without turning up to work.
It is thought the long-running row has cost the local authority £4m and an investigation has now been carried out by an independent person appointed by the Welsh Government.
The report accused Mr O'Sullivan of being "grossly negligent".
Colin Mann, leader of the Plaid Cymru group on Caerphilly council, said: "Money has been spent on paying senior officers to stay at home, legal and audit fees when it should have been spent on front-line services, such as keeping public toilets open, keeping street lights on and securing the future of all our leisure centres.
"The losers have been the residents of the county borough. It is vital lessons are learnt and this never, ever happens again."