Extinction Rebellion leave Pembroke Dock Valero blockade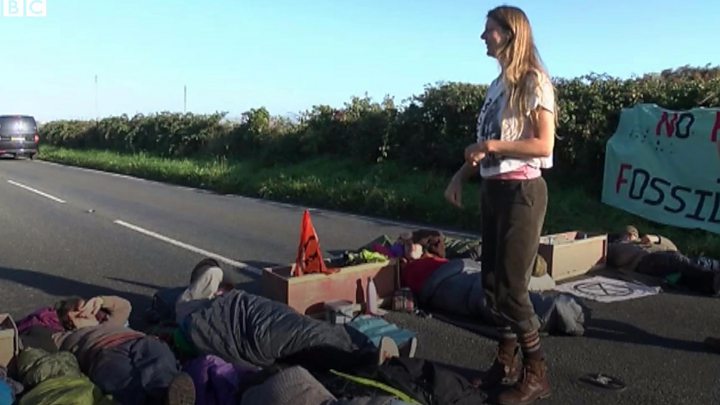 Climate change activists have left the scene of their protest which blocked three entrances to one of the biggest oil refineries in Europe.
Ten Extinction Rebellion members set up a road blockade outside the Valero site near Pembroke Dock, Pembrokeshire, early on Thursday morning.
Protester, Sven, had said the group would stay "as long as it takes", but the activists left on Thursday evening.
A Valero spokeswoman said production was continuing normally.
But she added there had been disruption for staff getting to work at the plant.
Fuel tankers had been gaining access to the site by driving through fields in order to bypass the protesters.
Protester Esme said the protest had ended as Valero were using a different route to and from the refinery.
"At that point it was probably just affecting the local area, and not the company itself," she explained,
"We'd achieved what we wanted to achieve, we'd sent the messages out, we'd told the press what our goals were.
"So at that point we decided it was not effective to further use police time and resources."
Dyfed-Powys Police said previously that the protest was peaceful but was causing significant disruption to local traffic at the Valero site and officers were at the scene, but no arrests had been made.
Sven said: "We are doing this out of frustration at the complete inaction of government to do anything to reduce our dependence on fossil fuels."
The group had attached themselves to wooden boxes filled with concrete in a bid to stop vehicles from entering or leaving the site.
"We're taking a stand. We've raised our concerns, written letters to the government, campaigned on the streets," Sven said.
"The government have declared a climate emergency, but there has not been any meaningful changes, it's all hot air.
"It's fallen down to us normal people to take a stand."
What is the Valero refinery?
Built in 1964
Has more than 500 employees
Acquired from Chevron by Valero in 2011
A quarter of its 1,275-acre site is in the Pembrokeshire Coast National Park
The 270,000-barrel a day facility makes products like gasoline, diesel and kerosene
In February 1996, the Sea Empress crude oil tanker ran aground nearby, spilling 73,000 tonnes of oil in one of Britain's worst environmental disasters
In June 2011 four workers were killed and another suffered life-changing injuries at the refinery when the tank they were trying to empty exploded
Road transport is one of the ways Valero distributes oil from its Pembroke refinery - most of it leaves the 1,275-acre site by ship or pipeline to the Midlands.
Wales' only refinery is one of six in the UK and is "important" but Gordon Balmer of the Petrol Retailers' Association, which represents independently owned forecourts, said: "We've had no reports from members that deliveries have been affected."