Carl Sargeant death: More help for sacked ministers after suicide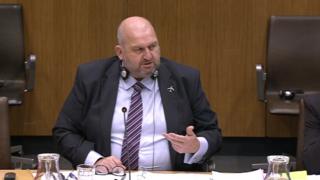 Changes to how sacked ministers are treated have been announced by First Minister Mark Drakeford following the suicide of an AM.
Carl Sargeant, 49, was found hanged at home in Connah's Quay in November 2017.
He had been sacked days earlier as communities minister after claims of inappropriate behaviour towards women.
Mr Sargeant's son Jack Sargeant AM said he hoped Mr Drakeford would be "the guardian of a kinder type of politics".
In a statement, he said his family welcomed Mr Drakeford's "considered response", adding: "It is clear to us that the current first minister is taking his responsibility to promote and safeguard the welfare of ministers seriously."
In July coroner John Gittins said more support should be available to ministers who lose their jobs.
Mr Drakeford said his response had been informed by consultations with serving and former ministers as well as the Sargeant family.
He said the new measure would include:
Adding a new section to the Ministerial Code to formalise information about support services available
Developing and adopting a protocol for the appointment and dismissal of ministers
Carrying out reshuffles with "due sensitivity" and ensure they are "framed in a way that recognises the public service rendered by departing ministers"
Taking particular care to consider the wellbeing of a departing minister if the circumstances of their departure are "difficult and high-profile"
The chief whip will make contact with ministers who lose their jobs to see if any further support is needed
A standardised pack with practical advice on support will be handed to departing ministers
Departing ministers will be reminded of assistance which could be available to them for dealing with any immediate press or media issues
Enhancing provision for counselling
New ministers being given the opportunity to be linked to an experienced minister to offer informal support and guidance
New ministers to be given the opportunity to confidentially disclose any pressures upon them or conditions that might impact upon their wellbeing
The inquest heard Mr Sargeant was known to have mental health issues and the coroner said there were no official arrangements in place to support him following the 2017 re-shuffle "despite the probability that the [then] first minister [Carwyn Jones] knew of Mr Sargeant's vulnerability in relation to his mental health".
Mr Sargeant's family said he was deprived of "natural justice" and was not informed of any of the detail of the allegations against him, despite requests and warnings regarding his mental welfare.
An investigation into Mr Jones's handling of Mr Sargeant's sacking, led by the QC Paul Bowen, is yet to begin.
The protocol adopted by the Bowen inquiry was successfully challenged in court by Mr Sargeant's family and has now been revised.