Explosion at Holyhead aluminium powder plant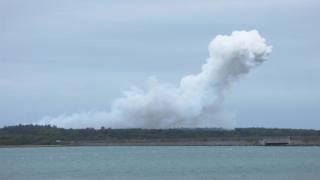 Fire crews were sent to the scene of an explosion at an aluminium powder plant on Anglesey on Saturday evening.
Locals reported hearing a loud bang and seeing a plume of white smoke after the explosion at the AMG Alpoco plant in Holyhead shortly after 18:00 BST.
Everyone at the plant was accounted for, according to North Wales Fire and Rescue Service, who sent four crews.
It said two men made their own way to hospital with minor injuries, but none were treated at the scene.
The service added the fire was confined to a container called a hopper, and that it is expected to smoulder "for some time", but is being kept under surveillance with no danger to the public.
An explosion at the same site closed the A5 London Road in June 2015.
North Wales Police and the ambulance service all sent vehicles to the scene of the incident.