Eisteddfod: Former teacher scoops Welsh Learner of the Year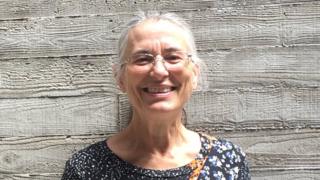 A woman who makes legends, stories and folklore "come alive in her own magical way" has won the National Eisteddfod's Welsh Learner of the Year.
Former teacher Fiona Collins scooped the £300 prize and trophy on Wednesday.
She established a story cafe in Carrog, Denbighshire, where she lives, with a group coming together monthly to share stories, recite poetry or sing.
Ms Collins, who works in English and Welsh, said her "secret mission" is to teach everyone about Welsh folklore.
She began learning Welsh in 1999, when she was living in London.
"I really wanted to come and live in Wales. My mam was Welsh - she wasn't a Welsh speaker but she was Welsh," she said.
"I was born and brought up in Hampshire, but I always had hiraeth [longing] to live in Wales."
Ms Collins said she thought learning another language was "good for the brain".
"If you can speak different languages, I'm sure it opens different channels in your mind," she told Claire Summers on BBC Radio Wales.
The other three finalists, Paul Huckstep from Penmachno, Grace Emily Jones from Llanfihangel Glyn Myfyr, and Gemma Owen from Llanrwst, received trophies and £100 prize money.
Ms Collins has now been invited to become a member of the Gorsedd.
Last year's award went to Matt Spry, who teaches Welsh to refugees at Cardiff University.