UK heatwave: Trains between Swansea, Cardiff and London disrupted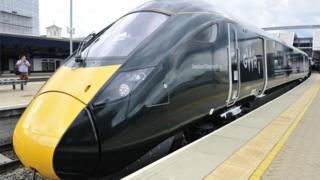 The risk that rail tracks will buckle in the heat is disrupting train services between Cardiff Central and London Paddington.
The UK has recorded its hottest July day on record, with temperatures reaching 38.1C (100.6F) in Cambridge, but reaching just 31C in Wales.
Great Western has cancelled trains between London, Cardiff and Swansea.
Speed restrictions are in place to protect tracks, Network Rail (NR) said.
Most London to south Wales trains are hourly instead of half-hourly, according to Great Western, with only the route between London and Swansea running.
It added that other ad hoc service alterations were expected, and encouraged those travelling to check their journeys.
Passengers were also advised to be aware of the high temperatures, and to travel with bottled drinking water, sun cream and cooling face wipes or spray.
In such weather conditions, the track can get up to 20 degrees hotter than the air temperature, said NR, which manages the rail network infrastructure.
Wales has had a hot week, with temperatures also hitting 31C on Tuesday.
And a lightning strike "like a gunshot" set a bedroom roof on fire, as storms hit parts of Wales in the early hours of Wednesday.
GWR said some of its services from London Paddington to Cardiff Central will be terminated at Bristol Parkway rather than travelling on to Newport and Cardiff Central "due to forecasted severe weather".
---