Lightning strike sets Wrexham house roof on fire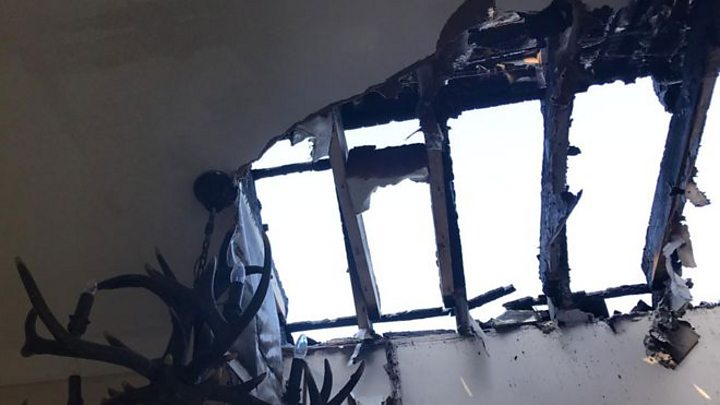 A lightning strike "like a gunshot" set a bedroom roof on fire, as storms hit parts of Wales overnight.
The roof of an annexe to a house in Bowling Bank, near Wrexham, was well alight when firefighters arrived at about 01:25 BST on Wednesday.
Megan Zahra was sleeping in the annexe when the bolt struck the roof.
She woke up but thought it was a noise from outside and did not know the roof was on fire until her stepfather arrived to get her out.
Ms Zahra, 23, told BBC Wales: "I heard this big ... it was like a gunshot or an explosion. I thought it was just outside here so I checked the window and didn't see anything so I got back into bed.
"About 15 minutes later my stepdad was outside going, you need to get out, it's on fire."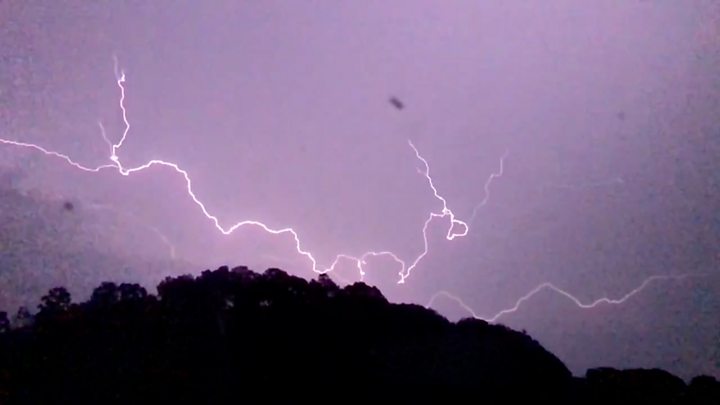 She initially thought it had been caused by electric fencing.
"I went outside straight away and we got a hosepipe on it and my stepdad was doing all that. Seeing the flames come up was - I don't know how to describe it - unexpected," she said.
"Even the fireman were saying they didn't understand how the lowest building in the area managed to get struck. There was a satellite pole [over there] and where I work there's all metal sheds and everything."
Thunderstorms moved into southern and western areas late on Tuesday evening, into Wednesday morning, with the Met Office issuing a yellow severe weather warning for most of England, Wales and Scotland.
North Wales was the wettest area in the UK overnight, getting 15mm (0.6 inches) of rain in one hour.
The police helicopter in the region tweeted to say it was making a "speedy retreat" back to base as lightning struck the area.
In Newbridge, Caerphilly county, firefighters were called at about 03:00 to rescue a taxi driver who was stuck in 46cm (18 inches) of rain water.
It comes after Wales saw its hottest day of the year on Tuesday, with temperatures hitting 31C.