Rhyl teen's dream of stylish prom transport fulfilled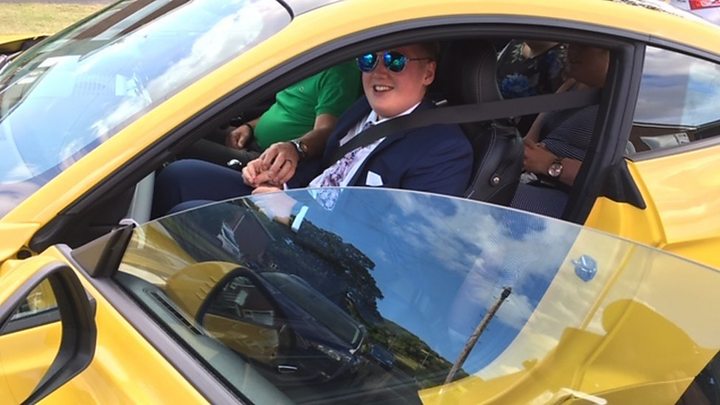 A 17-year-old with severe learning disabilities had a dream ride to his school prom in a convoy of supercars.
Ysgol Tir Morfa student Dylan McNally was able to choose from a Chevrolet, Mustang, Mercedes, Ferrari, Lotus and other flash models for his ride to Rhyl Rugby Club in Denbighshire.
His mother, Annemarie Marsh, had issued a plea on Facebook, asking if anyone with a nice or unusual car could take Dylan to the event.
She was "flabbergasted" by the reply.
"There were Mustangs, BMW convertibles, a Mercedes, a Beetle convertible, a Jeep, a Ferrari and a Lotus," she said.
"He chose a Chevrolet Camaro - like the one out of the Transformers film Bumblebee."
Ms Marsh explained that Dylan was "isolated" and only liked his home surroundings.
She persuaded him to go to the prom, on his condition that she came with him, and said it was "major" for him to go to a social event.
"He has limited speech, but he has done so well - I was told he would never walk and talk," Ms Marsh said, explaining Dylan's condition.
"I thought I would take to Facebook to ask if someone around here with a nice car, something different, would take him, and I would pay.
"He was overwhelmed when he saw all the cars. There were some fragile moments when it all took over him a bit and he didn't want to go in.
"But to see him dancing by the end of the night was amazing - priceless.
"I have to treat this like it is the one and only prom. It is about him having that experience and he smashed so many boundaries."
Ms Marsh added: "It just shows the support of people in Prestatyn. We are a fabulous community."