Extinction Rebellion: Cardiff protesters end road blockage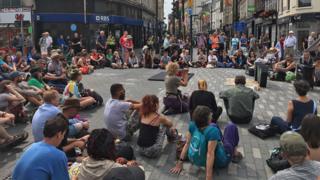 Climate change protesters have ended a protest which involved blocking one of Cardiff's main thoroughfares since Monday.
Members of Extinction Rebellion voted to move their boat from Castle Street to City Hall and the road has reopened.
The group held a symbolic clean up at the site before they left.
They apologised for the inconvenience caused over the three days but said it "achieved mass public awareness" adding they were meeting with AMs later.
"Over just a few days of this bold action we have achieved mass public awareness and discussion, numerous media headlines, supportive statements from politicians," an Extinction Rebellion Cymru statement said.
The group, which has a camp set up at City Hall, said it will decide what the next steps will be at that location, but added the disruption caused was necessary.
"Not everyone will agree that this disruption is justified or necessary, but we truly believe it is," the statement said.
"Climate change and the current catastrophic loss of wildlife present a genuine threat to our civilisation which we must address immediately."
Earlier, Insp Reg Martin from South Wales Police told the crowd the force would prefer them to move.
"You have taken this street for two-and-a-half days and in terms of public support, because of the disruption to the public, it's better to move sooner rather than later," he said.
"We've had some different threats to protest sites... there are individuals in the community [who] are opposed to this for whatever reason and clearly your public safety and protection is vitally important to us."
He said the disruption was "escalating as time goes by" adding: "We would rather you were to leave this location in a dignified manner."
South Wales Police and Crime Commissioner Alun Michael had said police got the balance right in handling the protest.
He told BBC Radio Wales Breakfast with Claire Summers: "The balance is the protection of the right to peaceful protest and, on the other hand, not allowing things to go too far in terms of disrupting the lives of ordinary people."
He said he had received "feedback" from "some people who are quite angry" while others said it was "a very important issue".
Labour AM Mick Antoniw met with protesters outside City Hall.
"We declared a climate emergency in the assembly and we've got to turn it into action," the Pontypridd AM said. "These people here are doing that.
"I'm 65 this year, it's my generation that have screwed it up and so the protestors have got every right to complain. It's their future.
"These protests are our environmental conscience. It's one thing to declare a climate emergency. It's another thing to put it into action."
He added: "I will be speaking with [first minister] Mark Drakeford about some of the issues raised with me here.
"Our biggest decision was not to proceed with the M4 relief road... That shows a significant recognition by the Welsh Government that business as usual is no longer possible."