Climate protesters Extinction Rebellion block Cardiff road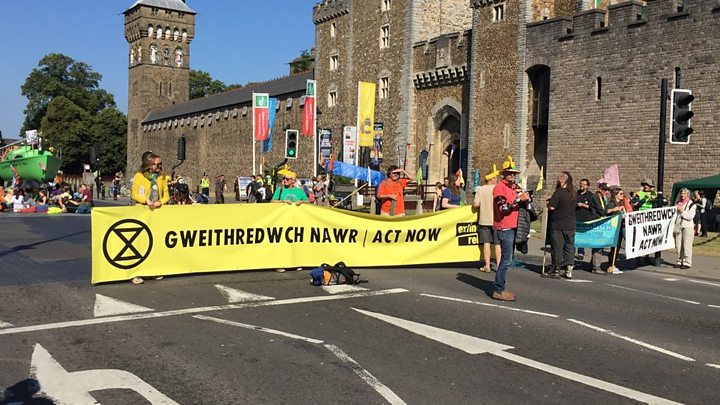 Climate protesters have blocked a key city centre road in Cardiff, with commuters warned to expect disruption.
A number of members of Extinction Rebellion are outside Cardiff Castle and have parked a green boat in the middle of the street.
The group want to raise awareness about climate change but there have been calls for them to end the protest.
Motorists have been warned to avoid the city centre as police expect disruption to last into the evening on Monday.
Cardiff Bus said it experienced severe delays to services and commuters also faced delays during the morning rush hour.
Police have closed the road to vehicles from the junction with Queen Street to Westgate Street.
Cardiff is one of "five centres of disruption" planned by the group, with others due to take place in Leeds, Glasgow, London and Bristol during the "five-day national campaign" of protests.
"We want to achieve some serious changes by the government, we are hoping to raise awareness, get people talking about it," said Livvy, one of the protesters.
"If you weigh it up against the disruption down the line, this is nothing compared to what will happen if we do nothing.
"We are going to hold this site as long as we can. We fully intend for it to remain peaceful for the duration, we don't want any aggression or violence."
Extinction Rebellion Wales said the Cardiff protest was aimed at highlighting the need for the Welsh Government to "dramatically accelerate its actions in tackling the climate crisis and ecological emergency".
Staci Sylvan, 40, from the group, said: "In Carmarthen, where I live, we suffered a massive flood last October, we have never seen anything like it before.
"Out of a population of about 10,000, 100 were displaced or made homeless. Some of these people have been rehomed, but some still have no home.
"This has affected people on low incomes the most as there are no more houses available for them. Also there are some businesses who have not yet managed to reopen, maybe they never will.
"To me this is an issue about my children's future but also about equality, it is always the poorest people who suffer most from climate-related disasters.
"I want the government to do something about it now, not wait for more disasters and more people to suffer."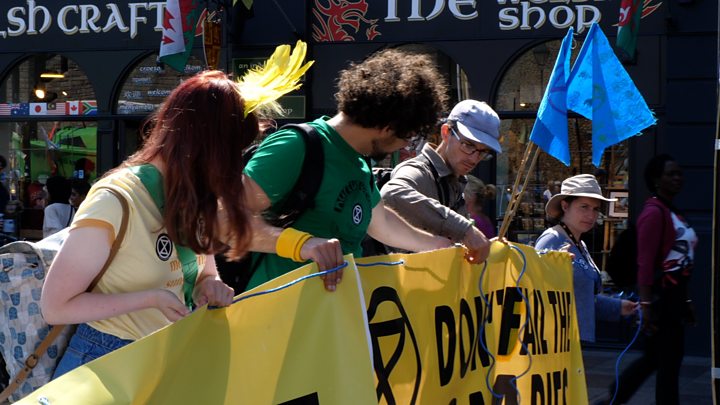 Protester Liz Shaw, 28, from Pembrokeshire, said: "I don't feel like I'm putting myself or others at risk. I got up at 4.30am today to be here.
"I got involved after the April rebellion because I felt people didn't realise the urgency of climate change. We have only got 12 years left."
Macey Gray, 20, from Bethesda, Gwynedd, volunteers full time with Extinction Rebellion.
"I quit my job as a shop assistant at Bangor University in April. My heart wasn't in my shop job. But I felt so helpless about the climate crisis," she said.
"We're planning on camping here till Wednesday, maybe longer."
Rowena, 33, from Oswestry, who has glued herself to the boat, said: "I feel very privileged to be able to give up my freedom for the cause."
The protest has been supported by Bishop of Llandaff, the Right Reverend June Osborne, who said: "We support peaceful protests that raise awareness of the need to act now, to find the political will to protect the interests of future generations."
But South Wales Central AM, Andrew RT Davies, said protesters were taking the wrong approach.
"Tackling climate change is a hugely important issue and one which the majority of the public is fully behind," he said.
"However, the one sure way to lose hearts and minds in such a battle is to disrupt hardworking people on their morning commute, which is what's happened in Cardiff today.
"I hope these protesters will now do the right thing and bring this disruption to an end."
Ana Mitchell, a barista and shop assistant at Portuguese bakery Nata and Co on Castle Street, said: "The road being shut affects our trade.
"We have to take boxes of fresh food to our two other shops around Cardiff. We had to walk to the Hilton hotel and back with them.
"It is affecting us and the other shops."
In a statement, South Wales Police said it would do "everything we can to minimise disruption" during the "five-day national campaign" of protests.
"But we appreciate that it only requires a relatively small number of protestors to cause issues in the city centre," it added.
"We are aware of delays to public transport across the city and we are liaising closely with Cardiff council."