Pembrokeshire rescue: Twenty-three people rescued from sinking boat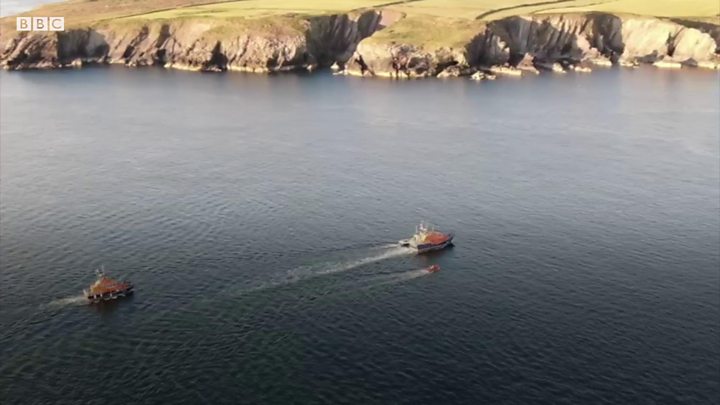 Twenty-three people have been rescued from a sinking boat which hit a submerged tree off the Welsh coast.
The coastguard said it received a mayday message from a small pleasure boat off the coast of Pembrokeshire at about 19:00 BST on Tuesday.
The vessel was taking on water "rapidly" while on a trip off North Bishop island, near Ramsey Island.
Two other passenger boats, two lifeboats and a coastguard helicopter were involved in the rescue.
The 21 passengers and two crew are safe and were taken back to St Justinian's, near St Davids, the coastguard said.
Skipper Joanne Ayris, of Thousand Island Expeditions, told BBC Radio Wales's Breakfast programme: "We were about an hour into the trip when we hit a submerged tree, which managed to find its way into the sand there, which damaged the back of the boat, that quite quickly allowed us to take on quite a bit of water.
"We were lucky everybody stayed calm and [we] got everyone into lifejackets and there were other boats nearby so we were able to calmly transfer passengers across.
"That's when I made the mayday call and the lifeboats came and helped us out."
She said the vessel's bilge pumps were not coping with the amount of water and three or four people were manually bailing quite a lot of water to keep the level in the boat even.
"Once the lifeboats arrived, they used their generator to have a more powerful pumping out system.
"Everybody who came to help and our passengers were incredible, so big thanks to everybody who came out," she added.
The Bishops and Clerks are a series of small islands about three miles (5km) off St Davids Head.
Coastguards had requested St Davids and Fishguard RNLI lifeboats to launch and bring pumps.
A coastguard rescue helicopter from Newquay in Cornwall was also scrambled.
The two lifeboats provided safety cover while the passengers and crew were evacuated on to one of the other passenger vessels.
RNLI coxswain Dai John, who attended the rescue, said they arrived about 20 minutes after they were called.
"The other passenger boat had taken all the passengers off it, but the crew were still trying to save the vessel at the time.
"So we put a couple of our crew and a salvage pump on board to drain as much of the water as we could."
Boat owner Cindy Pearce said she had been able to drive the boat to harbour for repairs.