Tributes to two rail workers killed by train near Margam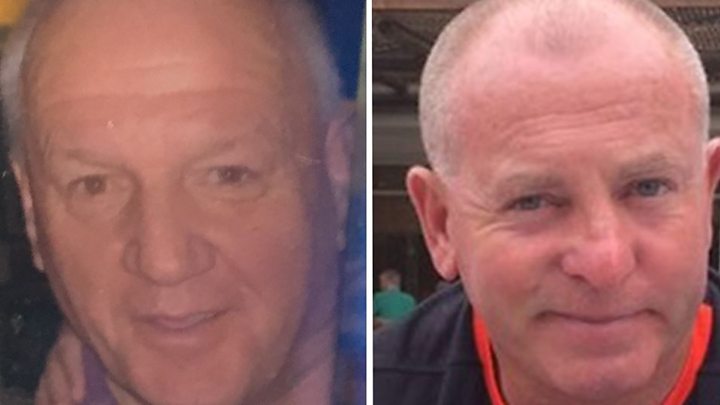 Tributes have been paid to the two railway workers who died after being hit by a train on Wednesday.
Gareth Delbridge, 64, from Kenfig Hill and Michael "Spike" Lewis, 58, from North Cornelly, were hit by the Swansea to Paddington train near Margam.
British Transport Police (BTP) said the men may have not heard the train coming as they had ear defenders on.
Mr Delbridge was called an "absolutely fantastic guy" while the family of Mr Lewis said he was "loved by everyone".
A third worker was treated at the scene for shock, but was not injured.
In a statement, Mr Lewis's family said: "We would like to thank everyone so much for their support during this difficult time and ask that we are now given the space we need to grieve."
Alan Gitsham, a former railway worker who used to work with both men, said: "Mike was great, a tidy fella. I'm devastated, I can't believe he's gone."
Kenfig Hill Rugby Club said earlier Mr Delbridge was a long-standing member and "an absolutely fantastic guy".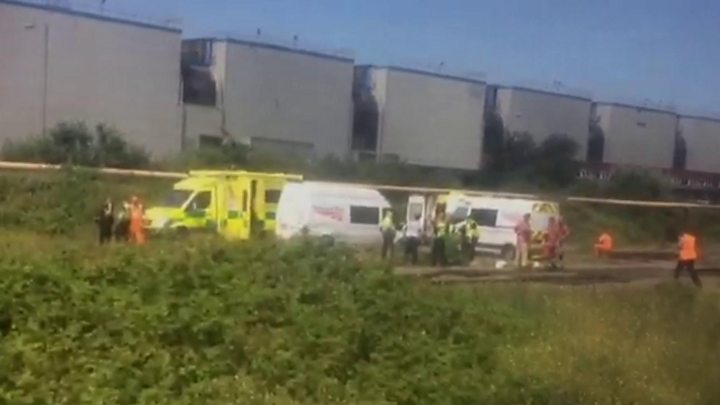 Gary Chappell, the club's treasurer, said Mr Delbridge's death was "more than devastating".
"He was an absolutely fantastic guy. He always had a smile on his face," he said.
"He always had time to say hello to you."
He added that Mr Delbridge, who was known as "Gazza", was an "absolute staunch" Kenfig Hill supporter and was well known at the club.
Ray Giles, club secretary, described Mr Delbridge as a "big family man" and "a really, really likeable lad".
"Cheerful, never down, always bags of fun," he added.
Mr Giles went on to say Mr Delbridge was an excellent sportsman when he was younger and it was "such a tragedy to lose someone so dear".
"We were all just stunned, lost for words, and just grieving at the moment."
The Reverend Gordon Sollis, from North Cornelly Methodist Church, said it had opened its doors for those who want to pray or reflect on the incident.
"I'll be here if people want to talk about anything or just be here," he said.
Mr Delbridge and Mr Lewis died at the scene following the incident shortly before 10:00 BST and an investigation is under way.
BTP Supt Andy Morgan said: "Following a number of urgent inquiries into this tragic incident, it has been established that the three people were railway workers who were working on the lines at the time.
"The initial stages of the investigation suggest that the two men who died had been wearing ear defenders at the time and, tragically, could not hear the passenger train approaching.
"We have a number of officers who remain in the area and we are continuing to work alongside the Rail Accident Investigation Branch to understand the full circumstances of what happened in the moments before this incredibly sad, fatal collision."
The Rail Accident Investigation Branch said it will proved further details of what happened and information about its investigation in the coming weeks.
It said its investigation was independent to any by the railway industry, BTP or the industry's regulator, the Office of Rail and Road.
"We will publish our findings, including any recommendations to improve safety, at the conclusion of our investigation," it said.
The deaths come just three months after the branch warned there were "too many near misses in which railway workers have had to jump for their lives".
In 2018, there was one death on the mainline railway and 6,641 injuries, of which 164 were major.
Bill Kelly, Network Rail's route managing director for Wales, said: "We are fully co-operating with the British Transport Police and Rail Accident Investigation Branch.
"Our thoughts are with the families of our colleagues and our members of staff who will be affected by this tragic loss, and we will provide all the support we can."
Great Western Railway (GWR) said about 180 passengers were on the train at the time of the incident and they were transported by buses to Port Talbot and Cardiff about three hours later.
The line reopened late on Wednesday.
GWR said everyone at the company was "incredibly saddened" to learn two railway colleagues died and it was working with BTP, the Rail Accident Investigation Branch and Network Rail to find out how the "tragic accident" happened.
Stephen Lester, who was on board the train, said: "[I] looked out of the window and saw people standing around looking at the floor."
He said the blinds had to be pulled down as there were about 30 secondary school children from Swansea in the carriage who were due to go on a trip to London.