Ford Bridgend: New taskforce holds first meeting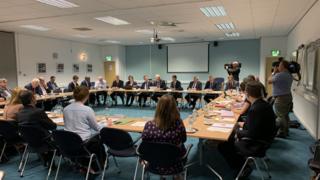 The decision to close Ford Bridgend is "no reflection" on the skills of the workforce or the plant's facilities, according to the chair of a new taskforce set up to support employees.
Prof Richard Parry-Jones, who is also chair of the Wales Automotive Forum, was speaking at the taskforce's first meeting in Bridgend.
The plant will close in autumn 2020 with the loss of 1,700 jobs.
Prof Parry-Jones said the taskforce would be judged on results not effort.
It includes representatives from Ford, the Welsh Government, the Wales Office, UK Department for Business, unions, the local council and others.
'Unprecedented change'
Prof Parry-Jones said: "The massive change going on in the sector [is] creating - having spent 50 years in the sector - absolutely unprecedented change in the sector… So investment and people skills at the highest level are not the cause of this closure."
The taskforce has set up three groups to work on:
Supporting workers at the plant and the supply chain through the consultation and in the future
Looking at the long-term future for the site by attracting new investment
Focusing on the wider impact on the community
Replacing high-quality jobs and the money brought into the Bridgend area by Ford will be an "enormous" challenge, Prof Parry-Jones said.
"However we are not daunted… One door may be closing but other doors are opening and we need to find the keys to the one that fit Bridgend," he said.
"The workforce and site are fantastic assets. Our job is to maximise how these are utilised for the future, including encouraging investors to create jobs in the larger surrounding area."
He added he was "not interested in playing the blame game".
After the initial meeting of the full taskforce, the chairs of the three groups held separate sessions and agreed they would all hold their first full meeting within the next two weeks.
A previous taskforce for protecting jobs at Ford Bridgend was criticised for not meeting for eight months prior to the closure announcement.
The new taskforce is jointly sponsored by Economy Minister Ken Skates and the Secretary of State for Wales Alun Cairns.
Before the meeting, Mr Skates said: "It's vitally important that this taskforce [also helps] companies whose business relies on Ford to survive and move forwards with confidence following this body blow."
Mr Cairns said Bridgend should be able to benefit from the UK government's automotive sector deal, signed in January.