Walker rescued after 30ft Pont Melin-Fach fall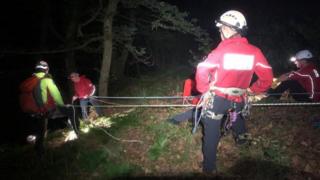 A man was rescued after he became trapped following a 30ft fall from a walking route.
Emergency services worked in "treacherous conditions" during the rescue at Pont Melin-Fach, Ystradfellte, in Powys, which went on until the early hours of Sunday.
They also had to rescue a woman who had become trapped going to the man's aid.
Western Beacons Mountain Rescue team said the pair had minor injuries and were later able to walk off the hill.