Arrests after Cardiff mosque 'disturbance'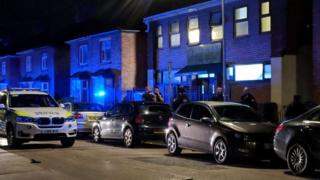 Two men, aged 18 and 19, have been arrested following a "disturbance" at a mosque in Cardiff.
One worshipper said he had been told two men with knives tried to enter the mosque.
South Wales Police were called to the Dar Ul Isra community centre, Cathays, at about 01:25 BST on Sunday.
Police said road and railway station closures were also linked to a separate incident in which a man was killed in the same area of Cathays.
The arrested men, both from Cardiff, are being held in custody during investigations. Police said they were not currently looking for anybody else.
The mosque posted a statement on Twitter on Sunday afternoon to say the centre was open as normal and prayers would continue with an added security presence.
It said the police were still trying to establish a motive and requested the public to "avoid speculating and circulating unconfirmed information".
Mohammed, 27, was walking back from another mosque when he witnessed armed police outside the Dar Ul Isra community centre.
"I saw armed police holding someone in custody, there were security volunteers outside the mosque.
"One security guard was lightly injured, it wasn't a serious injury."
He said he was told the security guard was injured while trying to apprehend the men carrying knives.
The mosque confirmed members of the security team were taken to hospital with minor injuries but have since been released.