Teresa Garner: Partner John Garner jailed for hammer murder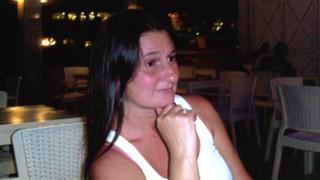 A man who murdered his partner in a "savage" hammer attack has been jailed for life and must serve at least 22 years.
John Garner admitted killing Teresa Garner, 46, in their home at Pen-y-ffordd, Flintshire, but denied murder.
Mold Crown Court heard Ms Garner suffered 16 head wounds in the attack by 51-year-old Garner on 24 October.
Ms Garner's son Rhys, 11, said if he and his siblings had one wish it would be to have their "lovely mum" back.
He added: "When we all left for school and college that day we had no idea that we wouldn't see her alive again.
"John Garner has taken our mum from us in a horrible way and we hate him for that."
Rhys went on to say his sister Kim, 17, and younger brother Lewis, 10, have had to leave their home.
He said he and Lewis were in foster care because they "have no-one else to live with", while Kim lives with her father.
"It's been very upsetting getting split up," he added.
"Our lives will never be the same again because we have to live them without our mum."
Judge Rhys Rowlands said it was a "savage and quite merciless attack" against a "defenceless woman".
He told Garner: "There is nothing I can say and no sentence I can pass that will ever adequately reflect their loss or their mother's life.
"The only tears you have shed have been for your own predicament."
The prosecution said the "countdown" to the murder began after Garner heard his partner was in contact with Stuart Jones, who she was with 17 years ago and had a daughter with.
After killing Ms Garner, he called 999 and told the operator he had "murdered his missus".
Garner said he had been drinking heavily for days before her death and only learned what he had done when his solicitor visited him in a police station.
He denied fetching the hammer with the intention of attacking his partner and said he could only think it was in the house because he intended to fix the upstairs floorboards.
Garner described the mother of his two children as his "baby" and said he idolised her.
Previous partners of Garner described how he had been threatening and violent to them - in one case he had been jailed for assault.
Det Insp Chris Bell said Ms Garner's children's lives had been "turned upside down".
"They have not only lost their mother, they have lost their home. All of which has resulted in them living apart from each other," he said.
"These are the harsh consequences of the selfish act of John Garner."