Swansea homes evacuated due to Kilvey Hill wildfire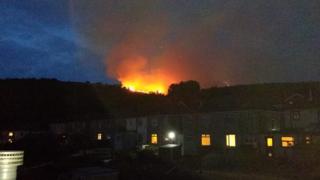 Firefighters believe a large grass fire that forced Swansea residents to evacuate their homes was started deliberately.
Mid and West Wales Fire and Rescue Service said six houses in Deep Glade Close, St Thomas, were evacuated on Thursday, just before midnight.
More than 45 firefighters from eight forces tackled the blaze in Kilvey Hill that began about 19:30 BST
A man who was evacuated said they told him it was a "touch and go" situation.
Carl Mainwaring, whose garden backs onto Kilvey Hill, said: "It's not every day you get woken up to your neighbour telling you to evacuate your house."
Mr Mainwaring, his wife and their two-year-old son were evacuated at 23:20 BST on Thursday.
He said he had been worried the fire would spread to the conifer trees and the fences behind the houses, before eventually setting all of the street's properties alight.
"I don't think we realised how serious it was until we spoke to the fire service this morning, when they said it was 'touch and go'. They couldn't get to the fire - they just had to wait for it to come to them".
He said cars were still covered in ash the following morning.
The service said it had received more than 300 calls.
Crews from Swansea Central, Swansea West, Gorseinon, Pontardulais, Neath, Morriston, Llanelli and Tumble worked on "dangerous terrain" to tackle the blaze.
Area manager Simon Jenkins said "Crews worked tirelessly to bring the fire under control as it encroached close to properties.
"Six properties were evacuated as a precaution. Our control staff worked extremely hard dealing with over 290 emergency calls for this incident during the course of the evening".
The service said grass fires resulted in "considerable cost" to the community and environment and put "lives in danger" by affecting responses to other incidents.