Prince William and Kate revisit former home of Anglesey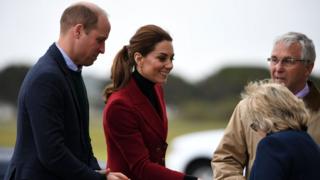 The Duke and Duchess of Cambridge have been visiting old friends in north Wales, the region where they used to live.
The couple, who lived on Anglesey from 2010 to 2013, began the official visit at the Caernarfon Coastguard Search and Rescue (SAR) helicopter base.
Prince William worked as an RAF helicopter pilot at the base's former location at RAF Valley, Anglesey.
They met some of his former colleagues before joining a beach litter pick.
Their first engagement was to view the coastguard's new Sikorsky S92 helicopters.
The prince was reunited with some former colleagues from the search and rescue team, and he and Kate had a look inside one of the helicopters, with William getting the chance to sit in the cockpit once again.
Richard Taylor, who worked with Prince William at RAF Valley, said: "It was a real honour and a privilege, the time we got to spend working with him at Valley.
"We got quite close with him which not everybody gets in life so we were very fortunate.
"Absolutely lovely couple as well, so to see them again today - I know they were both keen to come back and have a look at what we do now and see some old faces.
"I think he could have spent hours talking about it and reminiscing on the past to be honest, if he'd had the time."
Coastguard helicopter winchman Paul Jones said: "It's lovely to see him, we worked very closely for three years and then he moved away.
"It was like he's never been away."
The couple also met volunteers from the Wales Air Ambulance, which operates next door to the search and rescue base, and joined a discussion about the mental health challenges that can arise from working as first responders, which the duke has previously spoken out about.
Cpt Martin Shepherd, deputy chief pilot at the base, said it had been "a real pleasure" for members of the crew to catch up with Prince William, their former colleague, and discuss how the service was evolving.
"The duke and duchess have shown their unwavering support for mental health services and awareness through [mental health charity] Heads Together. Our colleagues were able to offer their views on how support for those affected by mental health issues within the search and rescue community continues to improve," he added.
The couple moved on to the Halen Mon factory in Brynsiencyn, where they watched the salt-making process.
The company won the Queen's Award for Sustainability in 2017.
The duke and duchess were given a talk on the company's collaborations with other local food producers, and their involvement in community initiatives.
Their final engagement of the day came at Newborough beach to meet members of the Menai Bridge Scouts, where the duchess used to volunteer during her time on Anglesey.
They were joined by pupils from local primary schools to do a beach clean-up organised by the local council and the conservation group Surfers Against Sewage.
Wet wipes, balloons, flip flops and fishing lines were among the finds as Catherine asked George Boyce, 10, if he watched Sir David Attenborough.
The duchess said: "He's amazing, isn't he. Which programmes do you like of his?"
The youngster replied: "Blue Planet."
William asked the group: "What's the coolest thing you have found out on the beach?"
Finlay Burke, 12, replied: "A bullet."
Sian Sykes, of Surfers Against Sewage, said it was "wonderful" that the royal couple had returned to the area.
Their visit came as the Duke and Duchess of Sussex shared a first glimpse of their baby son, who was born on Monday.
The baby has been named Archie Harrison Mountbatten-Windsor.